Eye on UMSL: Chapter Champions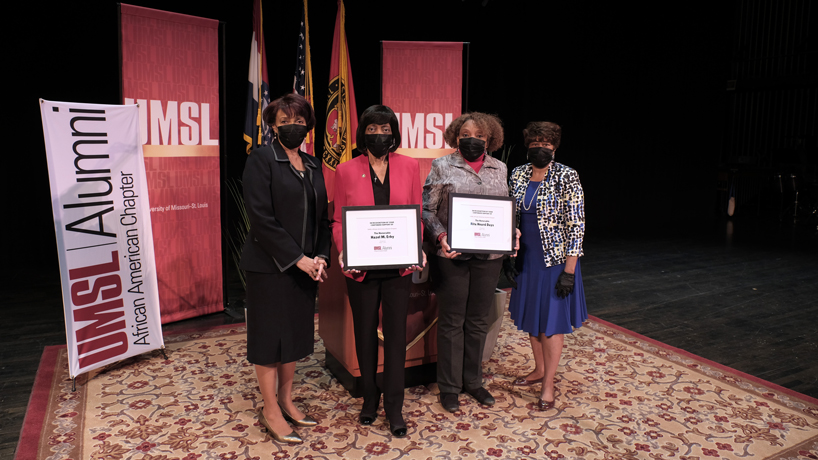 Linda Brown Reed (at left), the president of the African American Alumni Chapter of the University of Missouri–St. Louis Alumni Association, and College of Business Administration alumna Mildred S. Simmons (at right) presented former St. Louis County Director of Diversity and Councilwoman Hazel M. Erby (second from left) and St. Louis County Councilwoman Rita Heard Days (third from left) with its Chapter Champion Awards in the African American Alumni Chapter's annual New Graduate Recognition Ceremony, live streamed on May 7.
"As part of our celebration this evening, we want to extend thanks to those who have helped us to help our students," Reed said while speaking from the stage at the Blanche M. Touhill Performing Arts Center. "The Chapter Champion Awards are presented to those who have gone above and beyond in their support of the African American Alumni Chapter and its endeavor to support our students. This year's recipients embody service service to UMSL and service to the entire St. Louis Community."
While accepting the awards, both Erby and Days offered congratulations and words of encouragement to 425 African American students who earned their degrees in August 2020, December 2020 or May 2021. The names of each student were displayed on the screen during the ceremony.
Aaron Ezell, a 2010 BSBA graduate now working as a financial advisor for Edward Jones, served as the master of ceremonies for the event. Leonara Muhammad, a 2011 BSN graduate, delivered a keynote address. The new graduates tuning in also heard congratulatory messages from alumni Petra Baker (MEd 2003, EDSP 2008), Doris Coleman (BSBA 1988), Edward Scruggs (MEd 2009), Lamont Shannon (BSBA 1993) and Simmons (BSBA 1978) as well as Associate Vice Chancellor of Alumni Engagement and Annual Giving Jennifer Jezek-Taussig.
There were also musical performances from Daniel McRath, Philip Woodmore and Rhoda G.
The photo of Brown, Erby, Days and Simmons was taken by UMSL photographer August Jennewein and is the latest to be featured in Eye on UMSL.
To view the African American Alumni Chapter's New Graduate Recognition Ceremony, click below:

Short URL: https://blogs.umsl.edu/news/?p=89307