UMSL Summer Preview Day kicks off recruiting for spring semester, return to in-person events
A chance encounter was the best part of the day for Hayden Herzog.
He'd stopped into the College of Business Administration at the University of Missouri–St. Louis during the UMSL Summer Preview Day and run into Justin Rubin, an academic advisor.
"He gave me information, like actual specific information," said Herzog, who will be a first-time freshman starting in the fall semester. "I asked about the joint engineering program and business and music. He was able to provide information on all that – electives, how to join the engineering program, scholarships."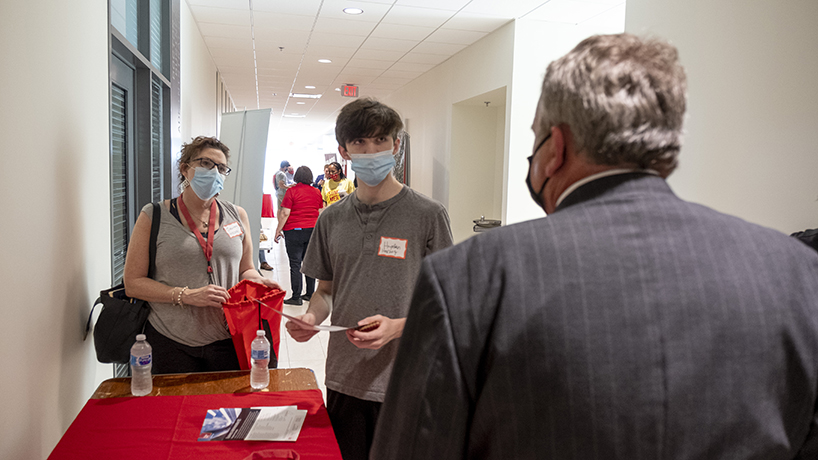 That was key for Herzog (center), who's undecided between business and engineering. Learning that type of specific information was a big part of the reason he'd decided to stop by campus last Friday for the preview.
He was joined by a group of prospective students – including a high school group from the Chicago area – transfer students and incoming first-year students for the event, which was the first on-campus admissions event since the COVID-19 pandemic first forced most recruiting events to cyberspace.
Assistant Director of Admissions Alicia Taylor created the event as a way to get valuable information for students who might want to enroll either this fall or in the spring semester.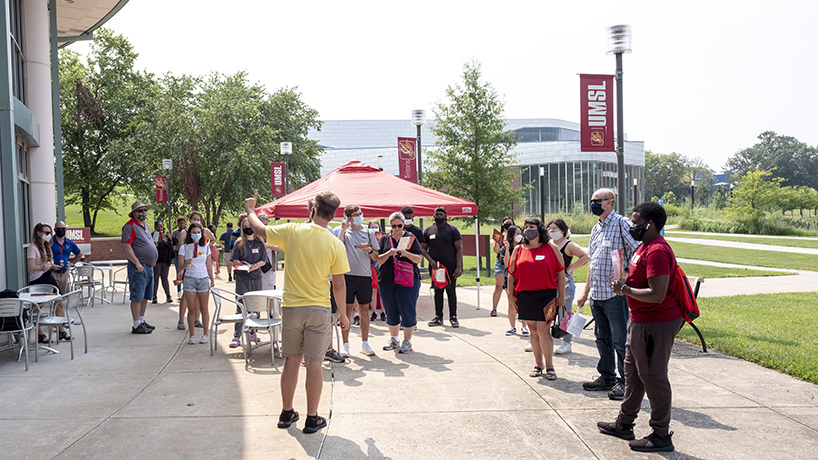 "As restrictions started to lift a bit earlier this summer, we really wanted to do something to get students back to campus, to do something fun," she said. "We wanted a program that was a little bit more casual, a little bit more informal, something more fun, something that was just a welcome back to campus, not just for prospective students, but also for our faculty and staff."
The two-part event started in-person in the Blanche M. Touhill Performing Arts Center on North Campus with sessions on student services, admissions and financial aid over coffee and donuts. Then, at 11:30, attendees migrated to the Millennium Student Center patio for a walking tour of campus, or they could head for break-out academic sessions held around campus. The day ended with a barbecue lunch in the Nosh.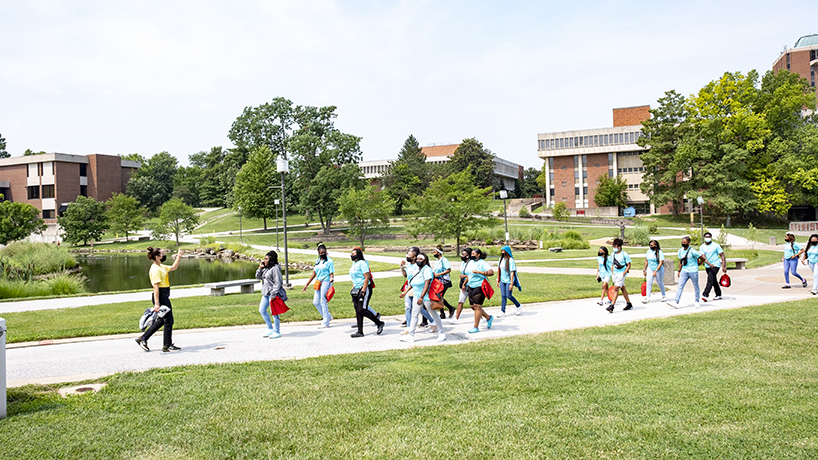 Transfer student AJ Jinga found himself impressed by the experience.
"Everybody's just given me stuff," he said. "It's a learning experience. Yeah, starting to learn more and more. It's nice to know everybody's pretty friendly around me, explaining everything, which is kind of an overload, but I like that because then I can learn everything at once and form my opinions."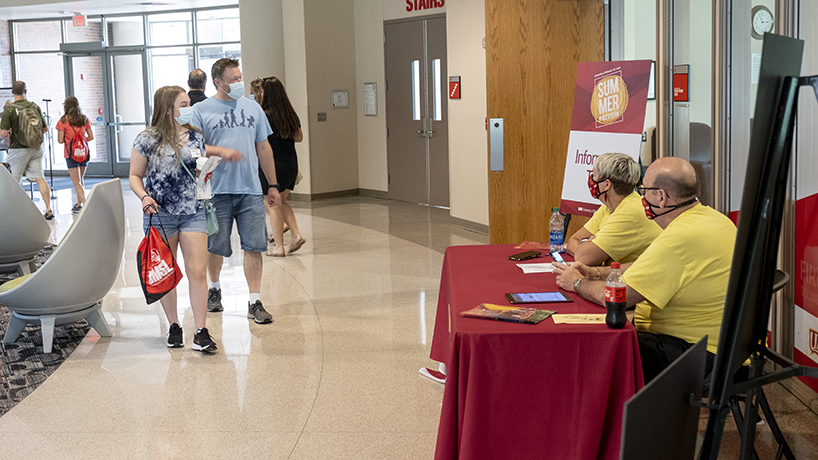 Computer science alumnus Nicholas Powers (second from left) had brought his daughter, Natalie (at left), to the preview. Because she plans on living at her nearby home in O'Fallon, Missouri, while studying accounting, she wanted to get a sense of what the campus was like and how she might get involved before school started.
"It's exciting to come back around again," he said. "I'm excited that she's coming here. It's a great business school."
For those who couldn't join in person on Friday, there will be a second, virtual session held on Tuesday.
"We recorded one of our sessions on Friday, which will be available on demand for prospective students who couldn't attend," Taylor said. "Then we'll also be doing live chats with department representatives, and we'll have a live student panel. This was kind of a test run for future hybrid events."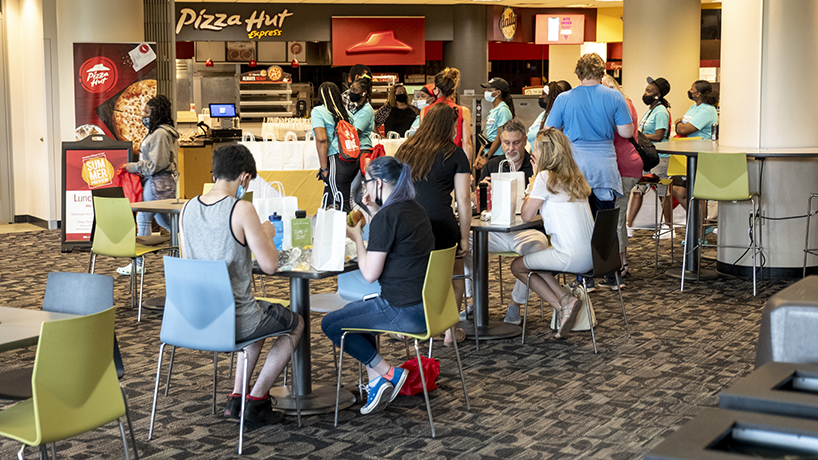 Another 100 students are registered for the virtual event, but Taylor expects more to sign on last minute. She expects there to be similar hybrid events going forward this semester and stressed the need to be nimble during the on-going pandemic.
But regardless of what those events look like, she believes the most important thing is what prospective students take away from the experience.
"I hope that they feel the sense of warmth and welcoming that all of us staff and faculty feel whenever we're here," she said. "We're all excited to be there and to welcome students to campus, and I hope that they feel that sense of excitement. I hope that that when they're visiting, they can see themselves as an UMSL student, and they see all of the great things that we have here – the university and the academic programs, student support, student life, and that they see UMSL as as a viable option for them and making their college decision."

Short URL: https://blogs.umsl.edu/news/?p=90202