Start of fall semester offers students plenty of opportunities to get involved
The start of the new academic year is sure to bring some fresh energy to the University of Missouri–St. Louis campus as students return and begin making new friends or catch up with some familiar faces.
The Office of New Student Programs and the Office of Student Involvement have a series of events planned to help new students get acclimated to the campus community and start to build lasting relationships with their fellow Tritons.
There's even more excitement this year with on-campus events returning after programming had to held almost exclusively virtually last year because of the COVID-19 pandemic. There will still opportunities to take part in Triton Take-Off and Weeks of Welcome events online, but students can also get together face-to-face to take part in favorite UMSL traditions such as Serendipity Sendoff and some new events such as the ¡Diversity Debut!.
Here is a preview of look at some of the events and activities on the schedule:
College 101 Video Series – ongoing
Tune into the UMSL CampusLife YouTube channel for helpful and informative videos about everything from tips for success in virtual and in-person classes, returning to school as an adult learner, ways to get involved, self-care, campus recreation, financial services, UMSL athletics and more.
Triton's Connections – 6:30 p.m., Aug. 20
Connect with other UMSL students from the comfort of home with Triton's Connections: A night to Network. Not a typical zoom meeting, participating students will meet as many peers as possible in a short period of time.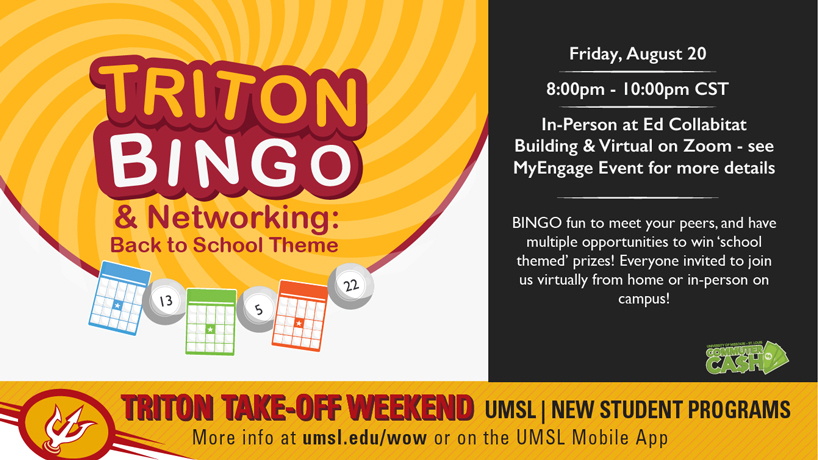 Triton Bingo – 8 p.m., Aug. 20
Students will also have a chance to make connections on campus while playing bingo with a back to school theme in the Ed Collabitat.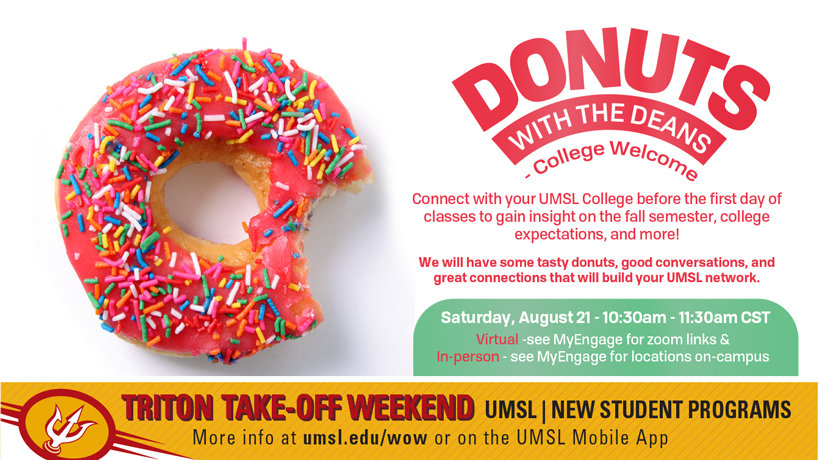 Donuts with the Deans – 10:30 a.m., Aug. 21
Students have a chance to connect with faculty, staff, advisors and fellow students in their chosen college while enjoying a sweet treat at locations across campus.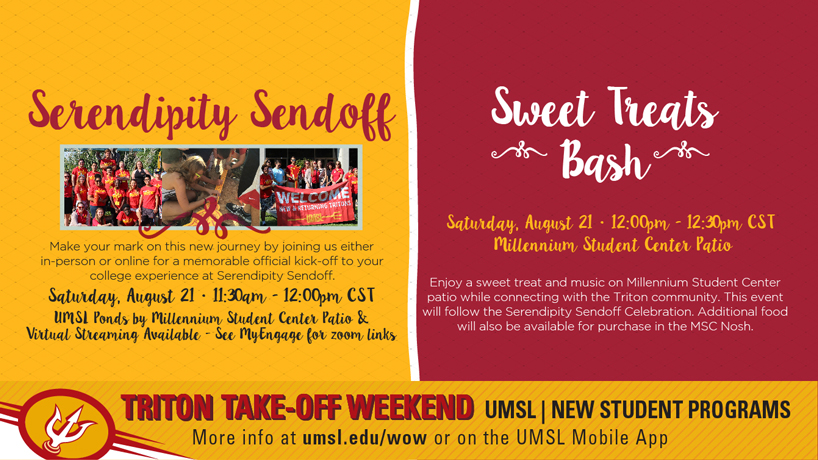 Serendipity Sendoff – 11:30 a.m.
Students attending in person will meet at the Millennium Student Center patio and kick-off the year by signing the UMSL Trident, rubbing  the Wayne Goode Statue book for good luck and enjoy some more sweet treats with fellow students beginning at noon.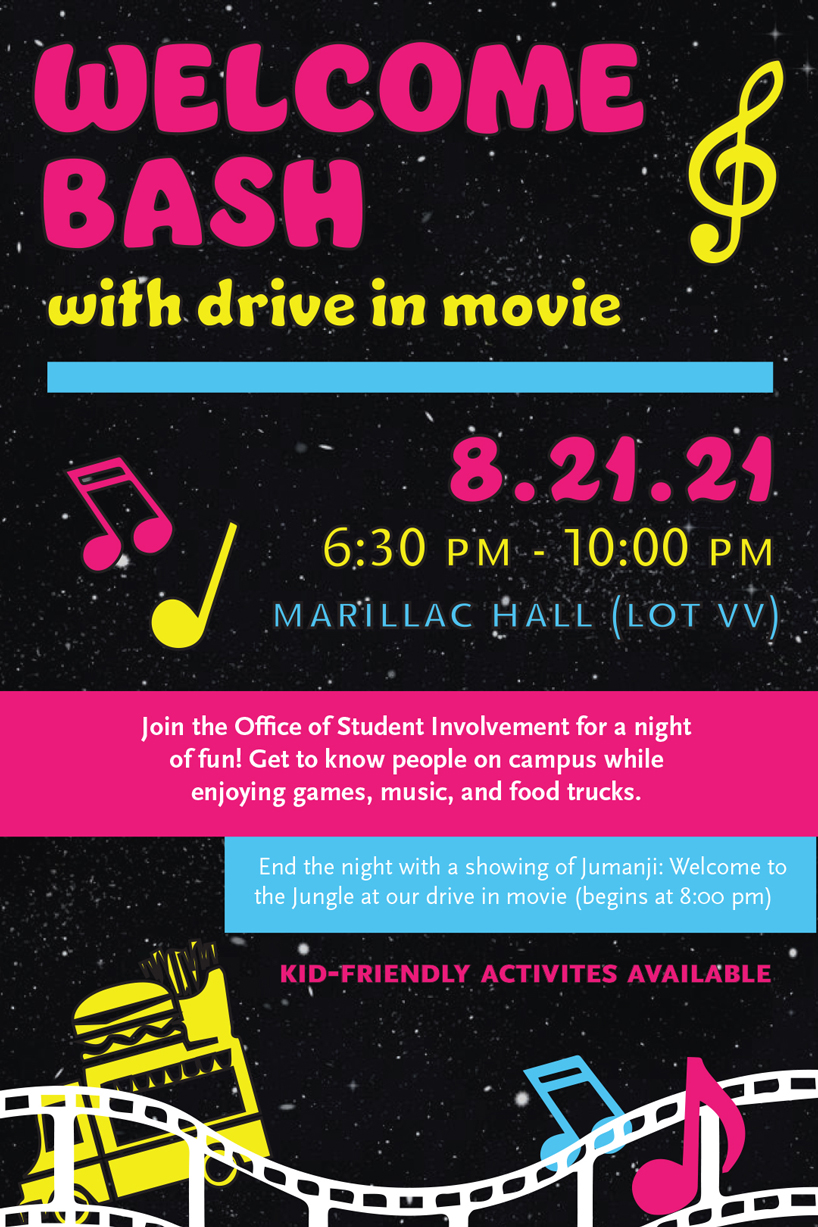 Welcome Bash with drive-in movie – 6:30 p.m., Aug. 21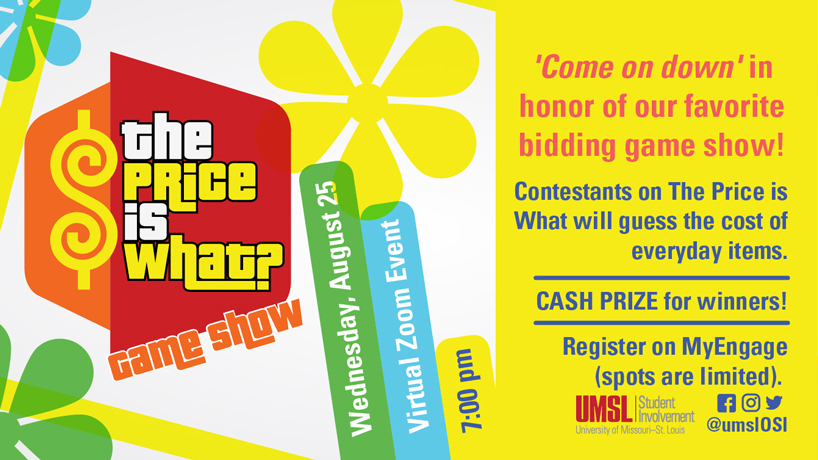 The Price is What? Game Show – 7 p.m., Aug. 25
Contestants compete in a live, multiple-choice pricing competition. An item will appear on screen and they'll have to choose the price they think is closest to the actual retail price. Whoever scores the most points by the end of each round wins! Every game includes four chances to win and $200 in cash.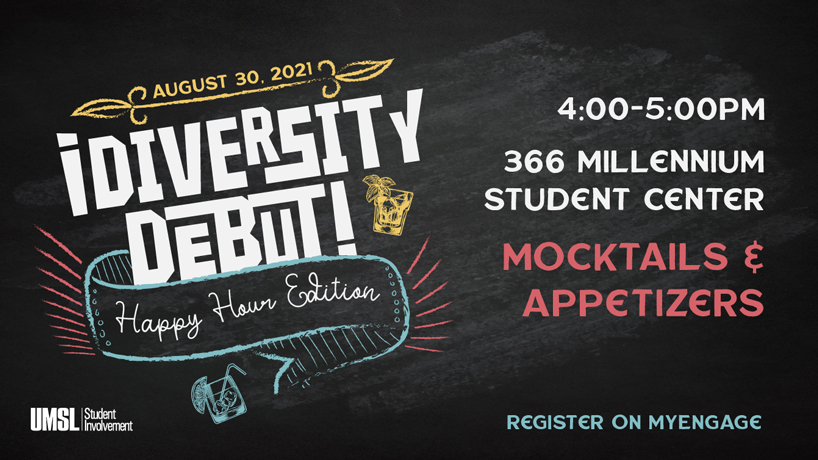 ¡Diversity Debut! – 4 p.m., Aug. 30
This welcome event is for students, faculty and staff of diverse backgrounds, cultures and communities and their allies. Attendees can enjoy mocktails and appetizers while learning about student organizations, history and heritage months, other events as well as leadership opportunities.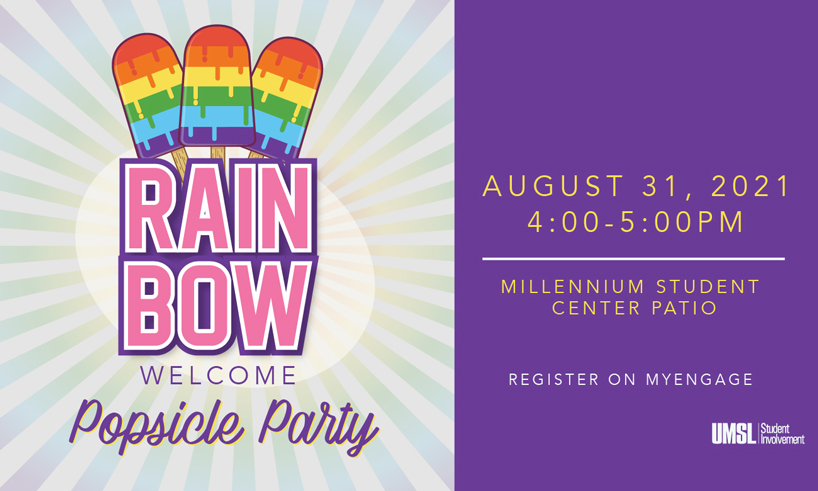 Rainbow Welcome Popsicle Party – 4 p.m., Aug. 31
The Popsicle Party on the Millennium Student Center Patio is hosted by LGBTQ+ & Diversity Initiatives, the Office of Student Involvement and PRIZM: Queer, Trans, Straight Alliance, and it will offer students a chance to learn about student organizations, LGBTQ+ History Month events and leadership opportunities in UMSL's LGBTQ+ community.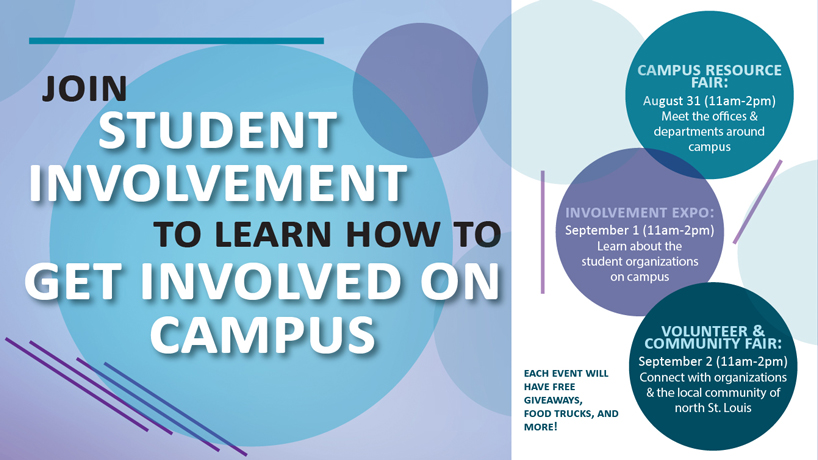 Student Involvement Expo – 11 a.m., Sept. 1
There's no better chance to learn about UMSL student organizations, whether they're academic-based, multicultural, honorary, fraternity and sorority, faith-based, departmental, service-oriented or something else. Come meet representatives of all of them on the Recreation and Wellness Center lawn behind the MSC. There is also a Campus Resource Fair and Volunteer and Community Fair scheduled for Aug. 31 and Sept. 2, respectively.

Short URL: https://blogs.umsl.edu/news/?p=90321