Back to school: Scenes from Move-In Day 2021
Move-In Day at the University of Missouri–St. Louis once again looked a bit different due to safety measures related to the COVID-19 pandemic. Like the previous year, students, parents and staff wore masks, and measures were taken to limit the number of people moving through the halls at one time.
However, the energy of the school year was palpable Friday as new Tritons eagerly checked-in to Oak Hall on South Campus with luggage, Target bags and family members in tow.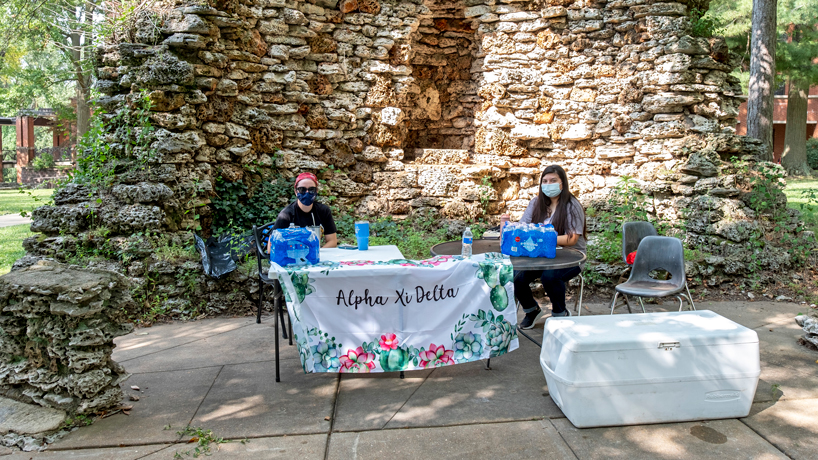 Luckily, an overcast sky and water stations, like the one set up by Alpha Xi Delta sorority members Olivia Crowell (left) and Jennifer Lopez, provided some respite from the afternoon heat.
"Not all the organizations can help move people in with COVID, so we thought a nice way to show appreciation for the first-years moving in would be handing out some cold water," said Crowell, a senior electrical engineering major.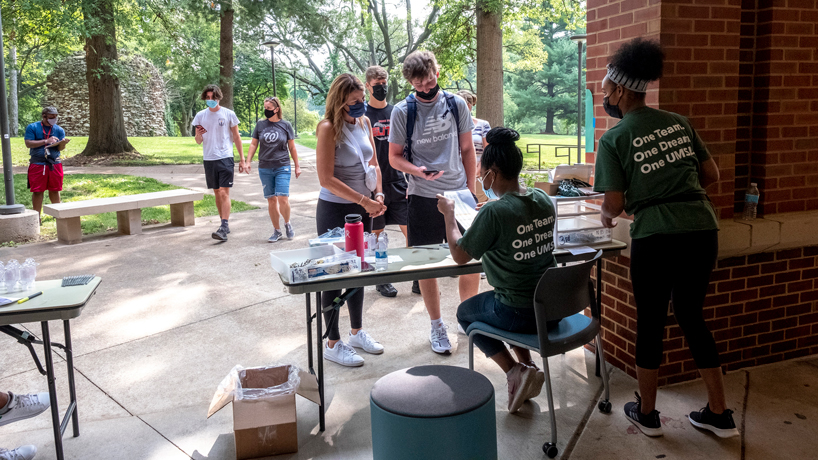 Upon arriving at Oak Hall, students checked-in with Residential Life and Housing staff members and picked up their room keys and a welcome packet.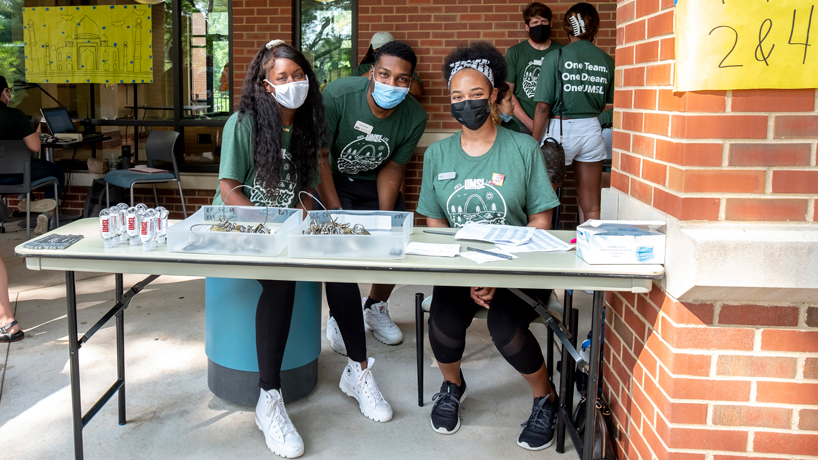 Jalen Walker-Wright (center), a residential advisor, and his Residential Life and Housing co-workers helped new students check-in, find their rooms and answered questions. Walker-Wright said the day ran smoothly, and the staff was able to get people "up and out" quickly.
"We're moving a lot of students in," he said. "People are excited to be back because they've been at home most of the past year."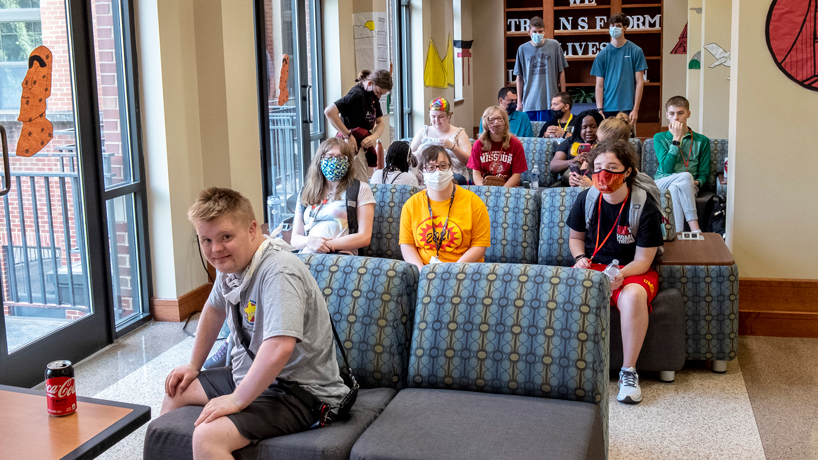 Succeed Program staff members were also present to welcome Succeed students and acclimate them to the campus. The postsecondary program is designed to teach students with intellectual and developmental disabilities independent living, academic and job skills as they work toward a Chancellor's Certificate or potentially matriculate to a degree program.
Jonathan Lidgus, director of the program, said staff members moved in the largest Succeed cohort in 10 years.
"We spent the last two days transitioning our students, giving tours," Lidgus said. "We've been doing Triton technology stuff with them. We've been practicing MetroLink stuff. Today, we're finding classrooms, learning the meal plan and going through classroom etiquette. It's been a wonderful time, and we're really excited."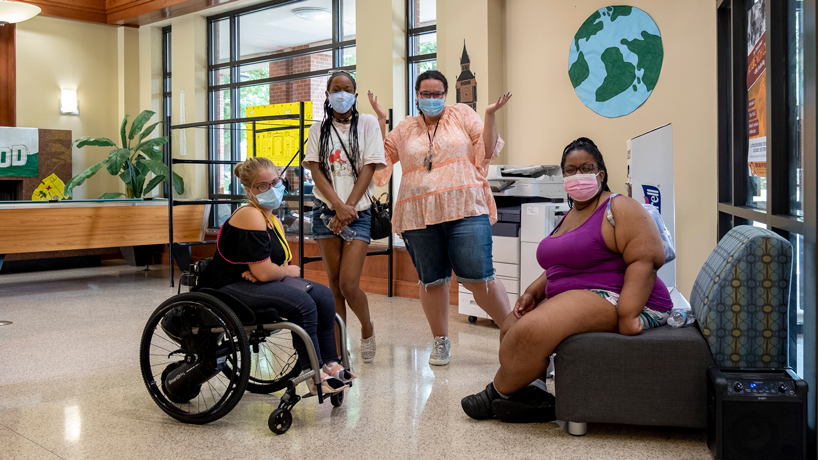 A group of Succeed students relax after moving in. Destiny Trent (center right) said she was excited about the opportunities she'll have at UMSL.
"I'm so excited to make new friends and meet people and grow in my life because growing up it was really hard, and I've come a long way," she said. "I'm excited to branch out and follow my dreams."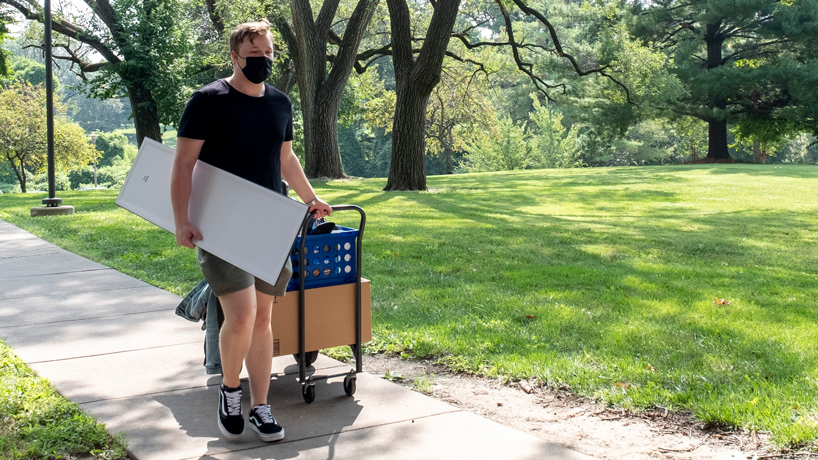 Christian Mana moved his belongings into Oak Hall by himself with the help of push cart. Hailing from Mehlville, Missouri, Mana will be studying criminology and criminal justice.
"I wanted to come to UMSL for the community, the experiences here and the nice small campus," he said.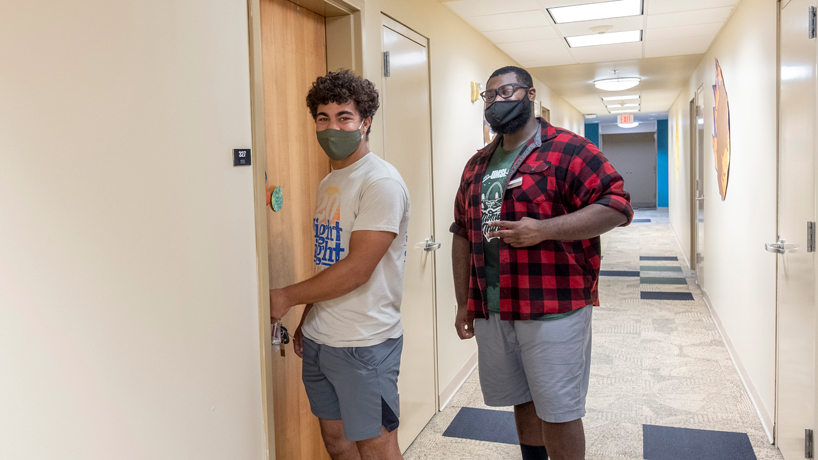 Elijah Batiste finds his room in Oak Hall. Batiste is interested in working in mental health therapy, and plans to get his BS in psychology before entering the master's program in clinical mental health counseling in the College of Education.
Batiste said he knew UMSL was the right school for him after visiting.
"It just felt comfortable," he said. "When I came and visited, it felt like it was right."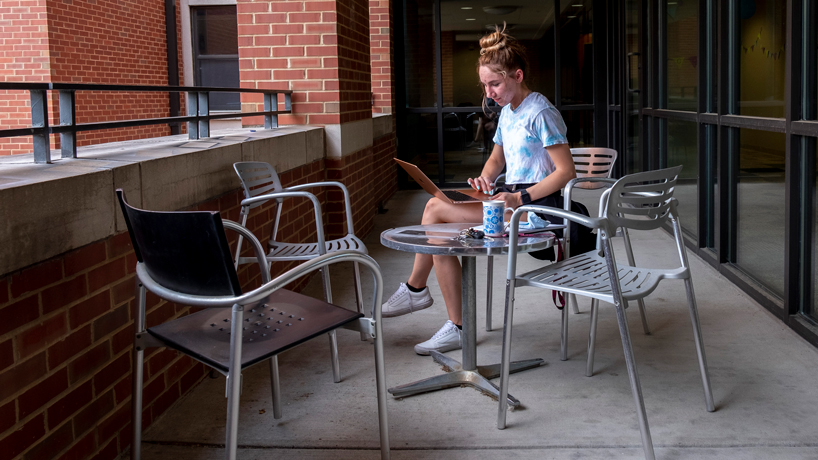 Some incoming students, like Rochelle Bruce, were already familiar with the UMSL campus. Bruce, a nursing major, landed a job as a desk attendant in Oak Hall and was able to move in few days early. She also has a family connection to UMSL, which drew her to the university.
"My mom actually works here, and it's just a good campus in a different part of St. Louis that I haven't been to," she said.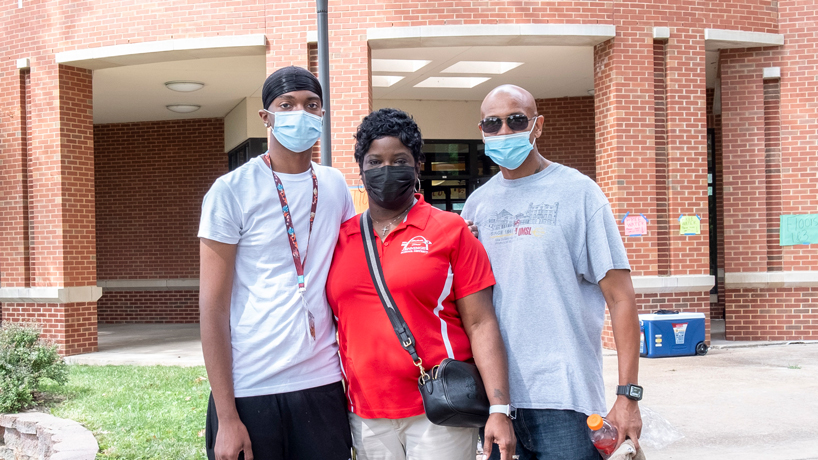 Devin Elkins' (left) parents, Yolanda and David, helped him get settled Friday. Elkins plans to study international business. Like Bruce, he had previous connections to UMSL and already feels at home.
"My brother graduated from UMSL, and I did the CLIMB program here so it felt nice," he said.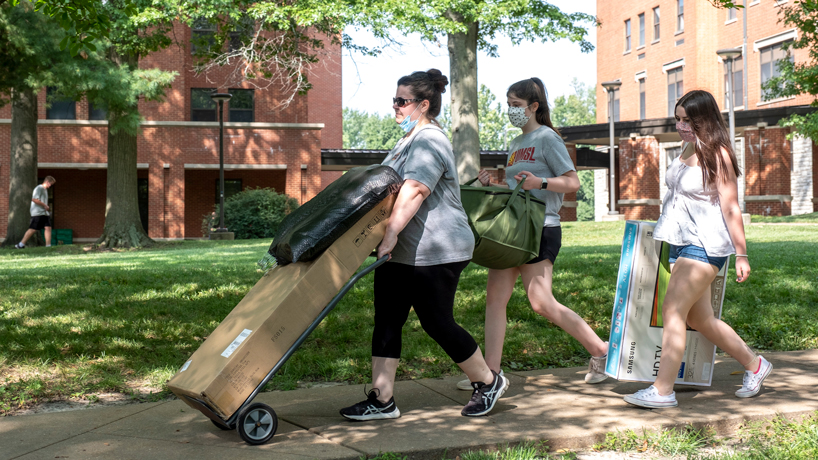 Move-In Day was also a family affair for Katherine Johnsen (center), who had help from her mother, Donya (left) and sister, Madeline.
Johnsen came to UMSL from Gerald, Missouri, because of the the reputation of the College of Optometry and plans to get an OD after finishing her undergraduate degree.
"It really is the only college in Missouri for optometry, and I like the location," she said. "It's closer to home than most other big universities."
As for what Johnsen's excited for during her first semester: "Just getting used to the place and meeting new people."

Short URL: https://blogs.umsl.edu/news/?p=90383