UMSL ranked among the nation's best and most affordable public administration programs
The Public Policy Administration Program at the University of Missouri–St. Louis prepares students for careers in local government, managing nonprofit organizations or working on public policy initiatives.
Like so many other UMSL programs, it has earned high marks for quality and affordability.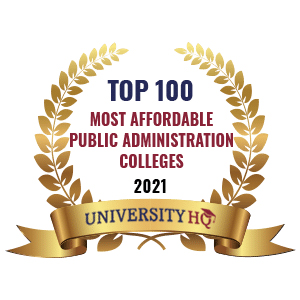 University HQ recently ranked UMSL No. 16 nationally on its list of the Top 100 Best Affordable Public Administration Programs. The website weighed factors such as retention and graduation rates, cost of tuition, loan default rates and graduate salaries when compiling its rankings.
"We are an affordable degree in Missouri and nationally, and we provide exposure and connections to a really good network of municipal leaders, administrators and nonprofit leaders in the St. Louis region," said Adriano Udani, an associate professor in the Department of Political Science and the director of the Public Policy Administration program. "We emphasize that, in order to understand public policy, you have to understand how to administer those policies and really make decisions on behalf of the public. If you're a public administrator, you have to understand the public policymaking process, how to evaluate policies and their impact on the public. Most programs make students choose one path or the other, but we differentiate ourselves by helping students think about how these things fit together."
The BSPPA degree is designed for students who are interested in working in government or nonprofit organizations and who are passionate about making a positive impact on society. They will learn about public and nonprofit administration and policymaking in the United States and develop skills for leading organizations.
Students can choose to emphasize in public administration, nonprofit management or public policy.
The public administration emphasis area focuses explicitly on the administrative and leadership concerns of government organizations and prepares students to work and manage in the public sector.
The nonprofit emphasis area focuses on concerns of organizations in the nonprofit sector, which constitutes a growing field of employment opportunities with careers in education, health care, social services, civic leadership, veterans' affairs and advocacy among many others.
In the public policy emphasis area, students work with a faculty advisor to develop a focus on a particular policy area in preparation for relevant jobs in the public, nonprofit or private sector.
"What I think helps undergrads is that they probably don't know what exactly they want to do in the public sector," Udani said. "I think it provides them an exploratory phase, where they get to meet our alums, who work in local government, work in nonprofit and then also in community development or leadership. We're able to introduce them to that line of work so that they're better informed as undergrads.
"When they hit the job market – when they're a senior or when they're through the program – they understand what the skills are that are needed to do the job successfully and who they need to talk to and network with."
Students can also take advantage of the BSPPA/MPPA 2+3 Program in Public Policy Administration to earn not only a bachelor's degree but a master's from the Master of Public Policy Administration program, which U.S. News & World Report ranked as the No. 1 graduate program in the region in public affairs.
The MPPA will begin offering a course in regional and city planning this spring, taught by alumnus David Gipson, who began his career as a planner in St. Charles, Missouri, and now serves as the city manager in Clayton, Missouri.
Also in the year ahead, Walter Denton, the city administrator in O'Fallon, Illinois, will begin teaching a course in high performance management.

Short URL: https://blogs.umsl.edu/news/?p=90673