Eye on UMSL: A Triton welcome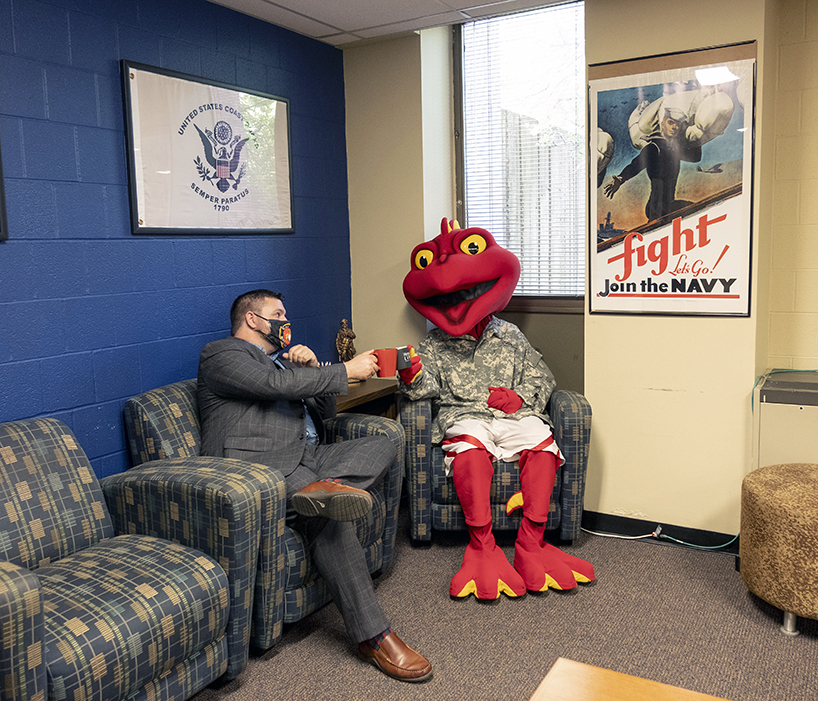 With a clink of the coffee cup, Louie the Triton officially welcomes Joshua Evans to his new role as coordinator and VA certifying official of the University of Missouri–St. Louis Veterans Center. Evans helps oversee services for military-connected students, including admissions support, GI bill advising and certification, academic support and networking opportunities while providing a supportive and relaxing environment for students to hang out or study in the student lounge over a pot of coffee.
He's more than familiar with the needs of veterans and their families having utilized the Veterans Center services and helped others as a student worker while working toward his BS in psychology and minor in veterans studies, which he earned in 2019. Previously, Evans served four years active duty in the U.S. Marine Corps as a motor vehicle operator and six years in the U.S. Air Force Reserves as a mental health technician.
The Military Times ranked UMSL first in Missouri and No. 37 nationally on its 2021 "Best for Vets: Colleges" list. It marked the seventh straight year UMSL ranked in the top 50. Learn more about Evans and the UMSL Veterans Center services.
This photograph was taken by UMSL photographer August Jennewein and is the latest to be featured in Eye on UMSL.

Short URL: https://blogs.umsl.edu/news/?p=90751