Media Coverage: September 2021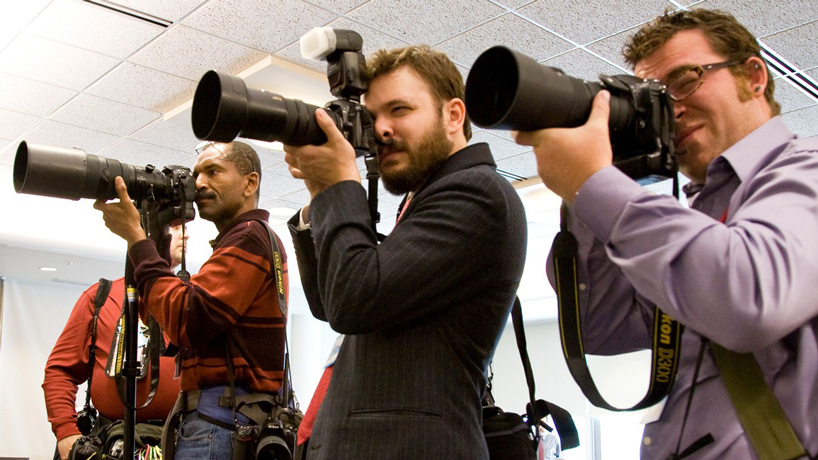 The University of Missouri–St. Louis makes a significant impact on the St. Louis area. Stories about the university, its scholars and their expertise are often covered by local and national news media.
Media Coverage highlights some of the top stories but does not serve as a comprehensive listing. Notice a clip we missed? Email us at umsldaily@umsl.edu.
Featured stories:
The Springfield News-Leader spoke with Jeremy Brown, physical education alumnus and Central High School principal, about his time playing professional baseball with the Los Angeles Dodgers and how he applies the lessons he learned to education.
KSDK tapped Max Gillman's, Friedrich A. Hayek Professor in Economic History, to discuss the end of Walmart's popular seasonal layaway plan. Gillman believes shoppers will start embracing the retailer's new buy now, pay later option through Affirm, a technology company based in San Francisco.
David Kimball, professor of political science, offered his perspective to AL.com on a unique situation in Mobile, Alabama. Levon Manzie's name will appear on the Oct. 5 runoff ballot for Mobile City Council after dying last month. Experts like Kimball say there's a good chance he could win despite the circumstances.
Media coverage:
Darwin Aquino, assistant professor of music and director of University Orchestra
Ashland Source: Ashland Symphony Orchestra presents "Welcome Back!" concert Sept. 18
Times-Gazette: Ashland Symphony Orchestra returns to the stage Sept. 18 to open its 52nd season
Ashton Beck, communications alumnus
Webster-Kirkwood Times: The Rep Hires New Production, Marketing Directors
Lynn Beckwith, Jr., former E. Desmond Lee Endowed Professor of Urban Education
KRMS: Former Warsaw Teacher Honored By DESE With Entrance Into Pioneers Group
Mike Behle, associate chair of the Department of Art and Design
St. Louis Public Radio: Tuesday: Paul Artspace Finds New Direction Outside Florissant Founding
Vanessa Bishop, education alumna
North Bay Business Journal: Help group for college-bound students bolsters Bay Area staff
Tim Canavan, business alumnus
West Newsmagazine: Sports briefs​
Brad Cook, management alumnus
Fabricating & Medalworking: Beckwood Press Fosters Continuous Growth with Personnel Moves
PRWeb: Beckwood Press Company Fosters Continuous Growth with Organizational Improvements
Rob Dixon, political science alumnus
The Associated Press: Director Dixon to resign from Economic Development role
The Center Square: Missouri's economic director leaves post for similar position with utility company
The Missouri Times: Rob Dixon stepping down as Economic Development director to join Ameren Missouri
St. Louis Business Journal: Missouri's economic development leader is joining a utility
Jean-Germain Gros, professor of political science and public administration
San Diego Union-Tribune: A perfect storm of crises and instability leading Haitian migrants to seek U.S. asylum
Nyla Hollis, nursing alumna
The Alton Telegraph: Food A Fare restaurant coming this fall
Beth Huebner, professor of criminology and criminal justice
St. Louis Post-Dispatch: Top aide will succeed Burris at jail as St. Louis County begins search for a permanent replacement
Marc Katz, business alumnus
Dallas Business Journal: Tuesday Morning names its new COO and CFO
Globe Newswire: Tuesday Morning Corporation Announces Fiscal 2021 Results; Enhances Management Team With New Hires Across Key Areas of Organization
Michael Kelley, political science alumnus
Lincoln News Now: Lincoln County Democrats to hold Grassroots Rally on Sept. 25
Ken Koenemann, management alumnus
Industrial Equipment News: Uncracking the Bullwhip: How to Counteract Supply Chain Volatility
Nathan Landsbaum, business alumnus
The Capitolist: Florida's Sunshine Health appoints Nathan Landsbaum as CEO
Judi Linville, senior lecturer emeritus
St. Louis Post-Dispatch: Reader replies: What is your enduring memory of 9/11?
Vanessa Lloyd, dean's fellow for diversity, equity, and inclusion and associate teaching professor of nursing
The St. Louis American: UMSL's Lloyd receives award for inclusive excellence, diversity
Suzanna Long, history alumna
Phelps County Focus: S&T professor honored by American Society for Engineering Management
Anita Manion, professor of political science
St. Louis Public Radio: Missouri Secretary Of State Ashcroft Wants Nonpartisan Local Elections To Become Partisan
Jason Marquart, manager of international students and scholar services
The Source: Carpenter appointed OISS interim director
Fredrecka McGlown, communications alumna
St. Louis Post-Dispatch: St. Louis mayor names MoDOT official as streets director
RiverBender.com: Mayor Tishaura O. Jones Appoints Black Women Leaders To Head Streets Department, SLATE
Mary Ann Mitchell, former UMSL Athletics director of communications
The Edwardsville Intelligencer: District 7 fills new communications position
Megan Monaghan, former professor of drama
American Theatre: UConn Names Megan Monaghan Rivas to Dual Leadership Role
Jianli Pan, associate professor in computer science
Technology: Designing 'smart' security for smart devices
Tasha Pettis-Bonds, political science alumna
ConstructForSTL: Tasha Pettis-Bonds Joins Midwest BankCentre
Amber Reinhart, the associate chair and graduate program director for the Department of Communication and Media
Sinclair Broadcast Group: Some health care workers may quit rather than get vaccinated, experts say
Richard Rosenfeld, Curators' Distinguished Professor Emeritus of Criminology and Criminal Justice
The Atlantic: America Is Having a Violence Wave, Not a Crime Wave
CNN: The spike in gun violence continues, with 2021 on pace to be the worst year in decades
The Conversation: More guns, pandemic stress and a police legitimacy crisis created perfect conditions for homicide spike in 2020
Fox 5 News: 2020 brought largest spike in homicides since 1968 in U.S., FBI data shows
KSDK: Byers' Beat: The one word to remember when looking at crime statistics
Los Angeles Times: Rise in California homicides echoes the nation, but state fares better in violent crime, FBI stats show
NewsNationUSA: Rise in California homicides echoes the nation, but state fares better in violent crime, FBI stats show
NBC News: 'Overall crime decreased in 2020' in the U.S., report finds
NBC News: FBI data show surge in murders in 2020
USA Today: FBI: Record surge in 2020 murders; nearly 30% increase drives spike in violent crime
Utah Public Radio: FBI Data Shows An Unprecedented Spike In Murders Nationwide In 2020
Vox: Murders are spiking. Police should be part of the solution.
The Wall Street Journal: Murders Rose Nearly 30% in the U.S. in 2020, FBI Reports
WBUR: Murder Rates Escalated Across The U.S. In 2020
Mary Angelica Painter, political science alumna
The Washington Post: Hurricanes may not discriminate, but governments and utility companies do, our research finds
John Seiffertt, economics alumnus
Hillsdale Daily News: Hillsdale College welcomes 21 new faculty, eight new endowed chairs
Natissia Small, vice provost for access, academic support and workforce integration
St. Louis Business Journal: Champions for Diversity & Inclusion Awards 2021: Natissia Small
Kristin Sobolik, chancellor
Inside Radio: Pamintuan Chosen As New St. Louis Public Radio CEO.
Tanisha Stevens, vice chancellor for diversity, equity and inclusion
The St. Louis American: New St. Louis Public Radio CEO seeks to change its culture
Jacqueline Thompson, assistant professor of theater
St. Louis Post-Dispatch: Metro Theater Company Ushers in Next Stage of Growth with New Board Members, Associate Artists, and Staff
Steve Walentik, director of public relations
Ladue News: St. Louis Metro Area Universities Discuss 2021-22 Academic Year, Preparations for COVID-19 Complications
Adrian Octavius Walker, sociology alumnus
St. Louis Post-Dispatch: This fall, a visual whirl through history with portraits of humanity, starry nights, mini buildings
Jennifer Walton, business alumna
Broadway World: Metro Theater Company Ushers In Next Stage Of Growth With New Board Members, Associate Artists, And Staff
Other news:
The Alton Telegraph: Indigenous Knowledge focus of online conference
Call Newspapers: County continues vaccination push, awarded CDC grant
Columbia Missourian: COVID financial relief on the way for MU students
EdGlenToday.com: Indigenous Knowledge & Sustainability Virtual Conference to Advance Research and Education, Oct. 6-10
Fox 2 Now: Here are events in St. Louis for Hispanic Heritage Month
Fox 2 Now: A visit to the St. Vincent Greenway
Fox 2 Now: Walk to raise suicide prevention awareness at Creve Coeur Lake Park
Fox 2 Now:  UMSL Diversity, Equity & Inclusion Accelerator opens applications
Fulton Sun: Executive Director of Our House Callaway receives scholarship
Illinois Ag Connection: SIUE Indigenous Knowledge and Sustainability Virtual Conference Set
KMOV: St. Louis County gets $4.7 million to bolster COVID response
KSDK: How St. Louis, Missouri and Illinois colleges ranked in 2022 US News list
KSDK: CDC awards St. Louis area nearly $5M grant for fight against COVID
The Meramec Montage: The Return: Is It Safe to Be on Campus?
Missouri Patch: Hybrid Founders Event Will Celebrate Contributions To University Of Missouri-St. Louis Virtually And In Person
The St. Louis American: Girls, Inc. geared to reduce workforce gender disparities
St. Louis Business Journal: UMSL to award $10.8M in federal pandemic relief grants to needy students
St. Louis Jewish Light: Sunday's 10th Anniversary Arts & Faith Interfaith Concert: It all began with Klinghoffer
St. Louis Magazine: Top 10 things to do this October 2021
St. Louis Post-Dispatch: TSM Receives $25,000 grant from Regions Bank
St. Louis Post-Dispatch: SLU, Harris-Stowe double-down on geospatial industry with new programs, efforts to bolster NGA
St. Louis Post-Dispatch: The week ahead: Benson Hill vote and UMSL accelerator
St. Louis Public Radio: For 175 Years, St. Louis' Mercantile Library Has Collected The History Of A City — And A Nation

Short URL: https://blogs.umsl.edu/news/?p=90886