UMSL Alumni Association draws over 200 participants in inaugural 5K Run & Walk
Saturday morning brought crisp and clear weather and a sea of red UMSL shirts to the circle drive outside the Blanche M. Touhill Performing Arts Center at University of Missouri–St. Louis.
Officially, 204 alumni, faculty, staff, students and friends gathered there for the first-ever UMSL Alumni 5K Run & Walk, but that number grows higher once organizers, supporters and a few bandits get figured in.
Kamila White, associate professor of clinical psychology, pointed out one such small outlaw.
"That little tiny boy was speeding down the hill and ran by the MSC," she said. "By the time we got to Woods Hall, he was on his [father's] shoulders. He ran the rest of the race like that. It was crazy."
Like many others in attendance, White, who has been teaching at UMSL approximately 16 years, got a unique look at campus during the race, which she describes as fast and fairly flat except for a final climb up Grobeman Drive from the Ted Jones Trail back to the Touhill.
It was that chance to bring alumni and friends to UMSL to showcase the university and build connections that was the impetus behind the inaugural event.
"It's a great engagement opportunity, and it brings people back to campus and has the potential to raise funds for the Alumni Association," said Phil Donato, director of Alumni Engagement. "I see all those things, plus I see the opportunity to showcase not only what campus looks like now to our alumni but also to get the student population involved with the alumni and other events."
UMSL Alumni Association Governing Board Directors Past President Joseph Blanner first floated the idea for the 5K in 2019. Donato and others started the planning process imagining that the race would take place in 2020 but were forced to push it back due to the ongoing coronavirus pandemic.
Steve Picucci, head coach of the UMSL cross country and track and field teams, put together the race route, and stationed his runners throughout the course to keep participants on track. Fleet Feet provided the official race timing, and benefits went to supporting the Triton Pantry.
Chancellor Kristin Sobolik hosted the event, announcing the overall and age group winners at the awards ceremony following the race.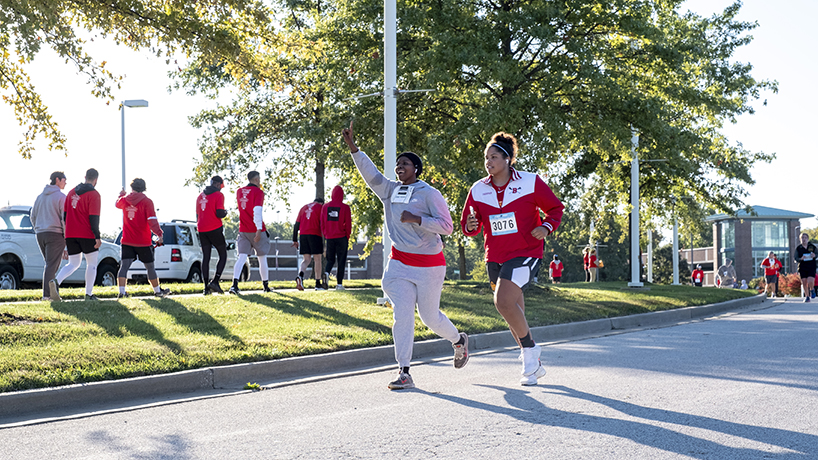 The top overall time went to Yang Pan, BS 2021, in 18:05:02. Caitlin Salmo, first-place female overall, finished in 23:47:00.
Caitlin, a former attendee, was pleasantly shocked to discover she'd won the women's race. She'd started running about approximately five years ago. Also running was her husband, Brian, BSBA 2006.
"Brian got me into running, and now we love racing together," she said. "I went to school here, and I had no idea how beautiful the campus is."
She pointed specifically to the St. Vincent and Ted Jones Trail greenways, which run through and continue off of campus.
Brian agreed, noting that "it was a perfect 5K."
"I thought it was another way to interact with students and young alumni," he said. "People who you probably don't see at the normal alumni events. I'm very grateful for the Alumni Association showing off what the campus has to offer."
Jim Wallace, BS 1992, and David McGraw, BA 2011, BS 2011, MA 2013, MEd 2016, agreed with the Salmos but also relished the opportunity to run alongside some current student-athletes.
"Back in my day, when I was here, it truly was a commuter college," Wallace said. "So, this is really impressive, seeing all the young guys, ladies run."
McGraw agreed, pointing to the new cross country and track and field teams.
"That's a nice addition to get people interested in running and running on campus," he said. "I see it only getting bigger from here."
That's also a hope of Donato's and Associate Vice Chancellor of Alumni Engagement and Annual Giving Jennifer Jezek-Taussig's. Originally, they'd imagined that the event might draw about 150 registrations and were thrilled by the turnout.
They now envision that the event could grow as large as 500 – or more – participants, helped along by the large UMSL St. Louis alumni presence in the region and the strength and beauty of the 5K course.
"I would run this on my own," Wallace said. "If it were this type of weather – now if it were 100 degrees, it would kill me – but this was really pleasant."

Short URL: https://blogs.umsl.edu/news/?p=91065