Eye on UMSL: Tribute to a musical great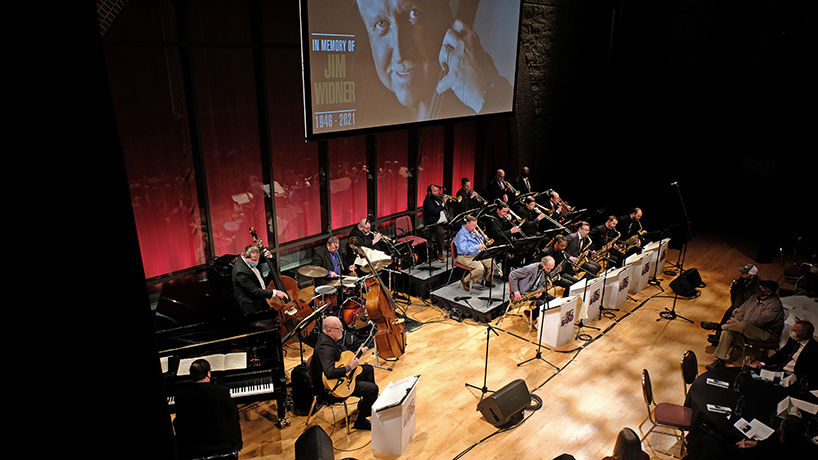 On Saturday, the musicians of the Jim Widner Big Band raised their instruments for a tribute worthy of the life and accomplishments of their band's eponymous founding member in the Blanche M. Touhill Performing Arts Center at the University of Missouri–St. Louis. Jim Widner, a professor emeritus of music and longtime director of the Jazz Studies program, passed away on Oct. 3 at age 75 after years spent fostering young musicians and jazz studies within UMSL and beyond.
During his 18-year tenure at UMSL, Widner helped build the Jazz Studies program, brought the UMSL Jazz Ensemble to festivals in Austria and Italy in 2019 to rave reviews and won the second of two Missouri Association for Jazz Education Outstanding Jazz Educator Awards. He helped found the Greater St. Louis Jazz Festival and the Jazz Education Network. Widner also enjoyed a storied career on stage as a bass player with the likes of Kenton, Woody Herman and the Glenn Miller Orchestra directed by Buddy DeFranco, among others.
Widner is survived by his wife of 48 years, Lana; son, Lance Widner; daughter, Jamie Perrin, daughter-in-law, Stephanie Kiefer; son-in-law, Jason Perrin; father-in-law, Marvin Enloe; and three grandchildren.
The members of the Jim Widner Big Band who played on Saturday include, on sax: Jason Swagler, Kwanae Johnson, Mike Goldsmith, Paul DeMarinis, Matt Schultz; on trumpet: Andy Tichenor, Dustin Schrum, Kyle Allen, Dan Smith; on trombone: Cody Henry, Dave Dickey, Gary Brandes, Brett Stamps, Pete Madsen; Rick Haydon on guitar, Ken Kehner on piano, Mike Owens on bass and Joe Weber on drums. They were just a few of the performers who honored Widner during the more than two-hour event held in the Lee Theater.
For more information about Widner's life and accomplishments, read this online obituary.
This photograph was taken by UMSL photographer August Jennewein and is the latest to be featured in Eye on UMSL.

Short URL: https://blogs.umsl.edu/news/?p=91139