Working for an education: UMSL students' tales of perseverance, support, sacrifice and success
Education should be for anyone who wants it – and that's how it is at the University of Missouri–St. Louis. 
As the only public research university within the St. Louis metropolitan area, UMSL serves all willing to work for their educations, while providing the support and services necessary to make that happen. UMSL students often balance multiple responsibilities – as parents, caretakers, employees, athletes, reservists – while striving for a college degree to kickstart careers and better lives, families and communities. 
Regardless of whether they come straight from high school or transfer in, UMSL students balance seemingly impossible loads on their paths to earn degrees. 
Here are four of their stories. 
"Let's get this thing done"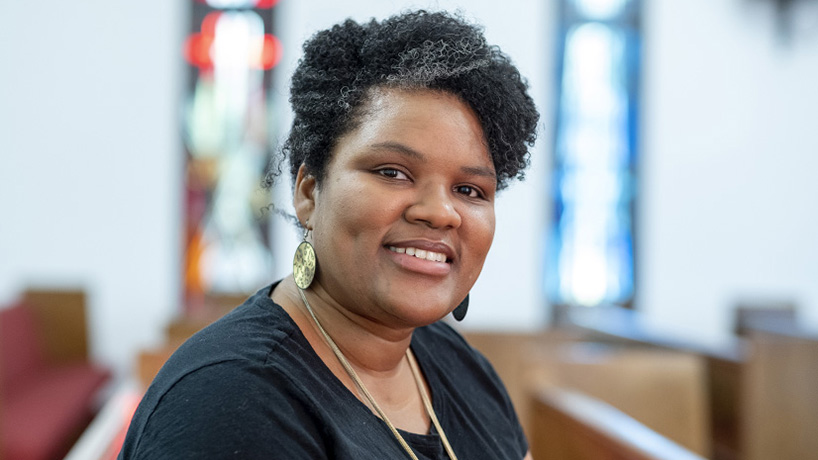 Staci Shelton, Wells Fargo business liaison consultant 
Since enrolling at UMSL, Staci Shelton has earned a BA in communications and a business minor in 2020, achieved four promotions at Wells Fargo and bought a house. 
But Shelton didn't have an easy path to those triumphs. 
She'd enrolled in college after high school, but left after getting caught up in a party scene. She served a short stint in the military, struggling afterward until renewing her faith and her involvement with the House of Deliverance Church. 
Things changed when Shelton started volunteering with The Mission Continues, a nonprofit benefiting veterans, and helping with Wells Fargo's Susan G. Komen efforts. That led to a job with the financial services company. 
"God provided me the means to afford college by providing a job," says Shelton, whose tuition was covered through employer reimbursement. 
She earned an associate degree at St. Louis Community College – Forest Park and transferred to UMSL. 
"I kept saying to myself, 'You've got to finish something,'" Shelton says. "It was daunting. But it was encouraging because UMSL had a program for working adults, where you see people like you working full-time and trying to finish college. In all of my classes, we were talking about, 'Oh, I just left my job. I'm so tired. But let's get this thing done.'" 
That camaraderie alongside support from UMSL Career Services, Assistant Teaching Professor Ryan Krull and Pastor Eric Battle helped Shelton power through days that started at 4:30 a.m. and ended studying into the early morning after evening classes. 
Her key was reaching out and never giving up. Shelton wasn't shy about asking for help in reviewing her resume, doing mock interviews or for extensions when work sent her to India. There were times when she ran out of tuition money before reimbursement came in, but her instructors told her to come to class, and they'd figure it out together. 
"People were more than willing to help as soon as I opened my mouth and said I needed it," she says. "Having teachers and my church family that went the extra mile encouraged me not to give up." 
"Do what's necessary"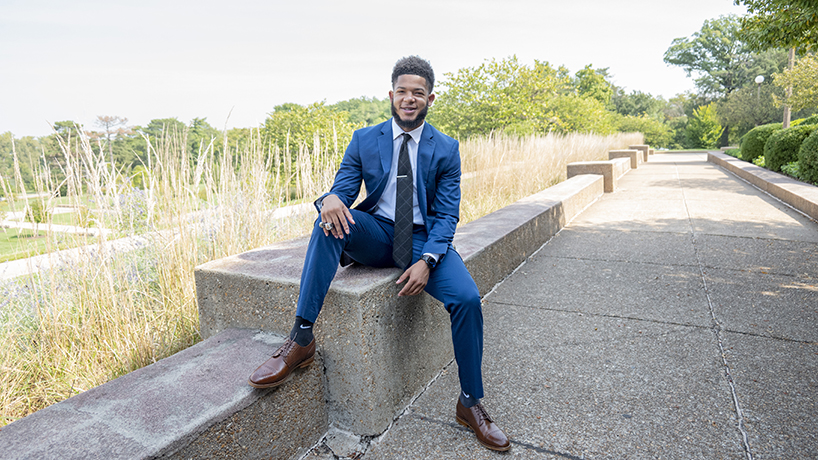 Lawrence Brazil, accounting student and guard 
For Lawrence Brazil, getting though every week requires a plan. After practice every Monday, the accounting major and guard for the men's basketball team sits down with Assistant Director of Athletics for Academics Lindsay Pickering to schedule out the next two weeks. 
"Whatever she puts that day, I try to do the day before," Brazil says. 
That's necessary since Brazil maintains a 3.89 GPA while juggling the intense time requirements of basketball alongside a job at Academy Sports – where he works full-time during the summer and part-time in the school year to cover non-school expenses. 
"It took a lot of nights staying up late," says Brazil, a two-time academic all-conference player. "When I first came to UMSL and practices started and workouts started, it was pretty tough. I was really frustrated, and I broke down once or twice because everything was coming so fast toward me. I didn't know how to control it. I sat down with one of my coaches, Scott Gauthier, and he was like, 'Everything's going to be fine. Just continue to get better at something every day.' 
"No matter what it is – if it's emailing a teacher, if it's staying up really late to do homework, or asking my professors or Lindsay questions – I will do what's necessary in order for me to have a better grade." 
Brazil has loved basketball and played competitively since he was a kid. Though the game led him to UMSL on a full-ride scholarship, it was touring the College of Business Administration and hearing about its nearly 100% job placement that clinched his choice. 
That's because he holds both the possibilities of playing professionally and becoming a certified CPA and earning a doctorate dear – which is why he works so hard at both. 
"When I was younger, I didn't take school as seriously," Brazil says. "I had a coach in high school who would always say, 'Good grades are the key to success.' After I heard that, I pushed myself hard, studying wise. It was a wakeup call for me. I want to get a job. I want to live a successful life – no matter if it's in sports or if it's not in sports." 
"Just a lot of hard work"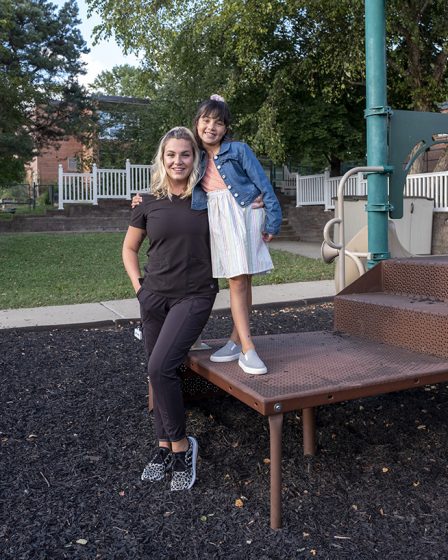 Morgan Heitert, Mercy Hospital South neurology nurse 
Morgan Heitert hadn't planned on college. But getting pregnant at 18 changed things. 
"I was a horrible high school student," Heitert says. "After I had Ava, I knew I had to better myself, go get an education, make money for my daughter." 
Inspired by her delivery nurse, Heitert thought back to her childhood fascination with hospitals and realized she wanted to become a nurse. She enrolled at St. Louis Community College – Meramec, then transferred to UMSL, drawn by the College of Nursing. 
She balanced school, raising Ava and work, first as a server, then at the UMSL University Child Development Center and as a student nurse tech. 
"Having a little baby, studying and going to work or to school was difficult, but I found so many ways that made it easier," she said. "Nursing school was something I looked forward to every day, and I thought I was finally making a difference in my life and my daughter's life. It gave me a sense of confidence and pride." 
At orientation, Heitert discovered the Triton Student Parent Success resources and the Childcare Assistance Fund. That, alongside her parents, grandparents and daughter's father helped Heitert care for Ava and balance her other responsibilities. 
Finding time to study was the hardest part. Heitert would stay up till 2 a.m. or wake up early. Sometimes, she'd bring Ava to class or to lab during the weekends. 
"I'd bring her coloring books, and I would study for a few hours in the lab," Heitert says. "I remember being like, 'Oh, my God. Look at this. We're making it work.'" 
Being accepted to nursing clinicals was one of her happiest moments. But that was nothing compared to graduating and getting hired full-time. 
"It was amazing," Heitert says. "It was the best feeling in the world to be done. I never thought I could be a nurse, and to find out that I had that in me was so rewarding. For anyone who has kids or wants a career, you can 100% do it. UMSL is really good at helping you succeed, no matter what. It's just a lot of hard work." 
"Just do it"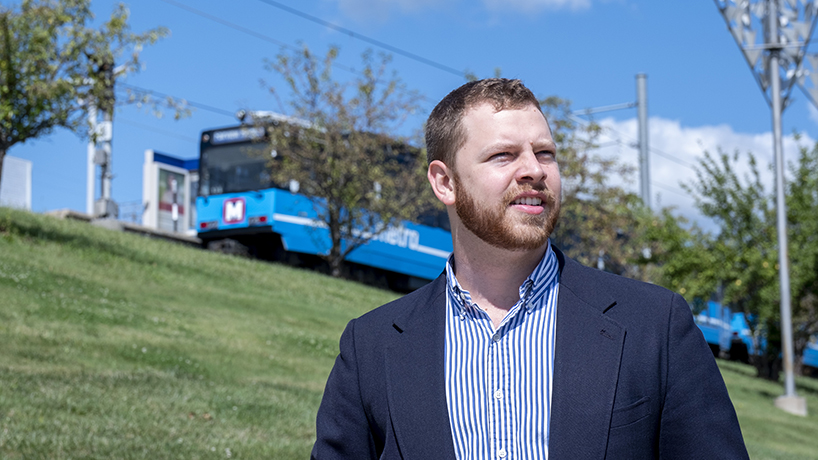 Alexander Frost, political science student
When Alexander Frost returned to school, he supported his education through a series of temp, factory and warehouse jobs. 
"I hated these jobs so much. They were brutal, boring and soul sucking," he says. "I didn't have a car at the time, and I was riding a bus two-and-a-half hours one way, five days a week. I would remind myself, 'Just do it.' It's going come out the other side a lot better." 
Frost wrote the Nike slogan on a whiteboard in his apartment, glancing at it throughout his studies at UMSL. It reminded him not to procrastinate and to keep giving education his all. 
Those efforts paid off for Frost, who is poised to finish his bachelor's in political science this December. He's made almost straight A's – one A- – during his second go-round at earning an undergraduate degree. 
After two years of college following high school, Frost dropped out and started working for a recycling company as a scrap buyer and account manager. When the company folded, Frost realized he wanted to finish his degree. 
"I had student loan debt, and I didn't have anything to show for that debt," he says, explaining how he went on to enroll at St. Louis Community College, earned his associate degree, then transferred to UMSL. 
He resumed studies in political science. Frost immediately found himself impressed by the professors in the Department of Political Science, especially Assistant Professor Anita Manion. 
"She's one of the most effective teachers I've ever had," Frost says. 
Those classes have helped him improve his argumentative writing skills, which Frost believes will be key for his future aspirations – law school and consumer advocacy. 
He's balanced full-time school with a job at Lee BioSolutions. As a Pell-eligible student, Frost was able to get scholarships and grants to help out with costs but still had to take out loans. 
When he leaves UMSL, he'll have a definitive path toward a strong career. 
"This right now, today, is what I was dreaming about," Frost says. "Being about to get my degree after all these years, being able to move forward to that next step – I'm so excited to see what comes next." 
This story was originally published in the fall 2021 issue of UMSL Magazine. If you have a story idea for UMSL Magazine, email magazine@umsl.edu.

Short URL: https://blogs.umsl.edu/news/?p=91475