Eye on UMSL: International exchange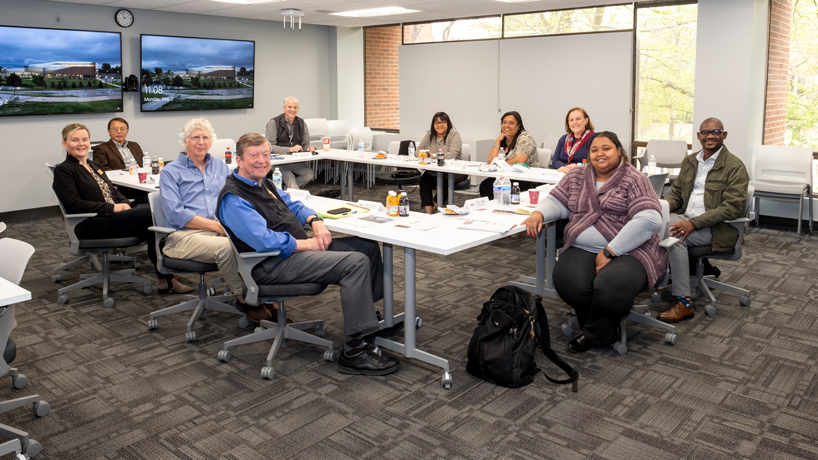 A delegation from the University of the Western Cape in South Africa meets with UMSL Global Executive Director Liane Constantine (at left) and faculty members from the College of Business Administration, including Dean Joan Phillips (third from right), last week in the Social Sciences and Business Building at the University of Missouri–St. Louis.
UWC Deputy Vice Chancellor Jose Frantz led the delegation, which also included Thabile Sokupa, the director of grants/funding; Julie Phillips, director of research development; and Althea George, the manager of grants and finances for research and innovation. They met with Provost and Interim Vice Chancellor for Academic Affairs Steven Berberich last Monday morning to talk about institutional academic agenda planning and leadership before the discussion with business faculty members about UMSL Accelerate and entrepreneurship.
Dan Lauer, the founding executive director of UMSL Accelerate, supply chain and analytics Professors Haitao Li and James Campbell and Michael Costello, an associate teaching professor in the Department of Finance and Legal Studies, were also in attendance for that meeting.
Chancellor Kristin Sobolik hosted the delegation for dinner last Monday night at the chancellor's residence, and they toured T-REX in downtown St. Louis on Tuesday morning before traveling to Columbia, Missouri, to continue their visit with representatives at the University of Missouri–Columbia.
The University of Missouri System has been partnering with the University of the Western Cape since 1986 to advance mutual understanding between the institutions' faculties and foster cooperative teaching, research and service projects. The partnership, known as the University of Missouri South African Education Program, has delivered on the goal of aiding South Africans disadvantaged by their government's former apartheid policies.
This photograph was taken by UMSL photographer August Jennewein and is the latest to be featured in Eye on UMSL.

Short URL: https://blogs.umsl.edu/news/?p=93731