Media Coverage: July 2022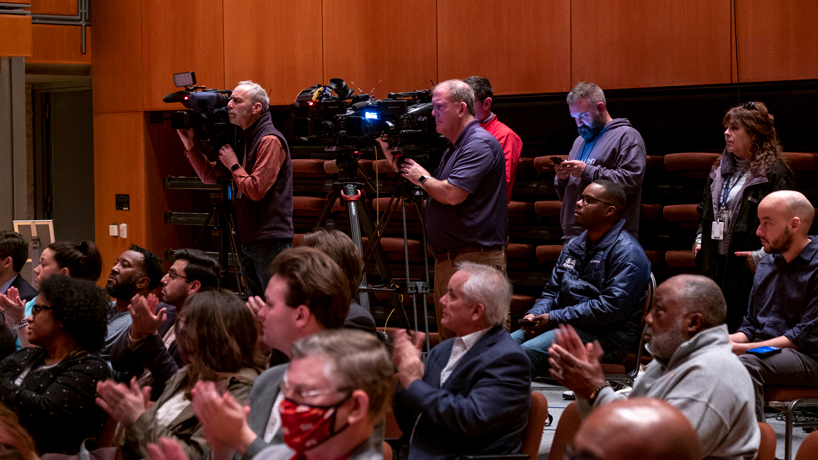 The University of Missouri–St. Louis makes a significant impact on the St. Louis area. Stories about the university, its scholars and their expertise are often covered by local and national news media.
Media Coverage highlights some of the top stories but does not serve as a comprehensive listing. Notice a clip we missed? Email us at umsldaily@umsl.edu.
Featured stories:
The St. Louis Post-Dispatch profiled Steven Pursley, a political science alumnus, who recently opened Menya Rui, St. Louis' newest ramen restaurant. After graduating from UMSL, Pursley moved to Okinawa, Japan, where his mother is from, to study ramen. He stayed for three years, and what he learned there is the foundation of his restaurant.
Christine Corrigan Mendez and Jen Monika, UMSL counseling alumnae, spoke with St. Louis Magazine about their new children's book, "Clementine Gets UNSTUCK!" The book tells the story of Clementine, a joyful third-grader who is determined to work on her mental health and untangle the messy thoughts rattling around in her head so that she can better communicate with her peers.
The St. Louis Post-Dispatch covered Alex LaPorta's recent signing to play the 2022-23 season with Basketball Academie Limburg, commonly known as BAL, in the Dutch Women's Basketball League. The business alumna and former Tritons star forward said she's always dreamed of traveling and experiencing life in Europe.
Media coverage:
Stephen Bagwell, assistant professor of political science
The Washington Post: How far have human rights in Hong Kong eroded? We measured.
Devin Banks, assistant professor of clinical psychology
STAT: Two deadly days in St. Louis: An overdose cluster kills 8 Black people — and shows the new shape of the addiction crisis
Dorina Brown, communication and business alumna
PR Web: Trident University International Welcomes New Military Outreach Specialist for Hawaii
Myron Burr, coordinator of diversity, equity, and inclusion initiatives
The Journal of Blacks in Higher Education: Five Universities Have Appointed Black Scholars to Diversity Positions
Tony Davis, DEI Accelerator participant and business alumnus
The Business Journals: The National Observer July 8, 2022
Keshia Elder, incoming dean of the College of Optometry
The Journal of Blacks in Higher Education: Keshia Elder Will Be the First Black Woman to Lead a School of Optometry in the United States
Optometric Management: OD Notebook: Do Not Overlook Ocular Surface Health in CL Fits
St. Louis Post-Dispatch: People in Business: Yoon adds Blum; Daniels joins Filament; Anders promotes
Women in Optometry: New Dean Of College Of Optometry Plans To Prioritize Inclusivity And Representation
Scott Eul, incoming baseball coach
The Dakotan: MSU Baseball Coach Resigns
KFYR-TV: Minot State baseball head coach out after six seasons
John Hixson, Alumni Association board president
YouTube: Take 5 with UMSL Alumni Association Board President John Hixson
Beth M. Huebner, professor of criminology and criminal justice
ASU News: Missouri professor named new director of ASU School of Criminology and Criminal Justice
David Kimball, professor of political science
Startland News/Missouri Business Alert: Generation least likely to vote wants yours: How Gen Z candidates are jumping on MO ballots to energize interest
David Lange, business alumnus
Latin Trade Magazine: BluSky Restoration Names David Lange as Columbia, Missouri, Office Vice President
Restoration & Remediation Magazine: BluSky Names Vice President for Missouri Office
Roofing Contractor: BluSky Restoration Names David Lange as Columbia, Missouri, Office Vice President
Ted Leigraf, business alumnus
Victory Sports Network: Leigraf Announced As New Softball Coach at Missouri Baptist
Anita Manion, an assistant professor of political science
Newsweek: As Greitens Drama Roils Missouri GOP Senate Race, Dems Seen Gaining Ground
Newsweek: 'A Bloody Republican Primary'
Riverfront Times: A Tech Bro, an Heiress and a Populist Fight for Missouri's Senate Seat
Marcquis McGee, engineering alumnus
St. Louis Construction News & Review: People On The Move In The Local Construction Industry
Debbi McGinnis, public administration alumna
STL News: Missouri Governor Parson Makes Five Appointments
Jen Morgan, accounting alumna
bitbean: "Women Of The C-Suite" with Jen Morgan
Bre'Anna Nunn, criminology and criminal justice student
Daily Journal Online: College News
Kelly Pollock, public policy alumna
St. Louis Business Journal: Berges Family Foundation hires former COCA exec as its first CEO
Tim Rebholz, education alumnus
Leader Publications: Several promotions made at Geggie, Blevins
Jeff Roorda, public policy administration
Leader Publications: Voters Guide: Shaul, Roden, Coleman and Roorda seek new seat
Richard Rosenfeld, Curators' Distinguished Professor Emeritus of Criminology and Criminal Justice
The Associated Press: Report Finds Trump's 'Cesspool Of Crime' Comment Missed Mark
Business Insider: More theft, burglaries and even murders are the unexpected side-effects of rising prices, this criminologist warns
The Crime Report: Murders, Gun Assaults Dipped in First Six Months of 2022
FactCheck.org: Biden's Numbers (Second Quarterly Update)
The Hill: Recidivism isn't the only measure of progress after incarceration
The Hill: Murders, gun assaults fall slightly in major US cities: analysis
Las Vegas Review-Journal: Police stats show Las Vegas no 'cesspool of crime'
The News Tribune: Homicides increased in WA state in 2021. What about in Tacoma and Pierce County?
Time: U.S. Crime Is Still Dramatically Higher Than Before the Pandemic
The Trace: Homicides, Gun Assaults Dip Slightly in the First Six Months of 2022
The Washington Post: U.S. killings still much higher than before the pandemic, report says
Maggie Scherder, education student
Lincoln News Now: Catch me if you can
Samantha Simon, assistant professor of criminology and criminal justice
Christian Science Monitor: Where more women cops walk the beat
Alandrea P. Stewart, counseling alumna
The St. Louis American: Alandrea P. Stewart appointed VP and chief of staff for Harris-Stowe State University
Joel Sylven, men's golfer
Ladue News: University of Missouri-St. Louis Claims First National Championship With Golf Tournament Win
Greg Tigges, business alumnus
Springfield Business Journal: Business Spotlight: Brand Loyalty
Caleb Thompson, men's basketball player
West Newsmagazine: WCA's Thompson signs
Katie Wagner, psychology student
Indiana AgriNews: Star awards honor top Illinois FFA members
Jancarlos "J.C." Wagner-Romero, education alumnus
NOLA.com: Orleans Parish School Board member J.C. Wagner-Romero resigns, says he's moving out of state
Ken Waller, public administration alumnus
Leader Publications: Voters Guide: Waller, Moloney square off for vacant position
Barbara Ann White, nursing alumna
PR.com: Barbara Ann White Recognized as a Professional of the Year by Strathmore's Who's Who Worldwide Publication
Brittany Wright, coordinator of diversity, equity and inclusion in the College of Optometry
Women in Optometry: Women In The News – July
Other news:
Broadway World St. Louis: SAMARPAN World Premiere to be Presented at Blanche M. Touhill Performing Arts Center in August
Call Newspapers: St. Louis County opening satellite voting centers next week
Call Newspapers: Absentee voting satellite locations open across St. Louis County Thursday
Construction Forum STL: Unprecedented Investment Coming to UMSL, North St. Louis County
Construction Forum STL: UMSL Campus Master Plan Includes Transit as a Critical Component
Daily Mail: Having a photo of your partner on your desk can help keep the spark alive, study finds
Digital Journal: Best Universities Announces 2022 Most Affordable Online Bachelor's Degrees
Indian Country Today: RedCan 2022 is underway in Eagle Butte, South Dakota
Jefferson City News Tribune: Overdose recovery program coming to lake
KMOV: St. Louis County reveals plans for ARPA funds
KSDK: What Missouri voters should know before August primary election
KSDK: Vintage KSDK: The day an Ozark Airlines plane crashed short of Lambert Airport
KSDK: Film Camp USA: Bringing Hollywood to St. Louis
KTVI: Funds allocated for north St. Louis county projects
KTVI: 3 projects aimed at revitalizing north St. Louis County
KTVI: St. Louis County to open more satellite sites for absentee voting
Missouri Senate: Sen. Brian Williams and Area Leaders Detail $93 Million Investment in Regional Improvement Projects
Murray Ledger & Times: Douglass Reunion planned for first August weekend
The Pitch KC: Inside the deadliest mass overdose in St. Louis History
The Source: NSF funds training program to boost regional quantum workforce
The St. Louis American: Barlay Consulting seeks a balance helping St. Louis immigrants adjust to US
The St. Louis American: Cigna Foundation awards $200,000 grant to support Bridge Program's Saturday Academy
The St. Louis American: Gateway Writing Project's OneCity Stories program teaches high schoolers to use their voices for social change
The St. Louis American: Check your polling location ahead of August 2 primaries due to redistricting
St. Louis Business Journal: How St. Louis became America's comeback city
St. Louis Business Journal: Network of St. Louis employers holds job fair to boost minority hiring
St. Louis Business Journal: Amazon rolls out EV delivery vehicles in St. Louis, adds to training program
St. Louis Business Journal: Flooding shutters St. Louis-area businesses after historic rain
St. Louis Business Journal: 2022 Fire Awards: How UMSL Accelerate is solving a 'glaring problem' for startups in St. Louis
St. Louis Magazine: Historian Gwen Moore brings to life a largely untold part of St. Louis' past
St. Louis Post-Dispatch: Parson signs Missouri budget, but trims $640 million, including money for tax rebates
St. Louis Post-Dispatch: St. Louis's most affordable starter homes
St. Louis Post-Dispatch: Best Bets: Walker Hayes, the Claudettes, D.L. Hughley, Julius Hunter and more
St. Louis Post-Dispatch: With potential state funding in hand, St. Louis County to resume federal aid spending decisions
St. Louis Post-Dispatch: St. Louis County Council 'working group' to field decisions over $74 million in federal aid
St. Louis Post-Dispatch: Political support for St. Louis tech district wanes as key deadline approaches for TIF package
St. Louis Post-Dispatch: Photos: Swamped, again. St. Louis region re-flooded by torrential rain
St. Louis Public Radio: County Executive Sam Page hopes voters appreciate leading in tough times
St. Louis Public Radio: St. Louis Voter Guide: What to know about the 2022 midterm primary elections
St. Louis Public Radio: All-time record-breaking rainfall brings flash flooding to St. Louis
YouTube: Alumni 5k Run/Walk Route 2002

Short URL: https://blogs.umsl.edu/news/?p=94472