Scenes from an action-packed first week kicking off the fall semester
University of Missouri–St. Louis students found plenty of opportunities to relax or let loose even as they got back into the swing of school work during the opening week of the new academic year.
Campus photographer August Jennewein was omnipresent around campus trying to capture as many of the festivities while students enjoyed the company of old friends and made plenty of new ones.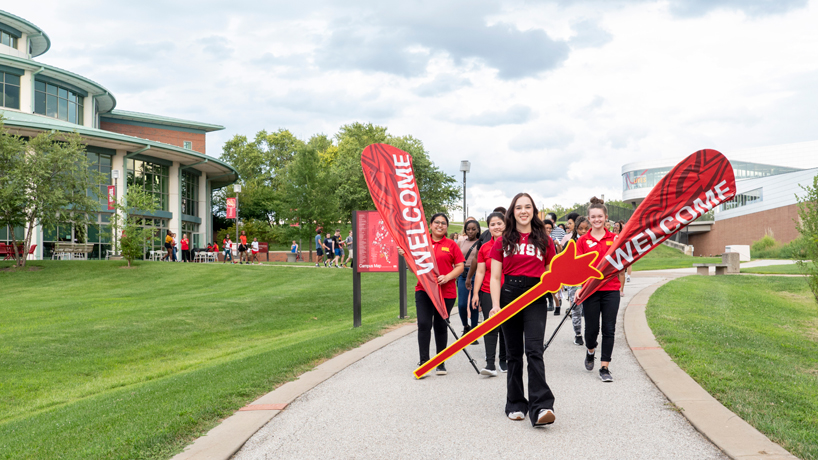 A group upperclassmen led first-year students in the tradition of Serendipity Sendoff on Aug. 20 outside the Millennium Student Center.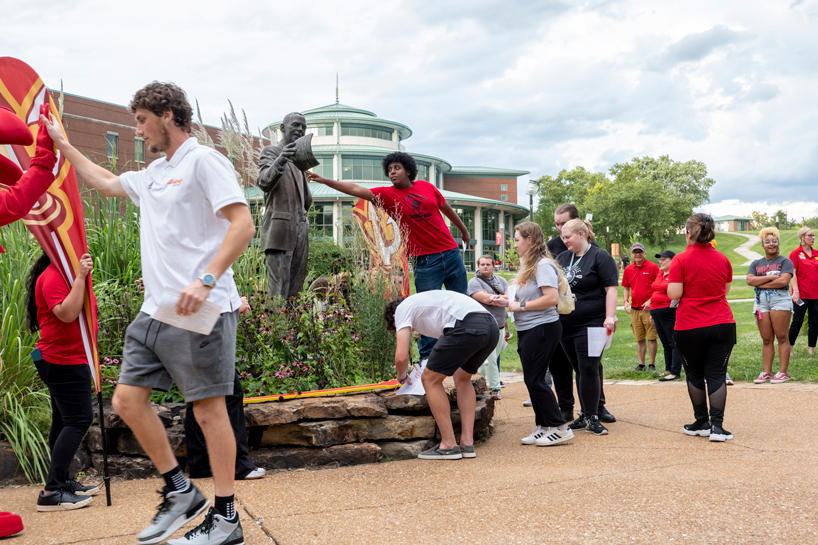 A first-year student reached out to rub the Wayne Goode statue for luck as it tradition during Serendipity Sendoff.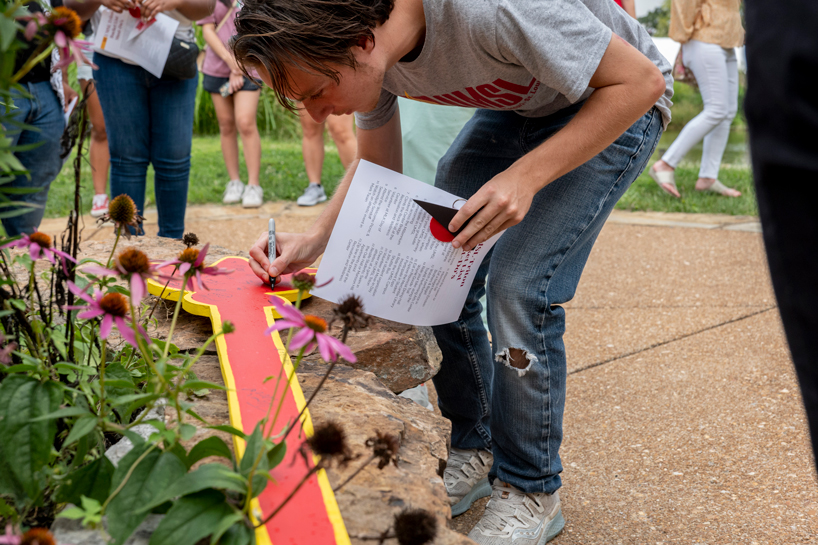 A student leaned over to sign the wooden Trident while taking part in Serendipity Sendoff.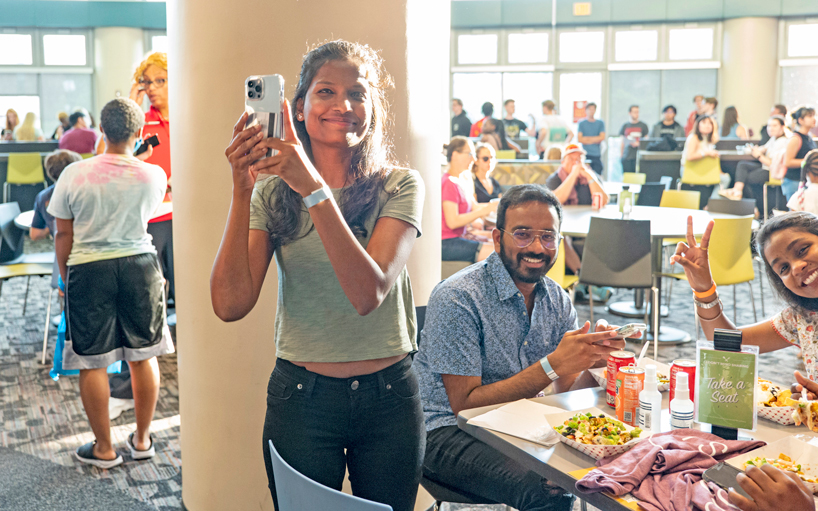 Thunderstorms forced the Welcome Back Bash inside the Millennium Student Center, but that didn't dampen the mood among the participants.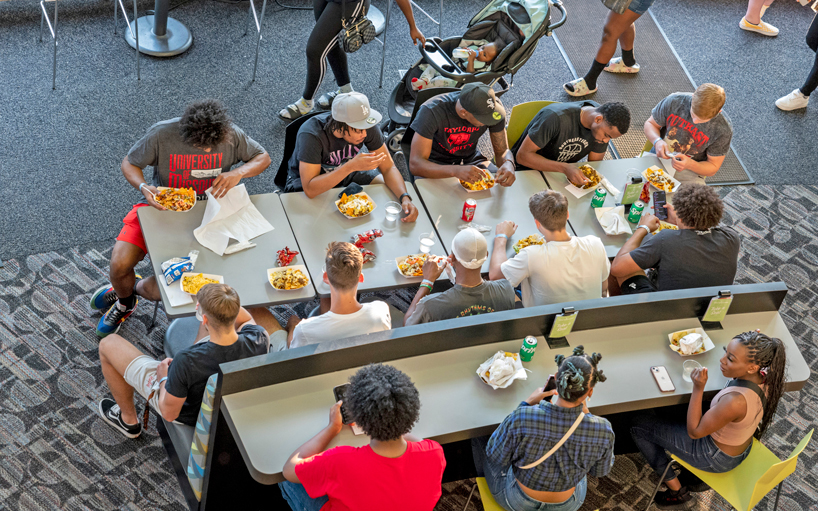 There was plenty of food for students to enjoy as they conversed with each other during the Welcome Back Bash.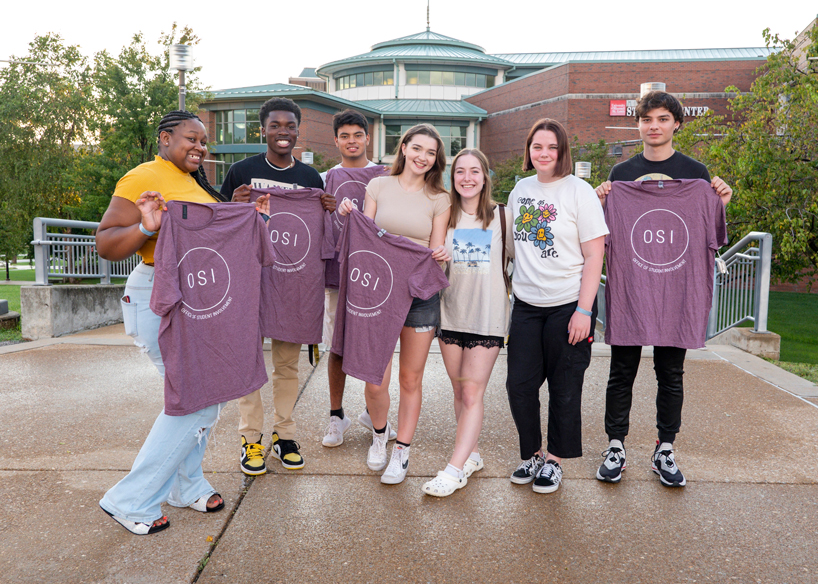 Students left the Welcome Back Bash with T-shirts from the Office of Student Involvement.
Junior business major Caleb Wilkerson flashed a peace sign as he walked outside University Libraries on the first day of classes.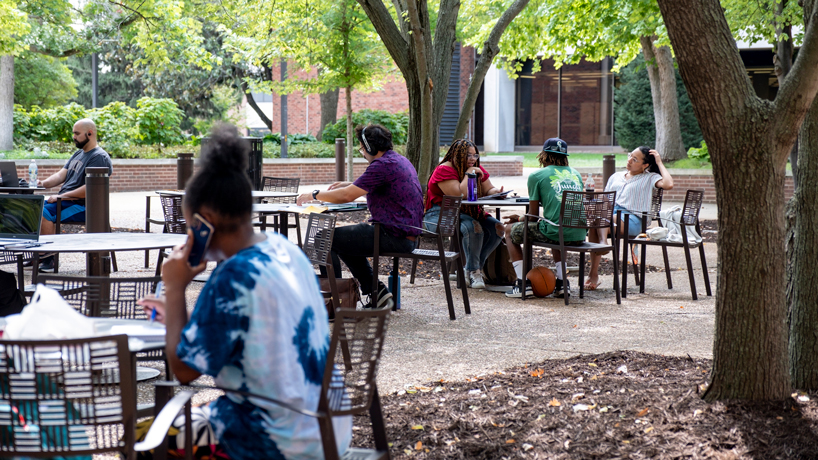 Students relaxed in the shade of the Quad early last week.
Members of the Pierre Laclede Honors College ran around and colored each other with powder puff paint during the annual Paint-A-Palooza.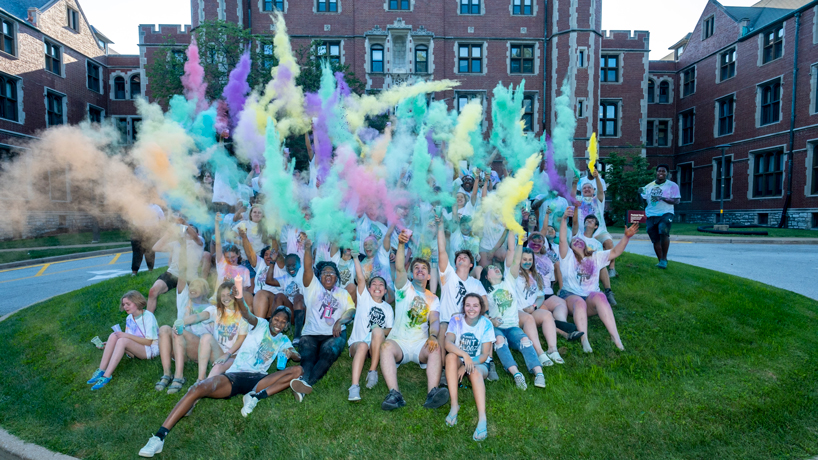 Students gathered for a group photo in front of the Provincial House after Paint-A-Palooza.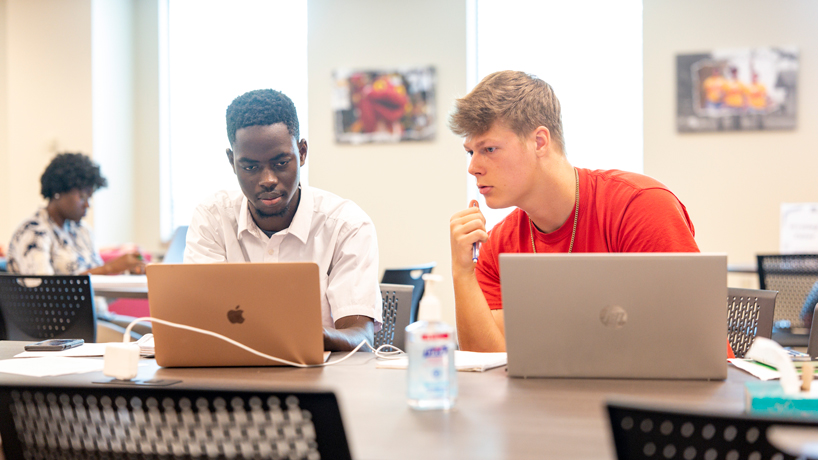 Chris Bartholomew (at right), a sophomore astrophysics major and member of the UMSL baseball team, tutored freshman Mamadou Thiam in calculus in the Millennium Student Center as the new semester got underway.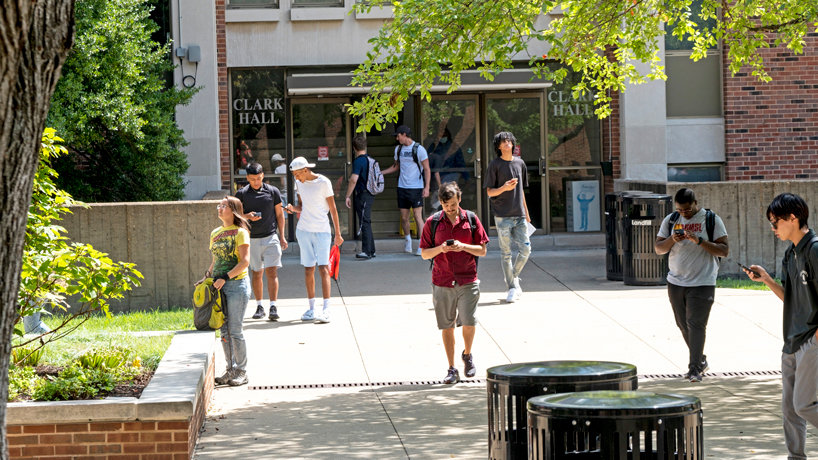 Students walked out of Clark Hall after finishing class.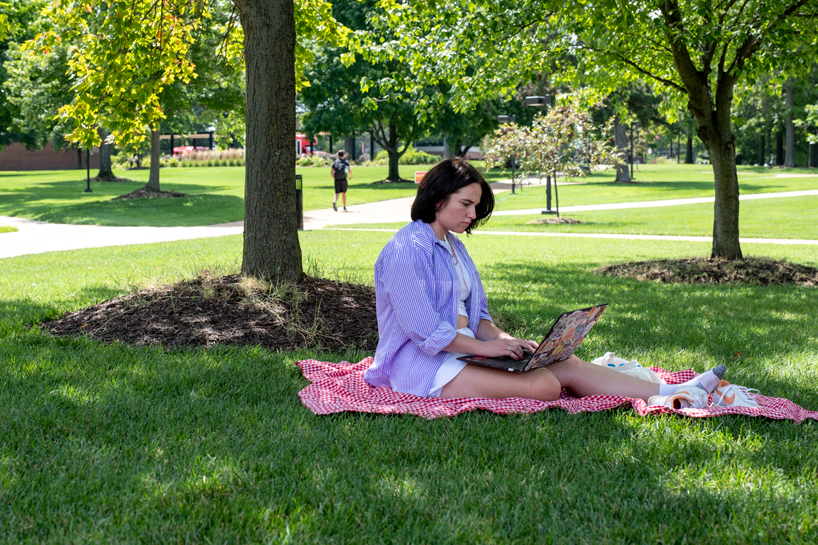 Senior social work major Madalyn Dueker studied in the grass outside the Thomas Jefferson Library.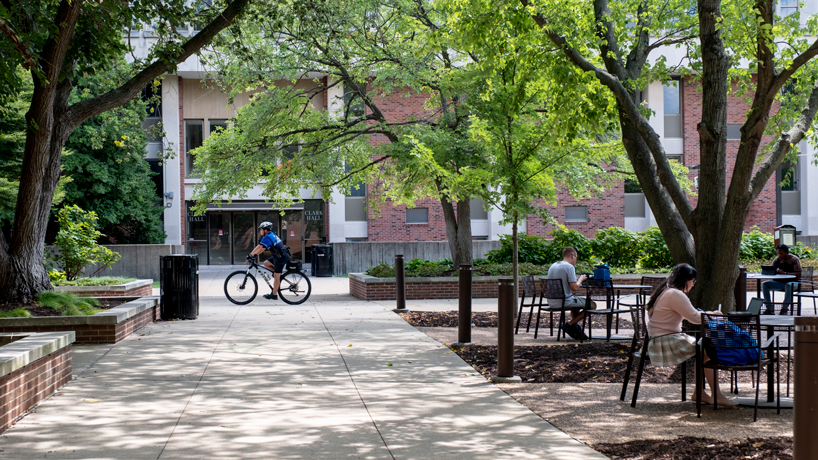 An UMSL police officer rode his bike through the Quad as students studied one afternoon last week.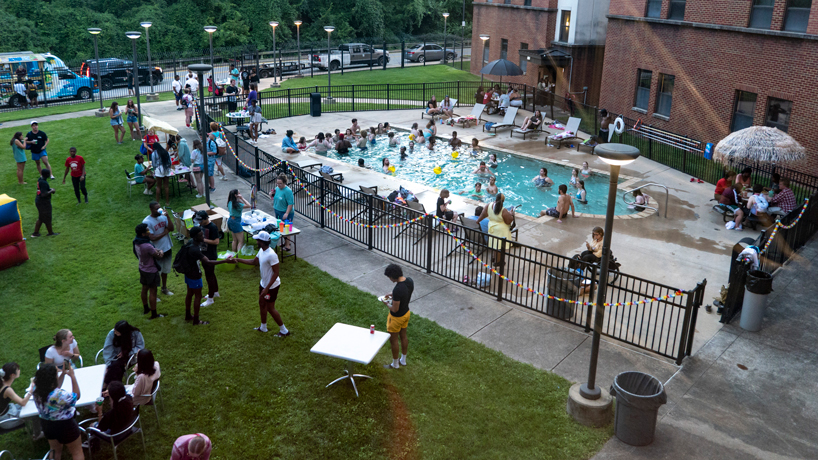 Students enjoyed the pool and other activities Friday evening during the Oak Hall Pool Party.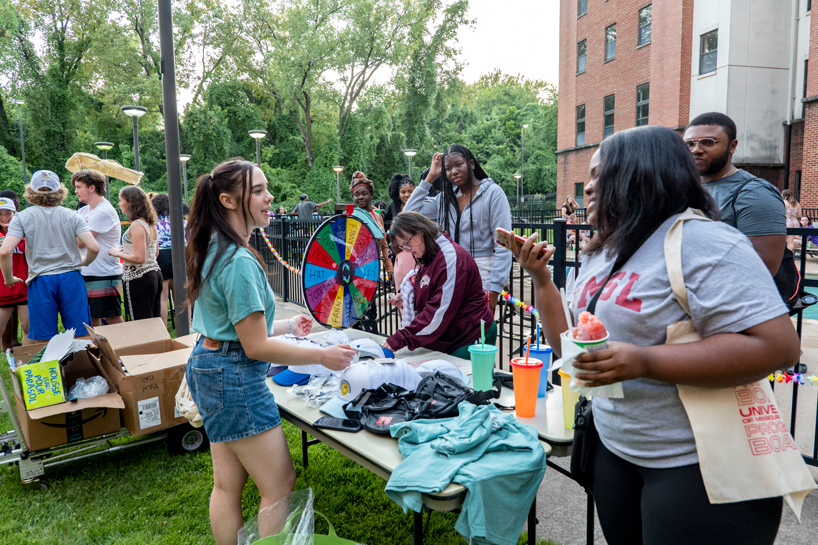 Attendees had an opportunity to spin the wheel and win prizes like T-shirts and hats.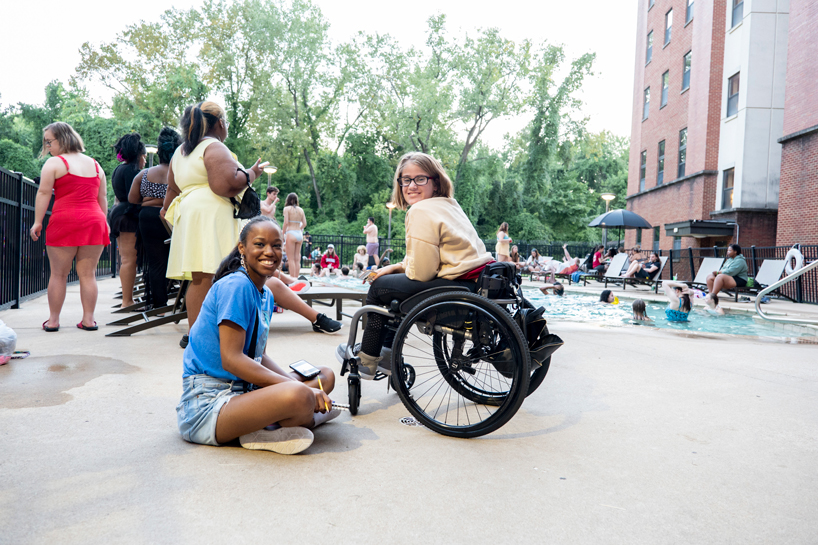 Students enjoyed hanging out and conversing near the pool.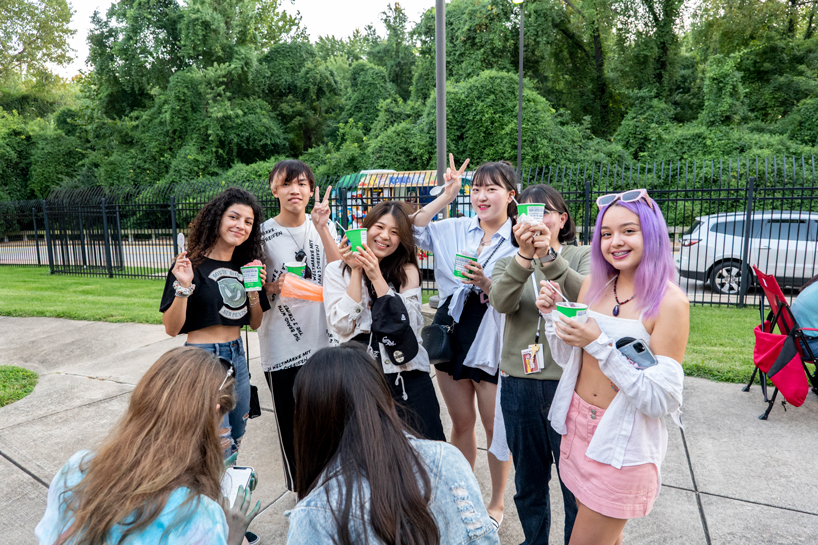 Others partook in frozen treats from Kona Ice while surrounded by friends.
Also check out video of Social Media Manager Jeremy Goldmeier captured from the Office of Student Involvement's Penthouse Party last week.

Short URL: https://blogs.umsl.edu/news/?p=94746