Media Coverage: December 2022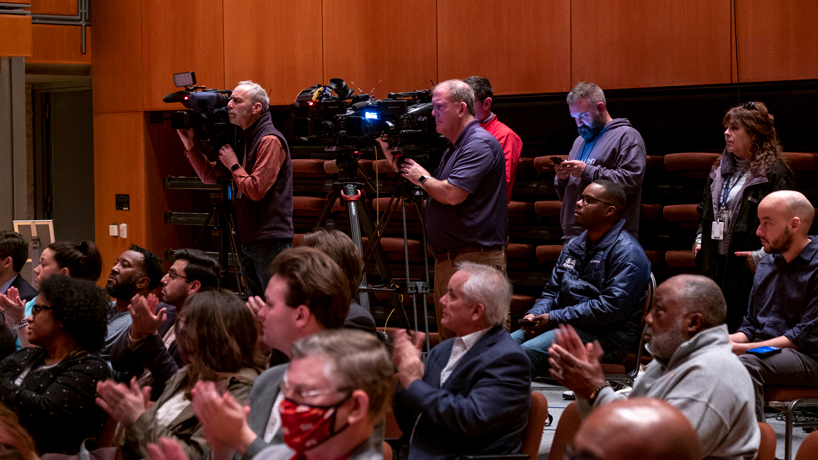 The University of Missouri–St. Louis makes a significant impact on the St. Louis area. Stories about the university, its scholars and their expertise are often covered by local and national news media.
Media Coverage highlights some of the top stories but does not serve as a comprehensive listing. Notice a clip we missed? Email us at umsldaily@umsl.edu.
Featured stories:
The St. Louis Post-Dispatch talked to Jessica Hylton, director of internationalization strategies and international student and scholar services, as well as students Celina Holmes and Kevvin Brown – both members of a cohort of students from The Bahamas who came to UMSL in August – for a story highlighting international students returning to St. Louis after a period of declining international enrollment because of the COVID-19 pandemic.
The St. Louis American profiled Darren Young and Charlene Lopez-Young, co-founders of The Fattened Caf, a smoked meats and Filipino BBQ pop-up restaurant and members of the UMSL's first Diversity, Equity and Inclusion Accelerator. The couple discussed their fist pop-up restaurant Milque Toast, adjusting to the COVID-19 pandemic and how they worked to grow their second business endeavor.
Media coverage:
Ken Cella, president of the Chancellor's Council
Construction Forum STL: UMSL Embarks on a Dramatic Campuswide Transformation
Sarah B. Fandrey, social work alumna
PR Newswire: Bradley adds real estate partner Sarah B. Fandrey in Dallas
Joel Glassman, former director for the Center for International Studies
The Times-Delphic: Drake's U.S.-China Symposium discusses past, present, future relationship
Dustin Hagens, Tritons baseball player
Fulton Sun: Fulton baseball's Hagens signs with UMSL
Ruth Harker, former Tritons women's soccer player
Women's World Football Show podcast: Episode 210: Ruth Harker
Gordon Raymond Hefner, political science alumnus
ForConstructionPros.com: Construction Industry Hires, Promotions for Q4 2022
St. Louis Construction News & Review: Hefner Hired as ASCC Executive Director
Beth Huebner, professor of criminology and criminal justice
Riverfront Times: St. Louis County's Plea Bargaining Process Still Opaque, Study Finds
Andrew Hurley, professor of history
The Washington Post: America underwater: Extreme floods expose the flaws in FEMA's risk maps
Sandra Langeslag, associate professor of psychological sciences
Live Science: What does love do to your brain?
Anita Manion, assistant professor of political science
St. Louis Public Radio: New Missouri Treasurer Vivek Malek will be first person of color to hold statewide office
Sarah An Myers, psychology alumna
Psychology Today: Are Hallucinations Real?
Robyn Nagel, social work and sociology alumna
Daily Journal Online: Serenity names new director
Rachel Poteet, anthropology and media studies alumna
PRLog: Powers Insurance & Risk Management Appoints Commercial Account Manager
Charlie Rodriguez, business alumnus
RiverBender.com: Colonel Gregory Announces Promotions to the Ranks of Lieutenant Colonel, Captain, and Lieutenant
David Rose, professor of economics
The Libertarian Christian Podcast: Ep 303: Environmental Social Governance (ESGs) and Business Ethics with David Rose
Richard Rosenfeld, Curators' Distinguished Professor Emeritus of Criminology and Criminal Justice
Florida Politics: Report: Number of rapes spiked in 2021 while overall crime rate decreased
NewsRadio Northwest: Criminologist: Pandemic continues to plague Seattle with elevated crime rates
Tampa Bay Times: Florida crime is down, report says, but the full picture is muddled
Time: The Danger of America's Woefully Incomplete Hate Crimes Data
Juliann Sebastian, former dean of the College of Nursing
North Platte Post: UNMC nursing dean creates scholarship as parting gift
Kristin Sobolik, chancellor
St. Louis Post-Dispatch: People in Business: Latitude hires Moorkamp; Community Impact Network adds Franklin
Douglas Swanson, coordinator for Labor Studies
The Labor Tribune: Recovery Friendly Workplaces empower organizations to support employees impacted by substance use disorder
Vetta Sanders Thompson, former associate professor of social work
The Source: Washington People: Vetta Sanders Thompson
Tony Urban, business alumnus
Business Wire: Cass Information Systems, Inc. Names Tony Urban as Executive Vice President and Transportation Information Services Business President
Other news:
4StateNews: Senator Brian Williams Invites Construction Contractors to a Community Informational and Panel Discussion
American Homefront Project: Data plays a bigger role in warfare, and the military is building a new center to analyze it
Chicago Patch: Darryl Maximilian Robinson As Ayn Rand's District Attorney In "Night"
Costar: Colorado Investor Buys Express Scripts' Headquarters Building in St. Louis
KOMU: Target 8: Lack of overdose data makes action steps difficult for local health officials
Monitor Daily: CSI Leasing Sponsors UMSL Opportunity Scholarship with $50K
Morningstar Magazine: St. Louis Region Emerging as a Global Hub for Innovation in Indoor Agriculture
Newsweek: Shelter Celebrates Over 50k Rescues With Amazing 'Muttcracker' Photoshoot
Riverfront Times: DEI3 Founder Reveal & Celebration
Savannah CEO: Savannah Music Festival Executive Director Gene Dobbs Bradford Receives Honorary Doctorate from University of Missouri – St. Louis
Southeast Missourian: Warren Hearnes looks back on his days as Missouri governor
The St. Louis American: UMSL launching two DEI online educational initiatives
The St. Louis American: UMSL, MU program seeks to accelerate DEI in region
The St. Louis American: Dobbs Bradford to receive honorary degree at UMSL
The St. Louis American: UMSL College of Education awarded $4 million grant to support postdoctoral fellowship program
St. Louis Business Journal: Bungee fitness courses, air fresheners and more: UMSL DEI Accelerator funds 6 firms
St. Louis Business Journal: St. Louis 'Shark Tank' startup Flipstik raises $1.2M to expand its product line
St. Louis Business Journal: UMSL gets $4M grant to support College of Education
The St. Louis Jewish Light: Newsmakers: December 2022
St. Louis Magazine: B Juiced juice bar opening in Ferguson in 2023
St. Louis Post-Dispatch: Six small businesses receive $50,000 from UMSL
St. Louis Post-Dispatch: St. Louisans open homes to more than 300 Ukrainians seeking refuge from war
St. Louis Post-Dispatch: International students returning to St. Louis after pandemic, immigration slump
St. Louis Public Radio: Meet 2 St. Louis entrepreneurs who just received $50k from UMSL's DEI Accelerator
St. Louis Public Radio: NGA's nearly $2 billion new western headquarters reflects data's growing role in warfare
World Wildlife Fund: St. Louis Region Emerging as a Global Hub for Innovation in Indoor Agriculture

Short URL: https://blogs.umsl.edu/news/?p=96337