Media Coverage: February 2023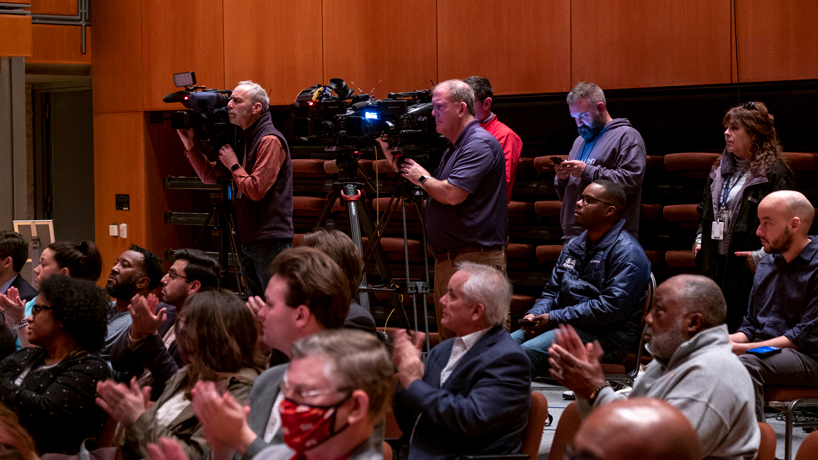 The University of Missouri–St. Louis makes a significant impact on the St. Louis area. Stories about the university, its scholars and their expertise are often covered by local and national news media.
Media Coverage highlights some of the top stories but does not serve as a comprehensive listing. Notice a clip we missed? Email us at umsldaily@umsl.edu.
Featured stories:
The St. Louis American and KSDK featured the St. Louis American Foundation's decision to honor UMSL for its impact – spanning six decades – by presenting it with its 2023 Corporate Diversity Award at its 21st Annual Salute to Excellence in Business Awards luncheon. "We reflect St. Louis," Chancellor Sobolik said of the recognition. "We are St. Louis and the broader region's public research university – the largest in eastern Missouri. Our mission and our founding were to make sure that we serve this region and the diverse people and corporations and needs of the region."
The third installment of the "Living History" series on KMOX featured Dr. Keshia Elder, dean of the College of Optometry at UMSL. Elder is the first Black woman to hold the position not just at UMSL, but at any optometry school nationwide. Elder told Carol Daniel that she studied under the first Black man to ever hold a position as dean of optometry, but didn't really think too much about the history she was making when she earned her position.
Chancellor Kristin Sobolik laid out her vision for UMSL's role as a driver of workforce development and champion of equitable economic growth as a featured guest on Winning STL, the St. Louis Post-Dispatch's video series featuring interviews with regional business and community leaders. Sobolik joined St. Louis Post-Dispatch Publisher Ian Caso at The Train Shed restaurant at Union Station to discuss UMSL's ascent in the U.S. News & World Report rankings.
Media coverage:
Steven J. Berberich, vice chancellor for academic affairs and provost
Inside Higher Ed: New Presidents or Provosts: Concordia College–Moorhead, George Washington U, Hendrix College, Kellogg CC, Ohio Wesleyan U, Robert Morris U (Pa.), U of Houston, U of Missouri–St. Louis, Washburn U
St. Louis Post-Dispatch: People in Business: New hires for Sound Health, West Community CU, Operation Food Search
David Byrd, accounting alumnus
El Paso Inc.: New CEO at Transmountain hospital
Kitty Castilleja-Cutts, business alumna
The St. Louis American: Kitty Castilleja-Cutts named HR manager at Operation Food Search
Dominique Dobbs, information technology alumnus
Riverfront Times: Melding Blues and Rap, St. Louis Beatmaker Hits Apple Top 10
Fred Fausz, associate professor of history
KTVI-TV: Birthday debate: Valentine's Day or the next day for St. Louis?
Katherine Freund, art history, business and museum studies alumna
UNLV News Center: The Interview: Katherine Freund
Max Gillman, Friedrich A. Hayek Professor of Economic History
WalletHub: Best First Credit Cards
Dan Isom, criminal justice and criminology alumnus
The St. Louis American: Ameren names Dan Isom to lead the company's security
Alphonso R. Jackson, former assistant professor of political science
The Washington Informer: HUD's Six Black Secretaries
Frank Jackson, business alumnus
PR Web: Verinovum Expands Focus on Clinical Innovation for Payers – Hires Frank Jackson as VP of Customer Success
LaShonda Johnson, education alumna
The St. Louis American: LaShanda Johnson named principal of Wren Hollow Elementary
Lindsay Kennedy-Eversmeyer, assistant women's soccer coach
KSDK: Celebrating St. Louis area athletes on National Girls and Women in Sports Day
David Kimball, professor of political science
NPR: This group gets left-leaning policies passed in red states. How? Ballot measures
Orvin Kimbrough, business alumnus
Construction Forum STL: Orvin Kimbrough Prides Himself on Being 'a Thinker and a Doer'
David Klinger, professor of criminology and criminal justice
The Crime Report: In Shielded, Joanna Schwartz Dissects Policing's Legal Environment
PBS: Police special units like the one that killed Tyre Nichols are common. Here's why they've drawn criticism
WDHN: Peer Support Conference discusses officer-involved shootings
WTVY-TV: Nationally recognized criminology professor is featured ALEAPS speaker
Janet L. Lauritsen, Curators' Distinguished Professor Emerita in the Department of Criminology and Criminal Justice
AL.com: Are Alabama cities the 'most dangerous'? Critics pounce on rankings long denounced by the FBI
Timothy Maher, teaching professor of criminology and criminal justice
KMIZ-TV: Criminal justice experts discuss cold cases, how new evidence is found
Anita Manion, assistant professor of political science
Riverfront Times: As Kim Gardner Fights to Keep Job, Judges' Role in Case Sees Scrutiny
Jennifer Meyer, education alumna
Washington eMissourian: Meyer picked to lead Washington School District's Early Learning Center
Susan Miller, business alumna
Construction Forum STL: Susan Miller Appointed as SMACNA St. Louis's New Chapter Executive
Rae Mohrmann, fitness instructor at the Recreation and Wellness Center
St. Louis Magazine: How a 74-year-old St. Louis woman found purpose through running
Angela Oberreiter, optometry alumna
Illinois.gov: Gov. Pritzker Announces Eight Appointments to Boards and Commissions
Tiffany Patton, education alumna
The St. Louis American: Tiffany Patton named development coordinator at Riverview
Laurie Phillips, accounting alumna
St. Louis Post-Dispatch: House Everyone STL new hire for Executive Director Laurie Phillips and Assistant Executive Director Jennifer Bagwell
Richard Rosenfeld, Curators' Distinguished Professor Emeritus of Criminology and Criminal Justice
KMOV: AG Bailey mentions backlog, racist harassment case in filing against Gardner
The New York Times: Policing the Wrong Way
Scripps News: 2022 had the most deaths by police officers since 2015
St. Louis Post-Dispatch: Messenger: Another crime summit comes to St. Louis. Let's get it right this time.
Washington Examiner: Expected surge in vehicle theft crimes in 2023 as violent crime falls
The Washington Post: Biden linked covid to a spike in violent crime. He omitted factors.
Rajiv Sabherwal, former Curators' Professor of Information Systems
University of Arkansas News: Sabherwal Receives LEO Award for Lifetime Exceptional Achievement
Sue Shear, founder of the Institute for Policy Leadership and Sue Shear Leadership Academy
St. Louis Jewish Light: Woods, Shear and Shayer honored in new book for their dedication to voters
Nancy Singer, associate dean of the College of Education
St. Louis Post-Dispatch: Where did all the kids go? School enrollment continues to fall across St. Louis region
Kristin Sobolik, chancellor
St. Louis Post-Dispatch: FOCUS St. Louis Announces 2023 What's Right with the Region Award Honorees
Todd Swanstrom, Des Lee Professor of Community Collaboration and Public Policy Administration
St. Louis Post-Dispatch: Where did all the bus riders in St. Louis go? See 6 riders' stories.
Brad Toben, political science alumnus
Baylor News: Dean Brad Toben to Return to Baylor Law School Faculty
Texas Bar Blog: Baylor Law School Dean Brad Toben transitioning back to faculty
Cathy Vatterott, professor emerita of education
Vox: Nobody knows what the point of homework is
Richard "Prince Ea" Williams, anthropology alumnus
Report Wire: Experience Enlightenment and Healing with Prince EA's New Podcast
Rachel Winograd, associate professor of clinical psychology and head of the Missouri Institute of Mental Health Addiction Sciences team
KTVI: From boots on the ground to education, the local effort to fight opioid abuse in the St. Louis area
Stephanie Wright, business alumna
Waterloo-Cedar Falls Courier: Following history book omission, former DOJ staffer takes out a billboard
Other news:
Chillicothe Constitution-Tribune: Health Center offers free Narcan kits to county residents
Columbia Missourian: MU to launch program for students with developmental disabilities
Daily American Republic: Fentanyl overdoses rise statewide — including Butler County
EIN News: Two more universities join product safety education alliance to expand industry opportunities for professionals
Illinois Business Journal: 'College Transit Challenge' to be hosted by industry partners March 3 through 10
Illinois Patch: Darryl Maximilian Robinson's First 10 Years Of Stage Roles & Training
KBIA: MU PAWS Program follows in UMSL's footsteps
KMOV: St. Louis Symphony Orchestra to perform at Stifel Theatre, UMSL during Powell Hall renovation, expansion
KOMU-TV: 'We have nothing like this here': How a local, Black-owned nonprofit keeps giving back
KSDK: St. Louis Symphony Orchestra reveals 2023-2024 season plan anchored in community connections, collaborations
KSDK: Black History Month Spotlight: Butter Love Skin
KTTN News: Livingston County Health Center to distribute free Narcan kits to Livingston County Residents
KTVI: Missouri launches website to help prevent suicide among Veterans, service members, and their families
KY3: Dallas County Health Department giving away free Narcan
Saint Louis Construction News and Review: All Top St. Louis Region Elected Officials Praise Upcoming Investment in Infrastructure Expo
St. Louis Business Journal: St. Louis Symphony Orchestra's new season to take place in temporary homes amid Powell Hall's renovation, expansion
St. Louis Business Journal: UMSL names new leader for its geospatial center
St. Louis Business Journal: Possible paths forward amid Kim Gardner controversy that will impact St. Louis region for a 'long time'
St. Louis Jewish Light: Newsmakers – February, 2023
St. Louis Magazine: Spring and Summer Arts Guide
St. Louis Post-Dispatch: Advocates frustrated by lack of action one year after mass overdose event at St. Louis high-rise
St. Louis Post-Dispatch: St. Louis manufacturers reach out to schools, step up recruitment as they lose workers
St. Louis Post-Dispatch: SLSO's new season will take place in two temporary homes as Powell is renovated
St. Louis Post-Dispatch: Bi-State reveals possible North County MetroLink routes
St. Louis Post-Dispatch: Best Bets: Niko Moon, American Authors, Bush, 'Lift Every Voice' and more
St. Louis Public Radio: St. Louis Symphony will play next season at multiple venues as it renovates Powell Hall
West Newsmagazine: Space for music education has starring role in Powell Hall Project

Short URL: https://blogs.umsl.edu/news/?p=97168