Student musicians get an education on jazz at UMSL's Greater St. Louis Jazz Festival
Hundreds of jazz students from middle school to college got an education in jazz, performing and the historical link between jazz and hip-hop from notable adjudicators and clinicians last week while attending the annual Greater St. Louis Jazz Festival at the Blanche M. Touhill Performing Arts Center on the campus of the University of Missouri–St. Louis.
In addition to receiving instruction and feedback from clinicians and adjudicators, students also got private access to a performance and music education from famed jazz trumpeter and St. Louis native, Keyon Harrold, and his band.
Harrold, who is also a vocalist, songwriter, activist, educator and producer, has worked with rappers and musicians, including Common, Snoop Dogg, Jay-Z, Beyonce and more. He also serves as the creative advisor for Jazz St. Louis in Grand Center.
Harrold discussed the history of jazz and how the genre's influence has been a part of hip-hop since the 1990s, with groups like Tribe Called Quest interweaving jazz samples into their music. Along with the history of jazz and its influence on popular music, Harrold also wanted students to understand that jazz is an African American art form and that Black students studying the genre should feel comfortable claiming their place in the music.
"It's theirs as Americans, and more specifically as Black Americans, because it's Black American artistry on display," Harrold said. "And they have a right to know about the history. They have a right to know the boundaries that are put up, and they have a right to know how to squash those boundaries and go past them and just focus on being great."
Adaron Jackson, assistant teaching professor and director of jazz studies, who heads the festival, believed it was important for Black students to see themselves mirrored in a professional musician.
"The first thing that pops in my head is that they can see themselves doing this," Jackson said. "So they can witness in some way, someone that's like them, that's into the same thing they're into, who grew up in the same area they did. You've got three people on stage who are from this metro area talking to them about the music they listen to and how to connect with it. It also encourages them to pursue their dreams."
Harrold and his band toured some schools in St. Louis, including his alma mater, McCluer High School, providing music education. One thing students learned from Harrold's DJ is that hip-hop comes from disco and the first disco track that introduced hip-hop is "Good Times" by Chic.
Harrold hoped that students developed a deeper connection to music.
"I'm hoping they come away with the idea that hip-hop was strongly influenced by jazz, and jazz today is strongly influenced by hip-hop," he said. "This music is not different. The only thing that is different is the beat, and sometimes its context. You can look at so many songs back in the past and it's about love, it's about being hurt, it's about following your dreams."
In the 16-year history of UMSL hosting the Greater St. Louis Jazz Festival, more than 560 ensembles have participated, reaching over 12,500 students.
Here are more scenes from last week's Greater St. Louis Jazz Festival: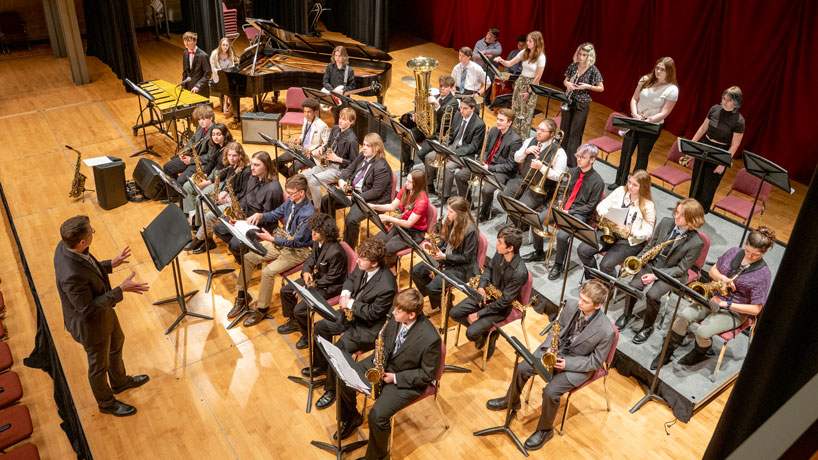 Jason Swagler, director of jazz studies at Southern Illinois University Edwardsville, leads a clinic with members of the Triad High School jazz band during The Greater St. Louis Jazz Festival.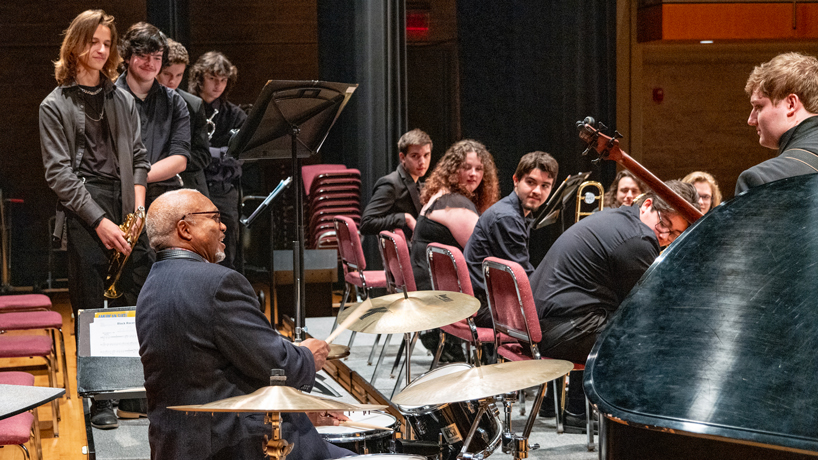 Ronald Carter, professor emeritus of Northern Illinois School of Music, gave a clinic with members of the Francis Howell Central jazz band.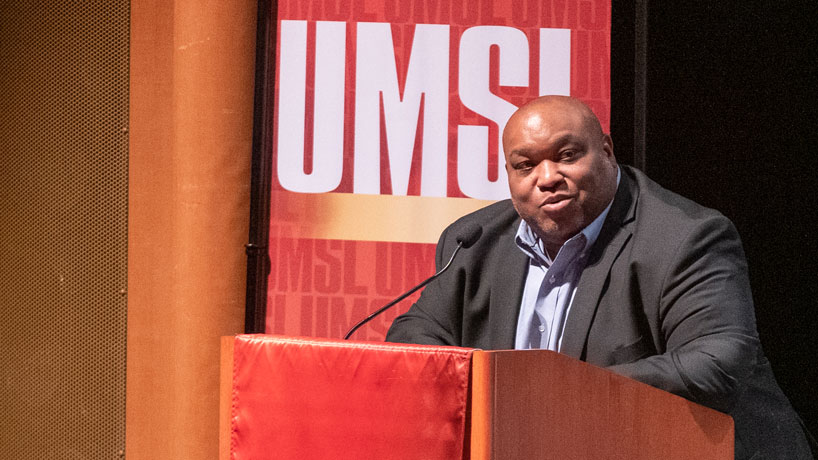 Adaron Jackson, director Jazz Studies at UMSL and the Greater St. Louis Jazz Festival, introduced Keyon Harrold, a featured musician and speaker at the festival.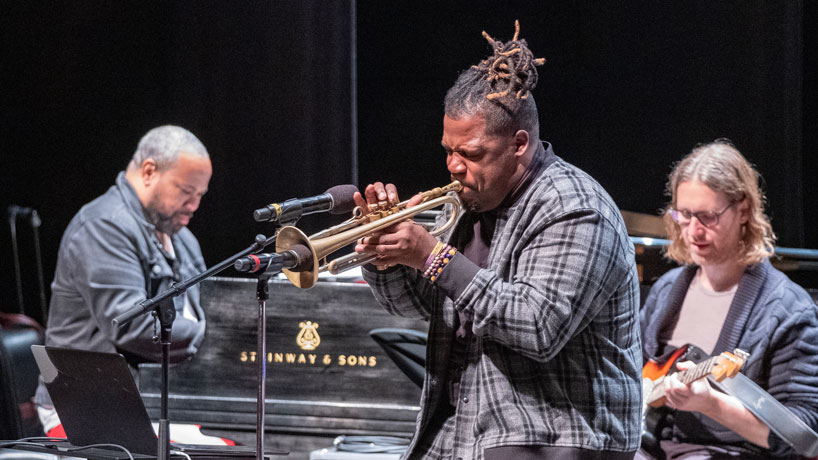 Keyon Harrold entertained and educated students last week at the Greater St. Louis Jazz Festival at the Touhill.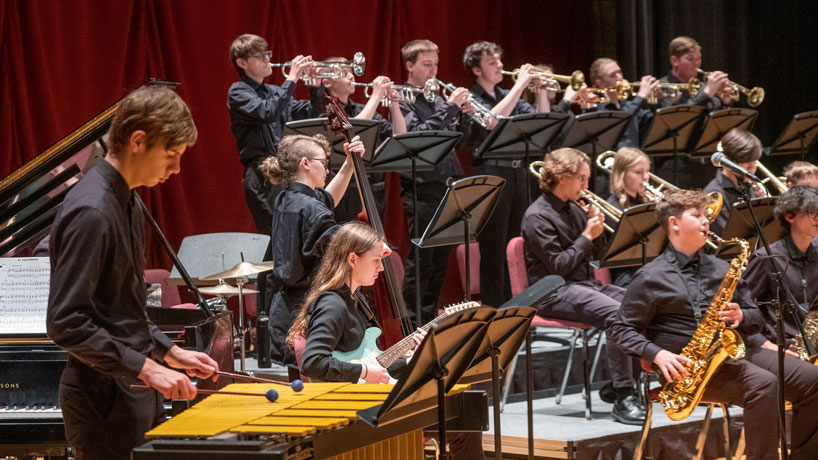 Members of the Quincy High School jazz band perform during a clinic during a clinic last Thursday.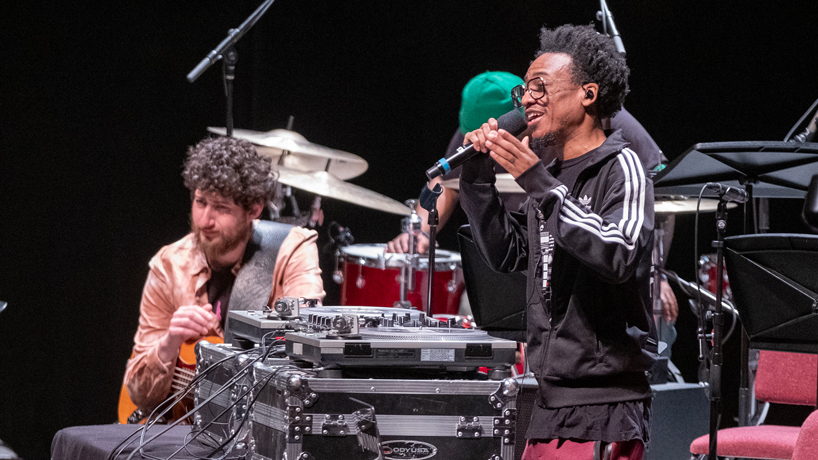 DJ Dummy talks about the origin of hip-hop during The Greater St. Louis Jazz Festival.

Short URL: https://blogs.umsl.edu/news/?p=97878