Media Coverage: April 2023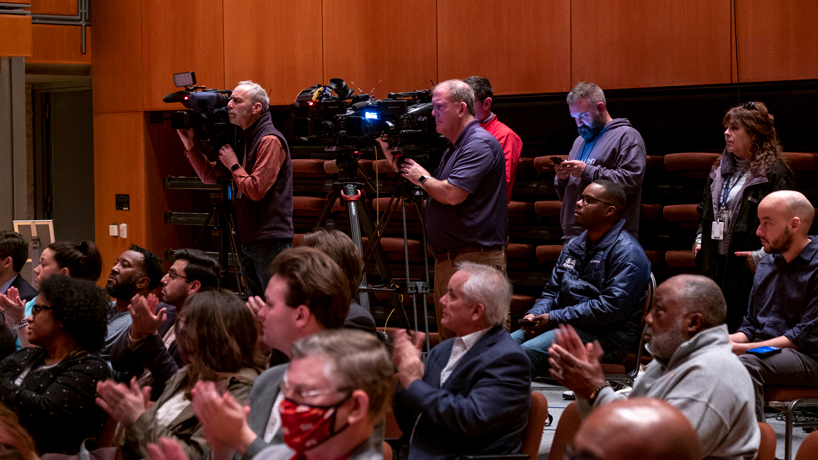 The University of Missouri–St. Louis makes a significant impact on the St. Louis area. Stories about the university, its scholars and their expertise are often covered by local and national news media.
Media Coverage highlights some of the top stories but does not serve as a comprehensive listing. Notice a clip we missed? Email us at umsldaily@umsl.edu.
Featured stories:
A report about decriminalizing fentanyl test strips by Axios featured Rachel Winograd, associate professor of clinical psychology at UMSL and head of the ASPIRE Lab. Winograd noted that test strips won't fix the larger socioeconomic issues that often drive drug use, such as poverty, homelessness and gun violence. However, she added, "In the absence of a regulated drug supply where you can trust that … what you're using is what you think it is, then we have to get more creative."
Adriano Udani, an associate professor of political science, joined St. Louis Public Radio's Elaine Cha on "St. Louis on the Air" to discuss asylum seekers demanding to end abuse and monitoring by ICE contractor, ISAP. Udani, along with Maria Torres Wedding, helped found Migrantes Unidos in 2019. It's a mutual support group that includes more than 50 immigrants who have worn ankle monitors.
KSDK tapped Lara Zwarun, associate professor of communication, to comment on a state-sponsored, campaign-style video boosting Attorney General Andrew Bailey's name recognition ahead of the 2024 primary election.
Media Coverage:
Stephen Bagwell, assistant professor of political science
Milwaukee Independent: A Colllapse of Trust: Why Women Experience More Health Disparity After Natural Disasters
Edward S. Bennett, professor emeritus of optometry
Contact Lens Spectrum: Highlights from the 2023 GSLS: All things specialty lens were covered in the in-person and hybrid sessions.
Timothy Bolt, art history alumnus
St. Louis Post-Dispatch: Made in St. Louis: Watercolors highlight St. Louis architecture
Jennifer Books, project manager
Jefferson City News Tribune: Faith Maternity Care announces new board
Margaret Bultas, nursing alumna
SLU News: MO Governor Appoints SLU Nurse Margaret Bultas to Missouri State Board of Nursing
Adam Cange, engineering alumnus
Edwardsville Intelligencer: Lawns led to landscaping for Cange
Brandy Cole-Barnes, political science alumna
Heavy.com: Brandy Cole-Barnes, Jayson Tatum's Mother: 5 Fast Facts You Need to Know
People: All About Jayson Tatum's Parents, Justin Tatum and Brandy Cole-Barnes
Natasha Dupee, education alumna
The DC Line: Mayor Bowser Announces Key Appointments
Keshia Elder, dean of the College of Optometry
Optometry Times: Eyes on the future: Meet the female deans leading optometric education
Maria A. Ellis, music alumna
The St. Louis American: Sheldon Chorus to perform Robert Ray's Gospel Mass
Rachel Fick, communications alumna
Monitor Daily: CSI Leasing Makes Several Leadership Promotions
Max Gillman, Friedrich A. Hayek Professor of Economic History
Real Clear Markets: Economists Have a Message About Biden's Economic Policies
Hana Haden, former assistant women's basketball coach
Americus Times-Recorder: Hana Haden named new GSW Women's Head Basketball Coach
Sharonica Hardin-Bartley, education alumna
The St. Louis American: U-City's Hardin-Bartley receives state award
Stacy Gee Hollins, education alumna
Diverse Issues in Higher Education: On the move: Stacy Gee Hollins
Felicia Holyfield, business alumna
The St. Louis American: Felicia Holyfield named executive assistant at McDonnell Foundation
Beth Huebner, former professor of criminology and criminal justice
St. Louis Public Radio: COVID-19 policies that emptied jails not linked to crime spike, reports find
Justyce Jedlicka, chemistry alumna
Food Safety Matters podcast: MilliporeSigma: Small Steps, Big Impacts—Understanding Risks and Regulations for Infant Food Safety
Anthony Johnson, history alumnus
St. Lousi Post-Dispatch: Anthony Johnson Named VP-Community & Economic Development at Midwest BankCentre
Tim Maher, teaching professor of criminology and criminal justice
KTVI: Family outraged: Police take down man with disabilities
Madi Mertz, counseling student
The Webster Journal: The hidden toll on mental health professionals
Paula Newsome, former professor of optometry
Qcitymetro.com: Meet the first Black woman to open a private optometry practice in North Carolina
Myrina "Renaissance" Otey-Myton, business alumna
The St. Louis American: A regal Reign
Jessica Ponder, accounting alumna
Lincoln News Now: Cuivre River Electric Cooperative appoints Vice President of Accounting and Finance
Richard Rosenfeld, Curators' Distinguished Professor Emeritus of Criminology and Criminal Justice
ABC7 Chicago: Caught on camera: Suspects beat man who tried to stop car theft in front of Connecticut home
The Associated Press: GOP lawmakers push for state control of St. Louis police
Delaware News Journal: Man charged with trying to carjack off-duty Newark officer in an unmarked police car
PolitiFact: Fact-checking New York Rep. Paul Tonko on the risks of post-incarceration drug overdoses
Spectrum News NY1: Ohio's Jim Jordan paints Manhattan as a crime hotspot. Experts say that isn't true.
St. Louis Post-Dispatch: Almost 7,400 cars were stolen in St. Louis last year. But few led to arrests or charges.
Tony's Kansas City: STL Local Control Clawback Determines Policing Future For Kansas City
James V. Shuls, associate professor of education
Columbia Daily Tribune: Banning Books? Everyone is a Censor
St. Louis Post-Dispatch: Shuls: Open-Enrollment in St. Louis Schools, 55 Years in the Making
Natissia Small, alumna and provost for access, academic support and workforce integration
The St. Louis American: Girl Scouts names Natissia Small as new CEO
Phyllis Smith, education alumna
Columbia Daily Tribune: Missouri on TV: From Jon Hamm to 'Superstore,' how the Show Me State showed up
Kristin Sobolik, chancellor
EIN News: NSF Director Panchanathan delivers inaugural President's Distinguished Lecture at the University of Missouri
Ann Steffen, professor of clinical psychology
Monitor on Psychology: Continuing education improving the quality of life for patients with dementia and their caregivers
Cassandra Walker Suggs, education alumna
Leader Publications: Rockwood names Suggs director of educational equity and access
The St. Louis American: Dr. Cassandra Walker Suggs named director at Rockwood Schools
Maggie Sullivan, education and history alumna
St. Louis Business Journal: Newly formed Rosati-Kain Academy names inaugural president
Ann Taylor, Dean of the College of Education
KMOX Radio: UMSL will have 200 education graduates this year
Jim Thomas, political science alumnus
St. Louis Post-Dispatch: Media Views: From MU to Rams and Blues, retiring P-D sportswriter Jim Thomas excelled on the beat
Blanche M. Touhill, chancellor emeritus
Daily Journal Online: Local non-profit receives award
Sandy Trapani, Department of Language and Cultural Studies chair and teaching professor
The Lancer Feed: Lost in translation
Sadie Weiss, assistant director of the Precollegiate Services
St. Louis Public Radio: Progressives strengthen grip on St. Louis politics as Board of Aldermen downsizes to 14
Maura Wuellner, former associate director of Advancement
The Alton Telegraph: Wuellner's volunteerism spreads throughout the Riverbend
Other News:
Boulder Weekly: Is gun machismo destabilizing the US with paranoia and murder?
Bryant News: International Business Team places 3rd in national Case Competition
Columbia Missourian: Parson appoints 3 to UM System Board of Curators
Construction Forum STL: St. Louis Anchor Action Network Wins Innovation in Philanthropy Award
Construction Forum STL: KWAME Completes Construction on New $3.1M Segment of St. Vincent Greenway
EurekaAlert: New study finds shifting climate regions leading to hotter, drier conditions across Kenya
The Gazette: Fact Checker: Would Iowa bill allow eye surgery without training?
Illinois Business Journal: Midwest Digital Marketing Conference returns April 17, 18 to UMSL
KMIZ: Narcan distribution program to be voted on at Monday's City Council Meeting
KOMU: Audrain County Health Department is now offering free Naloxone
KTVI: What You Are Doing About It? Black Dance USA, Swan Lake, 'Yoga for the People'
KTVI: University of Missouri research teams heading to capitol Thursday
KTVI: Parson appoints 3 new members to University of Missouri System Board of Curators
KSDK: Powell Hall getting a developmental facelift
Ladue News: A preview of the St. Louis Symphony Orchestra's 'Nomad Tour' during 2023 and 2024
OutInSTL: A History of St. Louis' Drag Scene
REJournals: St. Louis' Kwame Building Group wraps construction of $3.1 million section of St. Vincent Greenway
The Source: 'Digging down deep'
Springfield News-Leader: MSU raises tuition while seeking to maintain 'affordability edge' against competitors
Springfield News-Leader: Springfield Symphony Orchestra to open 'Swan Lake' for first concert with St. Louis Ballet
The St. Louis American: St. Louis County Library to host a community autism expo
St. Louis Business Journal: St. Louis Symphony Orchestra hires COO
St. Louis Business Journal: Corporate Philanthropy Awards 2023: Edward Jones, UMSL lead push for inclusive growth through St. Louis Anchor Action Network
St. Louis Business Journal: Lumeris puts chunk of Maryland Heights headquarters up for sublease, citing remote work
St. Louis Business Journal: Former Express Scripts headquarters building, built for $70M and vacant since 2021, to be auctioned at starting price of $2.2M
St. Louis Business Journal: Table of Experts: Workforce development
St. Louis Construction News & Review: Kwame Building Group Completes Construction on New $3.1 Million Segment of St. Vincent Greenway
St. Louis Post-Dispatch: Best Bets: 'Wicked,' the Great Taste, Steve Ewing Band, Curtis Sittenfeld and more
St. Louis Post-Dispatch: Missouri House advances I-70 widening, Powell Hall cash, UMSL remake
St. Louis Post-Dispatch: Drummer Terreon Gully shows off debut album at Greater St. Louis Jazz Festival
St. Louis Post-Dispatch: Bring a curious mind for 2023-24 music season at Sheldon Concert Hall
St. Louis Post-Dispatch: Best Bets: Tim McGraw, Elvis festival, Independent Bookstore Day, 'Swan Lake' and more
St. Louis Public Radio: University of Missouri campuses will be test optional for another year
St. Louis Public Radio: The University of Missouri Board of Curators could add three new members this spring
The Tennessean: How training formerly incarcerated people helps stem the tide of recidivism | Opinion
Webster-Kirkwood Times: Explore Options To Improve Kirkwood Traffic Safety

Short URL: https://blogs.umsl.edu/news/?p=97954