UMSL Athletics celebrates another banner year in sports and academics
Student-athletes at the University of Missouri–St. Louis enjoyed unprecedented success in and out of competition during the 2022-23 academic year.
The Tritons volleyball team produced the year's biggest highlight last December when it secured the program's first-ever regional title and knocked off favored Barry University in the national quarterfinals before losing a hard-fought four-set match against eventual national champion West Texas A&M.
But the men's basketball team wasn't far behind, winning its own regional title and playing a back-and-forth game with eventual national champion Nova Southeastern in the Elite Eight despite turning over the roster after losing in the regional final a year earlier. UMSL's Elite Eight appearance was only the second in school history and first since 1972.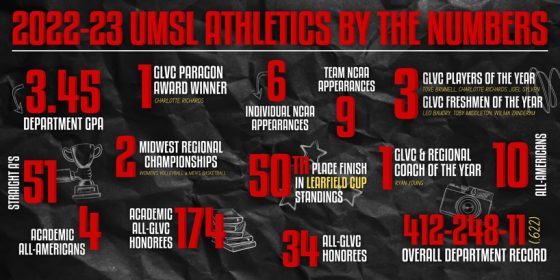 With those results, plus a 15th-place finish by the women's golf team in the NCAA Championships, top-30 finishes by both the men's and women's swimming and diving teams and NCAA Regional berths by the softball and men's golf teams, UMSL wound up placing 50th in Division II in the Learfield Directors' Cup Standings.
It was the Tritons' highest-ever finish in the annual competition, which tracks each athletic department's success across all sports based on how it finishes in NCAA Championships. More than 300 colleges and universities make up NCAA Division II, and UMSL's previous best finish was 52nd in the 2017-18 season.
"We've been able to maintain and sustain some of our long-term coaches to where they've been able to really build, and they're doing phenomenal work," Director of Athletics Lori Flanagan said. "I think we're smarter with how we're scheduling and how we're picking students. All in all, I think they're just united as far as a group and using all the resources the campus has and using them to their benefit. We've also worked very hard to make this a place where our students want to stay and be a part of something really, really good."
With the team success came plenty of individual accolades as 34 student-athletes garnered All-Great Lakes Valley Conference honors, 10 were named All-Americans and three – volleyball standout Charlotte Richards and golfers Tove Brunell and Joel Sylven – were chosen GLVC Player of the Year. UMSL also had three GLVC Freshman of the Year winners – cross country runner Toby Middleton and golfers Wilma Zanderau and Leo Baudry – while volleyball Coach Ryan Young was chosen GLVC Coach of the Year in his 13th season leading the Tritons.
Richards, meanwhile, became the second UMSL student-athlete in history to receive the GLVC's Richard F. Scharf Paragon Award, presented annually to the one male and one female student-athlete who display academic excellence, athletic ability and achievement, character and leadership.
UMSL student-athletes earned even more accolades for their work in the classroom with 11 teams receiving Academic All-GLVC Awards for posting team GPAs of 3.3 or better. Women's tennis led the way with a combined GPA of 3.809, followed by women's golf (3.799), softball (3.657), volleyball (3.636), men's golf (3.610), women's swimming (3.596), women's soccer (3.453), men's tennis (3.466), women's track and field (3.433), women's cross country (3.400) and women's basketball (3.397).
Those team GPAs were bolstered by a record 174 UMSL student-athletes who received Academic All-GLVC recognition with all 19 sports represented on the list. That was an increase from last year's record mark of 158, and 64.4% of all UMSL student-athletes were honored – 89 of them for at least the second time in their careers.
The GLVC named 23 UMSL student-athletes recipients of the Brother James Gaffney FSC Distinguished Scholar Award, named in honor of the former president of Lewis University and two-term chair of the GLVC Council of Presidents and presented annually to student-athletes who achieve a 4.0 GPA during the course of an academic year. This year's UMSL honorees were women's basketball players Shae Dillavou and Parker Stafford; men's cross country and track and field runner Jacob Warner; women's cross country and track and field runner Lily Wagemann; men's golfer Brandon DiMemmo; women's golfers Brunell and Linn Thornqvist; softball players Ashley Borowitz, Mimi Bradley, Corinne Daley and Jenna Towle; women's soccer players Mia Milazzo and Maya Ware; women's swimmers Rebecca Bechtel, Lily Franzen, Amanda Hei, Zara Konstapel and Sarah Nelson; women's tennis players Anna Domingo, Lisa Kirr and Maja Lietzau; and volleyball players Karli Dean and Richards.
A total of 30 UMSL student-athletes earned the GLVC Council of Presidents' Academic Excellence Award after exhausting their eligibility while maintaining at least a 3.5 GPA throughout their careers. The group included baseball players Carson Holin; men's golfers DiMemmo, Nick Hedberg and Juan Antonio Padilla; men's soccer player Arman Kovac and Leo Sowa; women's soccer players Imogen Bennett, Cassie Hall, Abby Parson, Chelsea Riden, Courtney Schreiber, Paige Schwartz, Maddie Schweiss, Ava Walls and Ayana Weissenfluh; softball players Bradley, Megan Brown, Annie Scaramuzzi and Towle; men's swimmers Aiden Clark, Ryan Clark and Jon Osa; women's swimmers Natalie Arthur, Lizzie Bitner, Franziska Hauptmann, Hei, Stephanie Schoemans and Kristen Stalder; women's track and field athlete Haeley Johnson; and Richards from the volleyball program.
DiMemmo was one of 23 student-athletes from 10 member institutions to finish his college career with an unblemished 4.0 cumulative GPA.
College Sports Communicators recognized four Tritons on their Academic All-America teams with Brunell and Richards earning first-team recognition in women's golf and volleyball, respectively, and Osa and Konstapel receiving second-team recognition in men's and women's swimming, respectively.
There were also academic awards in individual sports.
The College Swimming and Diving Coaches Association of America also named six UMSL swimmers – Ava Boehning, Konstapel, Will Nickel, David Reynolds, Conley Savage and Aaron Wicklund – to its Scholar All-America Teams and collectively honored the men's and women's swimming teams among its Scholar All-America swimming teams.
The Women's Golf Coaches Association named five UMSL women – Momo Kikuchi and Victoria Klausner, sophomores Tove Brunelll and Juliette Lecomte and freshman Wilma Zanderau – All-American Scholars.
The men's and women's tennis teams were each named an Intercollegiate Tennis Association All-Academic Team with six men and four women named ITA Scholar-Athletes.
The volleyball team received the 2022-23 American Volleyball Coaches Association (AVCA) Team Academic Award.

Short URL: https://blogs.umsl.edu/news/?p=99029