Media Coverage: August 2023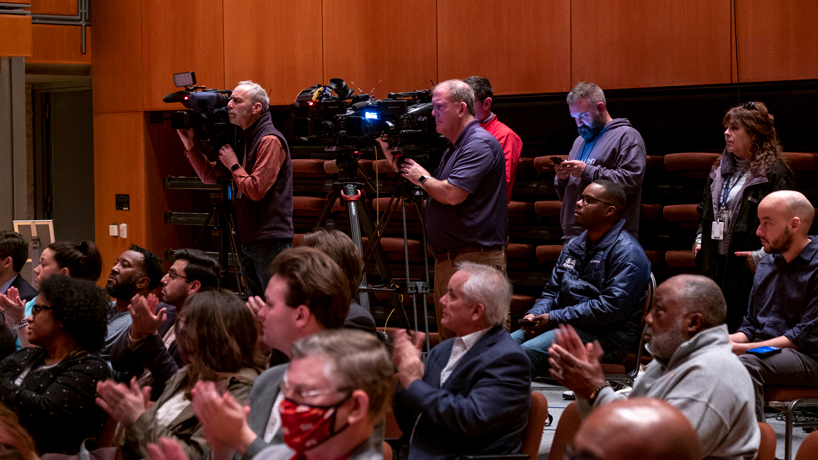 The University of Missouri–St. Louis makes a significant impact on the St. Louis area. Stories about the university, its scholars and their expertise are often covered by local and national news media.
Media Coverage highlights some of the top stories but does not serve as a comprehensive listing. Notice a clip we missed? Email us at umsldaily@umsl.edu.
Featured stories:
The Chattanooga Times Free Press recently profiled Katie Reinsmidt, an UMSL economics graduate, about how she parlayed a weekend in the city into two decades at CBL Properties. Reinsmidt first worked as an associate analyst for A.G. Edwards, focusing on on Real Estate Investment Trusts (REITs). In that position, she took notice of CBL Properties and is now serving as vice president and chief operating officer of the firm.
The St. Louis Business Journal featured an outstanding UMSL alumna on its recent list of "Most Influential Business Woman." Janelle Stowers, who earned an MEd and MBA from UMSL, founded Stowers Realty Group in 2015 and has steadily built the business from the ground up. In 2022, she also opened the Realty Central Education Center.
The St. Louis American covered the The James S. McDonnell Foundation's award of $2.4 million to the St. Louis Anchor Action Network, an organization led by leading St. Louis institutions and employers designed to focus on increasing employment opportunities for residents and expanding contracts with local business owners in 22 ZIP codes that have suffered from decades of disinvestment. The STLAAN – co-led by UMSL and Edward Jones – will use the funding to build on its early successes and widen its impact.
Media coverage:
Yolanda Alovar, education alumna
The St. Louis American: Dr. Yolanda Alovor joins FOCUS St. Louis as director of civic engagement
St. Louis Post-Dispatch: Dr. Yolanda Alovor Joins FOCUS St. Louis as Director of Civic Engagement
Warner Baxter, member of the Chancellor's Council
Illinois Business Journal: Ameren Executive Chairman Warner Baxter to retire; Marty Lyons elected board chairman
PR Newswire: Ameren Executive Chairman Warner Baxter to retire Nov. 2, 2023
St. Louis Business Journal: Ameren's executive chairman to retire, successor elected
Bryan Dunn, education alumnus
The Edwardsville Intelligencer: Dunn joins staff at Collinsville High School as an assistant principal
Vanessa Garry, associate professor of education
Fulton Sun: Museum display showcases upcoming Lifelong Learning classes
Malcom Hill, education alumnus
Belleville News-Democrat: Six questions with new Belleville West High School principal Malcolm Hill
Kevin Killeen, communications alumnus
St. Louis Business Journal: Longtime KMOX reporter leaving radio station
St. Louis Post-Dispatch: Longtime journalist Kevin Killeen hired to lead St. Charles County communications
Talking Biz News: Journalist Killeen to lead communications for St. Charles County, Mo.
Lynde Langdon, business alumna
WORLD: American nurse kidnapped from mission in Haiti
Haitao Li, professor of supply chain analytics
Marketplace: Salmonella testing can be a slow process. These researchers want to change that.
Anita Manion, assistant professor of political sciences
Axios: Students can get admitted to college without ever applying
Riverfront Times: Now a GOP-Led Group Has Filed Petitions to Allow Abortion Again in Missouri
Leonora Muhammad, former adjunct clinical professor of nursing
The St. Louis American: Dr. Leonora Muhammad joins board at St. Louis Area Diaper Bank
Iziah Purvey, Tritons basketball player
The St. Louis American: Colleges get the call from area football standouts
Richard Rosenfeld, Curators' Distinguished Professor Emeritus of Criminology and Criminal Justice
Contra Costa News: Supervisor Burgis shares tips to avoid vehicle theft
FactCheck.org: FactChecking the First GOP Debate
The Leader News: Violent crime falling in Houston, data shows
MSN: 10 most dangerous cities in US by how likely you will be victim of violent crime
Spectrum News: St. Louis says violence intervention programs working, new partners announced
Spectrum News: 2024 push for Missouri ballot measure on local gun control 'on hold'
The St. Louis American: St. Louis homicide rate down through August
St. Louis Business Journal: St. Louis County Council chairwoman researching ways to enact local gun laws
St. Louis Post-Dispatch: St. Louis County Republican sues to stop Missouri ballot measures on guns
St. Louis Post-Dispatch: St. Louis OKs $1.9M more for violent crime 'interruption' programs
St. Louis Post-Dispatch: St. Louis aims to ban AR-15s, AK-47s, mayor says
St. Louis Post-Dispatch: Homicides are down about 22% this year in St. Louis. Other reported crimes are down, too.
St. Louis Public Radio: Change to St. Louis' community violence intervention program raises eyes in Dutchtown
The Washington Post: Homicides are falling in many big cities. In D.C., they're rising.
Elvin Sabanadzovic, Tritons swimmer
Swim Swam: Mid-Distance Freestyler Elvin Sabanadzovic commits to UMSL
Junior Theolus, supply chain alumnus
The St. Louis American: Junior Theolus joins Kwame as project administrator
Civil and Structural Engineer: Kwame Building Group adds three team members
Construction Forum STL: Kwame Building Group Adds Three Team Members
REJournals: St. Louis' Kwame Building Group adds three team members
Logan Walley, Tritons swimmer
Swim Swam: Louisiana native Logan Walley set to head north to swim for Division II UMSL this fall
Sarah Wiley, business student
Candid: Candid Data for Academics: Go back to school with better data
Calvin Wilson, English alumnus
St. Louis Post-Dispatch: Post-Dispatch writer Calvin Wilson, a passionate advocate for the arts, dies at 70
Other news:
Celebrity Land: Chamber Music Society of St. Louis plans 15th season of concerts
Construction Forum STL: Blake Sutter Discusses Work Underway to Reshape UMSL Campus
Construction Forum STL: Expansion of St. Vincent Greenway Celebrated at Community Event
Construction Forum STL: UMSL Offers Free Workshops With Experts on Inclusive Workforce Practices
Construction Forum STL: St. Vincent Greenway Expansion Celebrated
Filter: Overdose Deaths Fall in St. Louis County, But Rise in the City
Food Safety Magazine: Researchers Developing Sensor-Based Decision-Making Model to Mitigate Salmonella Across Poultry Supply Chain, Drive Health Equity
Illinois Business Journal: S. M. Wilson & Co. to manage STLCC's Meramec Campus modernization
Illinois Business Journal: Gateway Registered Apprenticeship reaches one-year mark
Inside Higher Ed: Poaching From the Neighbor's Yard
KBIA: Research shows women are significantly underrepresented in state's appointed boards and commissions
KRCG: New study reveals glaring gender and racial representation gaps in Missouri municipal boards
KMOV: Single tickets now on sale for St. Louis Symphony Orchestra
KSDK: 37th Annual Midwest Marchdown Scholarship Step Show set for the stage
KTVI: Great Rivers Greenway: see the exciting updates to the St. Vincent Greenway
Maryville Daily Forum: If I were in charge of MIAA expansion …
Nebraska Public Media: America's chicken supply chain is vulnerable to salmonella. Researchers think they have a fix
Report Write: Kansas Financial Aid Programs – NerdWallet
Riverfront Times: MO Art Supply Fills a Void on Delmar Boulevard
Shelterforce: Why Housing Policy Should Include More Funding for Home Repairs
St. Louis Business Journal: St. Louis barbecue chain to open new restaurant location in Florissant
St. Louis Business Journal: Former Express Scripts headquarters building sells at auction to entity linked to Clayco
St. Louis Business Journal: Big corporate names give millions to close access to MetroLink
St. Louis Construction News & Review: St. Vincent Greenway Expansion Connects Pagedale Community with Rock Road Metro Station and St. Vincent County Park
St. Louis Construction News & Review: St. Vincent Greenway Expansion Opens in Pagedale
St. Louis Construction News & Review: S. M. Wilson & Co. to Manage St. Louis Community College's Meramec Campus Modernization
St. Louis Magazine: Three local dance companies are driving innovation through collaboration
St. Louis Post Dispatch: St. Louis County drug deaths down 11% last year, marking biggest drop in almost a decade
St. Louis Post-Dispatch: Recount affirms win for incumbent alderwoman in Bel-Nor runoff after tie vote in April
St. Louis Post-Dispatch: FOCUS St. Louis® Announces the Fall 2023 Class of Emerging Leaders
St. Louis Post-Dispatch: Don't miss these upcoming shows by 3 top St. Louis dance companies
St. Louis Post-Dispatch: St. Louis ramps up home repair program amid 'overwhelming' need
St. Louis Post-Dispatch: Enterprise paying nearly $5 million to help fund MetroLink security improvements
St. Louis Public Radio: Researchers see new salmonella sensors shaking up the entire chicken supply chain
Urban Land Institute: ULI St. Louis Addresses the City's Home Repair Crisis

Short URL: https://blogs.umsl.edu/news/?p=99608