MIMH partnering with Department of Mental Health and Missouri Behavioral Health Council to raise awareness and guide treatment of early psychosis
Psychosis often begins to affect people as early as their late teens. They experience some loss of contact with reality, including hearing or seeing things. They can become suspicious of others, have difficulty concentrating or experience other symptoms.
Studies have shown that it's common for individuals to encounter these psychotic symptoms for more than a year before they're ever treated.
There's a concerted effort underway in Missouri to prevent that from happening. The Missouri Department of Mental Health has teamed up with the Missouri Institute of Mental Health at the University of Missouri–St. Louis and Missouri Behavioral Health Council to create an Early Psychosis Care Center with funding from the federal Substance Abuse and Mental Health Services Administration, or SAMHSA. It aims to help connect behavioral health providers and individuals impacted by first episode of psychosis with the resources and support they need.
"There are quite a few early psychosis best practice centers set up across the United States, and that's just happened in this past decade," said JJ Gossrau, the director of young adult services for the Department of Mental Health. "I think it's because of the national focus that this population has received, and it's also not just limited to the United States. Actually, the UK and other European countries have also had a strong focus in this area, and it is because we know using evidence-based practices to support this population can make such a positive impact in their lives and for their families."
Early identification and intervention has been shown to shorten the duration of untreated psychosis and can work to lessen the severity of the symptoms. The ultimate goal is to prevent future episodes and, thereby, reduce the frequency of disruptions such as hospitalization and time out of school or employment. A reduction in disruptions can help maintain their routine and continue to reach their life goals.
"We are bringing to the forefront the importance of early identification and intervention to reduce the impact of psychosis on affected individuals," said Rachel Kryah, associate director at MIMH, who is leading the project. "We're doing that through educational opportunities and outreach."
Kryah and her team have been organizing a free Psychosis 101 webinar, bringing in speakers from Stanford University to share information about the coordinated specialty care model. It includes psychotherapy, including cognitive behavioral therapy for psychosis; family education, support and involvement; support from peers recovering from mental illness; psychotropic medications as prescribed by a mental health professional; and assistance with educational and employment goals.
They're also working to engage community mental health centers and certified behavioral health organizations to build their own coordinated specialty care teams, which are best-practice supports that provide collaborative treatment planning between clients and behavioral health clinicians, psychiatrists and case managers. They take a holistic approach to delivering care and providing services, including assistance with employment and education.
"We are grateful to the CMHCs and CCBHOs for their support," Kryah said. "We're glad they are excited because the training to deliver coordinated specialty care can be pretty intense. A coordinated specialty care team has many levels and it is a complex care delivery method."
Two CCBHOs are in the process of establishing such teams to assist individuals experiencing their first episode of psychosis.
"We're going be able to help the agencies launch their teams and also provide fidelity, which is just helping the teams stay true to the model moving forward," Gossrau said. "One of the biggest goals of this whole initiative is to help Missouri find the resources to bring up those teams."
Gossrau met with a national expert referred to DMH by SAMHSA last fall who told her about initiatives other states were undertaking to treat individuals experiencing their first episode of psychosis. The more Gossrau listened, the more she realized she was going to need more help.
Having worked on previous projects with Kryah and Associate Research Professor Jodi Woodruff, Gossrau found MIMH a logical partner.
"The Missouri Institute of Mental Health has a long history of partnering with the Department of Mental Health, and my relationship with MIMH has strengthened over the years," Gossrau said. "I think the work that we do together has informed some of the decisions that we make at the department. The work that I've done with Dr. Jodi Woodruff – it's just an easy collaboration. She has a broad scope and knowledge and expertise that she brings, so she's really good at connecting the dots, at seeing the bigger picture."
"Rachel is super organized, and she has an eye for not letting the ball drop. She can move things forward, keep people accountable, and she's truly invested in the work that she does."
They worked collaboratively to hold the first of what they hope will become an annual conference last April. About 150 people attended in person at the Meridien Hotel in Clayton, Missouri, and nearly 200 more tuned in virtually to hear from speakers from around the country. They are scheduled to hold their second conference April 10-11 at the Courtyard by Marriott in Blue Springs, Missouri.
On Oct. 3, the Early Psychosis Care Center will hold a networking event beginning at 6 p.m. at the Hi-Pointe Theatre. It will feature a free screening of "The Directors," a film created by the Artangel art collective and directed by Marcus Coates in partnership with people in recovery from psychosis. Attendees will also have opportunities to learn more about the center and can engage in dialogue, foster understanding and show support for individuals who experience psychosis. For more information, email Kryah at Rachel.Kryah@mimh.edu.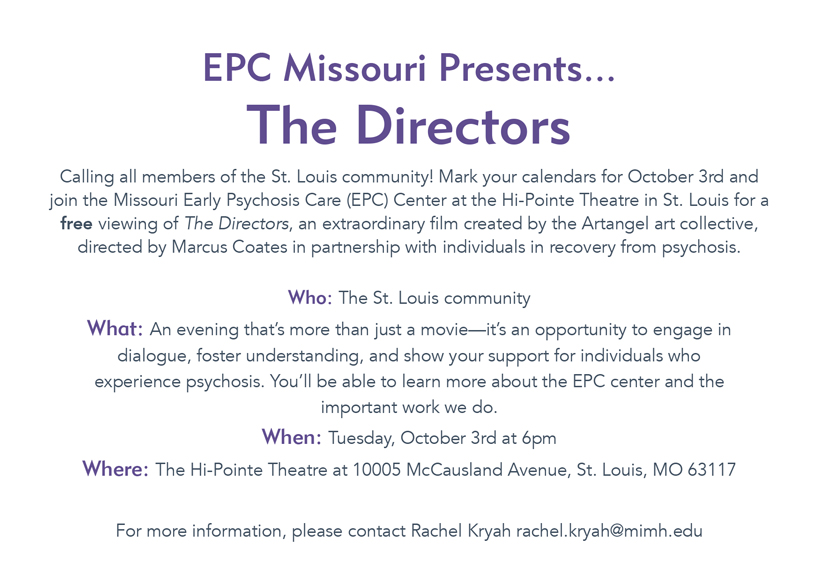 Short URL: https://blogs.umsl.edu/news/?p=99943