Eye on UMSL: Getting ready for the show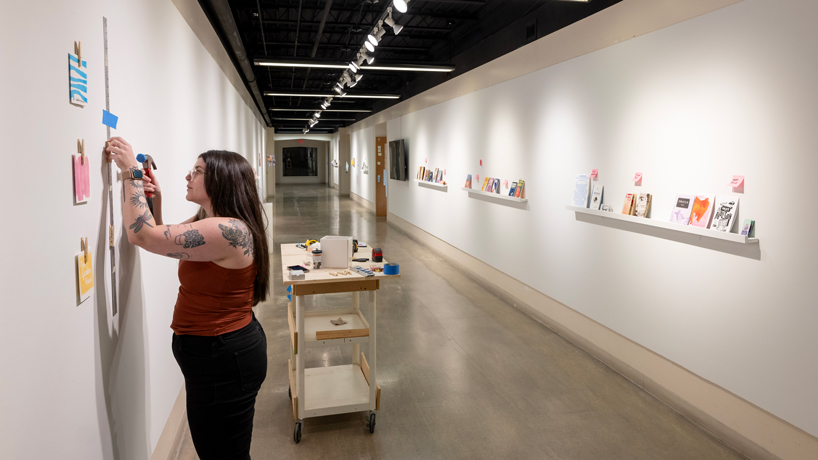 Taylor Timmerberg, a University of Missouri–St. Louis graduate and now a senior research lab and print technician in the Department of Art and Design, worked to install the "Printed with Purpose" Zine Show + Book & Risograph Art last week at Gallery 210@FAB.
The exhibition has been on display since Monday, but there will be a reception to mark its opening from 5-7 p.m. on Friday in the Fine Arts Building. It is scheduled to run through Nov. 3.
Curatored by Lauren Cardenás, Assistant Professor of Printmaking at Louisiana State University, "Printed with Purpose" presents zines and artists' books exploring and array of topics and functions. The exhibition provides UMSL and the broader St. Louis community an opportunity to gain insight as to how artists are using these formats and processes toward works of expression, provocation and dissemination. The show also showcases Risograph Art and offer a workshop to students by demonstrating how the Risograph serves as a powerful tool for contemporary printing and art making.
This photograph was taken by UMSL photographer Derik Holtmann and is the latest to be featured in Eye on UMSL. View more UMSL photos by visiting the UMSL Flickr and Instagram accounts.

Short URL: https://blogs.umsl.edu/news/?p=100040