Eye on UMSL: Eight is enough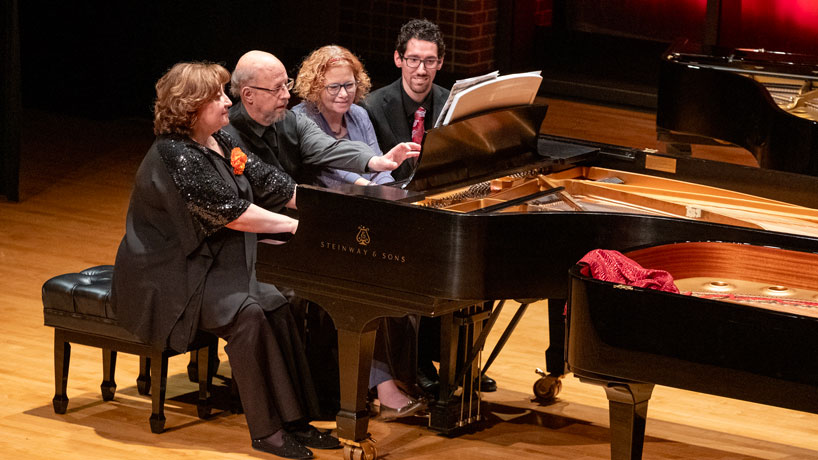 (From left) University of Missouri–St. Louis Teaching Professor Alla Voskoboynikova; retired Webster University faculty member Daniel Schene; Susan Lutz, the senior director in the Division of Education and Performance at Steinway Piano Gallery; and UMSL alum Daniel Kuehler perform "Galop-Marche for Eight Hands" by Albert Lavignac during the All-Steinway Extravaganza last Thursday in the E. Desmond and Mary Ann Lee Theater at the Blanche M. Touhill Performing Arts Center.
UMSL's Department of Music held the performance to celebrate its All-Steinway School designation last week. The event featured a variety of piano players including alums and a current student, plus soprano Christine Brewer, members of the Arianna String Quartet, solo and duo pianos, and pieces for 5 pianos.
In the fall of 2022, Steinway & Sons, makers of world-class pianos for nearly 170 years, gave UMSL the elite designation as an All-Steinway School. All-Steinway Schools exclusively work with Steinway pianos and, by doing so, "demonstrate a full commitment to excellence by providing their students and faculties with the best instruments possible for the study of music," according to the company.
Department of Music Chair Joanna Mendoza said that the designation is an incredible honor for UMSL, noting that the university shares this coveted status with only about 230 schools in the world. In addition to signaling the quality of UMSL's music program, the designation also plays a major role in recruitment and attracting prospective students.
This photograph was taken by UMSL photographer Derik Holtmann and is the latest to be featured in Eye on UMSL. View more UMSL photos by visiting the UMSL Flickr and Instagram accounts.

Short URL: https://blogs.umsl.edu/news/?p=100569