With Goebel & Co. Furniture, UMSL alum Martin Goebel combines old-world craftmanship with contemporary techniques
Were a typical craftsman from the Court of Henry VIII to happen into Martin Goebel's furniture manufacturing facility in north St. Louis today, Goebel doubts he'd be altogether surprised by what he found.
"He would look around and say, 'Yeah, I get what they're doing here,'" Goebel says. "He might say, 'I don't know what that electric motor is, I don't know what some of this technology is,' but the theory in which we put things together is not any different. It's not that we're reinventing the wheel."
As the founder of Goebel & Co. Furniture, Goebel has produced custom wood furniture for projects ranging from Urban Chestnut Brewing Company's beer hall in St. Louis to Nike's corporate headquarters in Oregon to a throne for Queen Melambeka of Zambia. Over the past decade-plus, he's developed a unique approach to furniture production that harnesses the power of technology while still respecting old-world traditions. It's the culmination of years of hands-on experience in the field as well as an extensive educational background that includes several stints at the University of Missouri–St. Louis.
Goebel was set on a career in the furniture world as soon as he took his first woodworking courses in high school. At 19, after just one semester at UMSL, he moved to Fort Bragg, California, to study at the College of the Redwoods to complete a year-long apprenticeship in studio furniture with acclaimed Swedish woodworker James Krenov. Upon returning to St. Louis, he launched a small furniture shop out of the two-car garage behind his grandparents' house, where he spent about five years building custom furniture for art galleries and private clients while also occasionally taking courses at St. Louis Community College and the University of Missouri–Columbia.
When business in the luxury market began to dry up ahead of the 2008 recession, Goebel, then 25, set his eyes on earning a master's degree but first decided to return to UMSL to finish out his bachelor's degree. Professor Jeff Sippel, at the time the studio coordinator in UMSL's Department of Art and Design, helped Goebel sort out his qualifying credits and get on a fast track to a degree, ultimately completing 39 credits over the course of one calendar year. After receiving his BFA in studio art from UMSL in 2008, Goebel went on to study furniture design at the world-renowned Rhode Island School of Design, where he earned his MFA.
"Martin was on a mission when he came to UMSL," Sippel says. "He's ambitious, and in most disciplines, especially in the arts, you have to be driven and motivated. I don't ever see him letting up at all. The students that become, in a sense, most successful are those that have a good sense of business about them. You can talk to Martin for five minutes, and you realize he really has that quality. He has a good business sense in every respect, knows where he's going, what he's doing, how to get there. And he'll do it."
While Goebel had already developed his technical skill set as a working artist with his own studio, he credits UMSL's Department of Art and Design with teaching him the ability to organize his thought process and articulate his work to others.
"I've been at four different schools of fine arts, and I got a master's degree at arguably the best school of fine arts in the world, and some of the verbiage and the ability to articulate work coming out of the art department at UMSL is not taught anywhere else," he says. "UMSL teaches it like you're a baby coming in and like you're a professional going out, and it's that full revolution that is a real conversation."
Later, at RISD, Goebel built on his background in traditional handcrafted furniture by expanding his skills in digital design, design theory and automated manufacturing through the use of programs such as Photoshop and SOLIDWORKS, a 2D and 3D computer-aided design app. By merging old-world craftsmanship with modern technology, he found a way to automate the process of producing furniture without sacrificing quality, in turn scaling the business and creating heirloom pieces at a more accessible price point.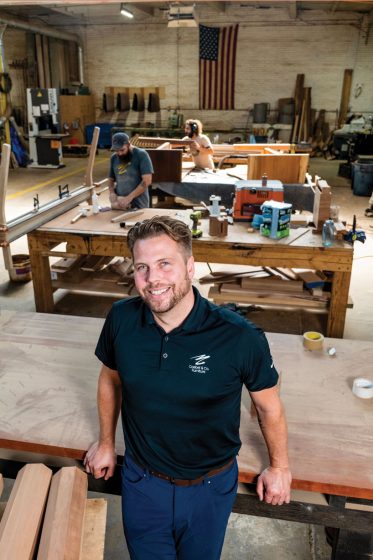 "I could make just about anything with my hands, which was a really enjoyable skill set, but the problem I had was I couldn't make enough of it," Goebel says. "It's flattering when someone gives you $100,000 for a dining table and within the arts world, I know how blessed I am to get commissions like that. But the people who are buying a $100,000 dining table buy that with less care than I buy a latte – proportionately, the money is just insignificant. And I didn't grow up that way.
"When it comes to the furniture people actually use, I wanted to figure out how to synthesize the knowledge of two degrees in fine arts and one very traditional European cabinet-making apprenticeship and now bring those products to the world at not only attainable prices but attainable aesthetics. I'm not trying to make leaps and bounds in the design industry because that's not how people live. You can have this amazing concept and this wow factor, but it's got to fit into somebody's life."
Upon returning to St. Louis after earning his master's, he opened Goebel & Co. Furniture, which specializes in artisan wood furniture, including coffee tables, bar cabinets, bed frames and more. The company produces custom pieces for residential, hospitality and large-scale corporate clients alike.
If you've dined out in St. Louis, you've likely sat on furniture made by the company – Goebel has designed pieces for restaurants, bars and breweries including 4 Hands Brewing Co., Brennan's, Grace Meat & Three, Perennial Artisan Ales, Side Project Brewing, Urban Chestnut Brewing Company and Vicia. The company has worked with numerous clients across the world, including Bayer, Nike, Tommy Bahama and French designer Philippe Starck, but Goebel says the real feather in his cap was designing a throne for Queen Melambeka of the Lamba in Zambia in 2019. He received the introduction through the CEO of a company that builds wind farms in Zambia, and he designed a throne that would fit in the back of a Range Rover so that the queen could travel to various villages and meet with members of the Lamba tribe.
With an eye toward accessibility, Goebel launched Kindred Heirloom Collection, his first furniture and home goods brand widely available to the consumer market. The collection of about 30 pieces includes staples for the home such as chairs, coffee tables, bed frames, desks, shelving and other functional pieces made with sustainably harvested Missouri white oak and walnut. Pieces in the Kindred collection are priced in line with Restoration Hardware and sold through the Kindred site as well as Wayfair's luxury platform Perigold.
"Kindred Heirloom Collection is all about taking heirloom- quality products and bringing them to market at attainable prices," he says. "It's high-touch furniture that you would live with on a day-to-day basis. And that's 100% designed in 3D on the computer, automated manufacturing, vertically integrated within my own company in St. Louis."
The new collection was made possible with the help of a $300,000 loan earlier this year from the St. Louis Economic Development Partnership, which also allowed Goebel & Co. Furniture to bring the technology it had previously outsourced back home to its 15,000-square-foot manufacturing facility. Now, all stages of the production process, from product development and design to prototyping and manufacturing, are done in-house.
"It's all about controlling more of the manufacturing process, knowing where we are and where we can save time and money," Goebel says. "But really, it's a matter of taking old-world theory and applying it to new-world, contemporary methods. Whoever was building Spanish galleons would have loved to have had an electric motor on things or a computer controlling it."
This story was originally published in the fall 2023 issue of UMSL Magazine. If you have a story idea for UMSL Magazine, email magazine@umsl.edu.

Short URL: https://blogs.umsl.edu/news/?p=100519