Celebrate UMSL's 60th anniversary with a journey through the university's history and a look toward its future
A TIMELINE OF UMSL'S HISTORY
1957
The citizens of Normandy pass a bond allowing Normandy School District officials to purchase the Bellerive Country Club for $600,000 in order to offer affordable higher education to local high school graduates. The 128-acre tract of land includes a clubhouse, golf course, swimming pool, volleyball and tennis courts and a lake, which officially opens in 1960 as Normandy Residence Center, a community college for the school district.
1963
State Rep. Wayne Goode introduces House Bill 153, and state Sen. Robert Young introduces a companion bill in the Missouri Senate to to allow a transfer of the Normandy Residence Center to the University of Missouri. Both supported bringing the University of Missouri to St. Louis and were sold on the merits of creating a four-year public campus in the Normandy area, as was Missouri Gov. John Dalton. When the legislation passes, the University of Missouri purchases and assumes operation of the Normandy Residence Center. At a dedication ceremony headed by UM President Elmer Ellis on Sept. 15, the University of Missouri–St. Louis is officially established. The former clubhouse of Bellerive Country Club is rechristened as the Administration Building, which houses classrooms, offices and a library for more than 600 enrolled students.
1965
James Bugg serves as UMSL's inaugural chancellor from 1965-1969.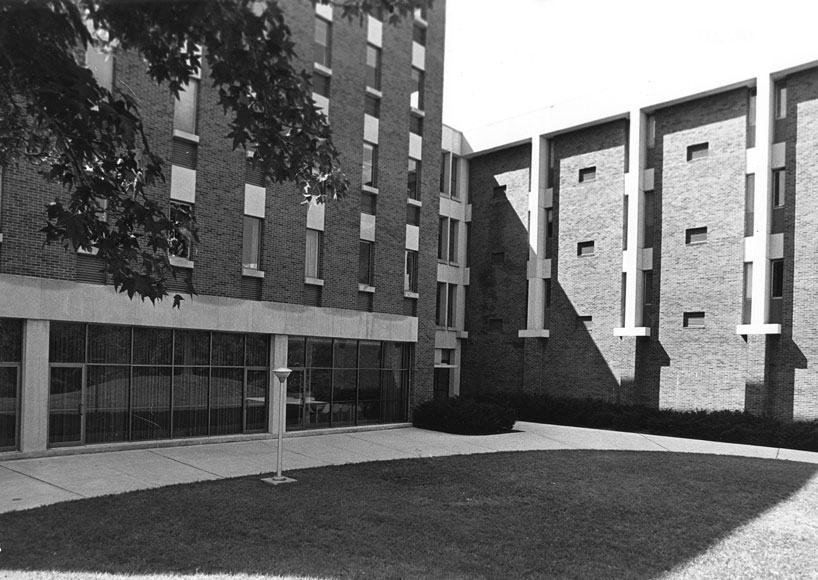 1966
Benton Hall, UMSL's first classroom-laboratory building, is completed. Up until this point, the Administration Building was the only building on campus.
1967
UMSL graduates its first class of 205 students.
1968
Clark Hall opens in the center of UMSL's present-day Quad. Today, the academic building houses the Archaeology lab, the Department of Sociology, the Department of Language and Cultural Studies and the UMSL Veterans Center.
1968
Thomas Jefferson Library opens, housing more than 240,000 volumes and seating for 1,000 students within its five stories. The area outside of the original library entrance initially sported a swimming pool and basketball court, which were later removed along with the original Administration Building.
1969
Glen Driscoll serves as chancellor from 1969-1972.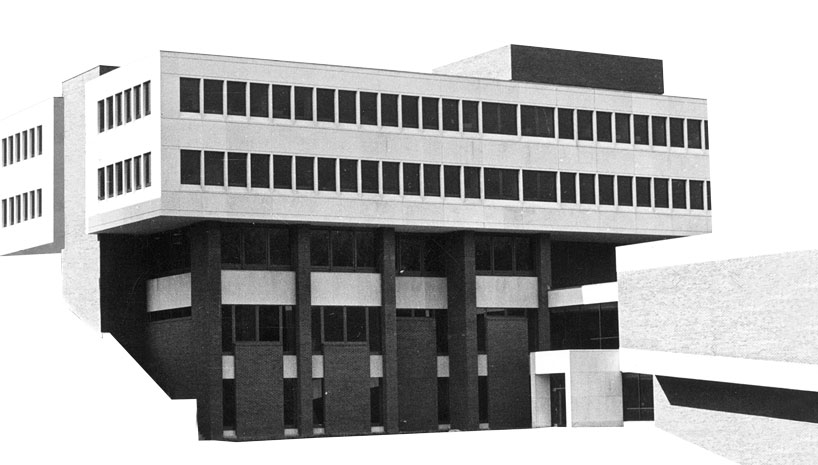 1971
Classroom space nearly doubles with the completion of five more buildings: The Mark Twain Building, the University Center (the student union), the J.C. Penney Building (the first privately financed building on campus), Lucas Hall (home of the College of Arts and Sciences) and the Social Sciences and Business Building.
1973
Joseph Hartley serves as chancellor from 1973-1974.
1975
Arnold Grobman serves as chancellor from 1975-1985.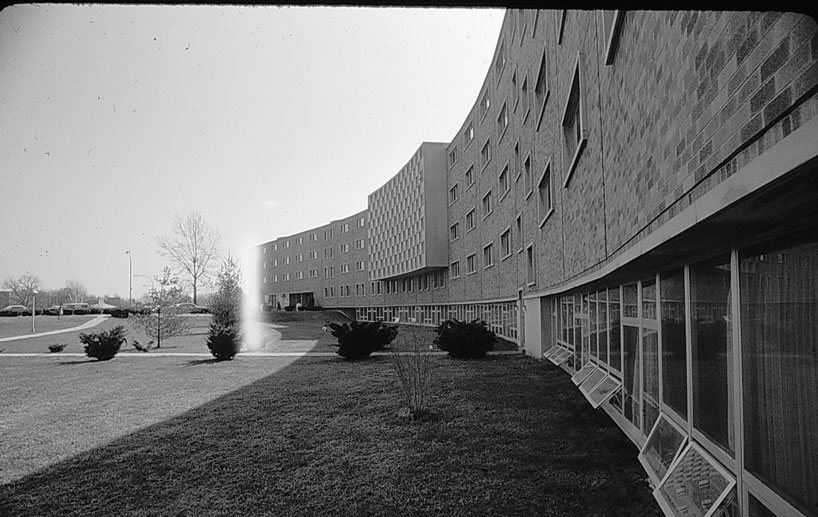 1976
UMSL purchases Marillac College, a four-year liberal arts school run by the Daughters of Charity of St. Vincent DePaul, for $5 million, acquiring the cornerstone of what is now known as South Campus.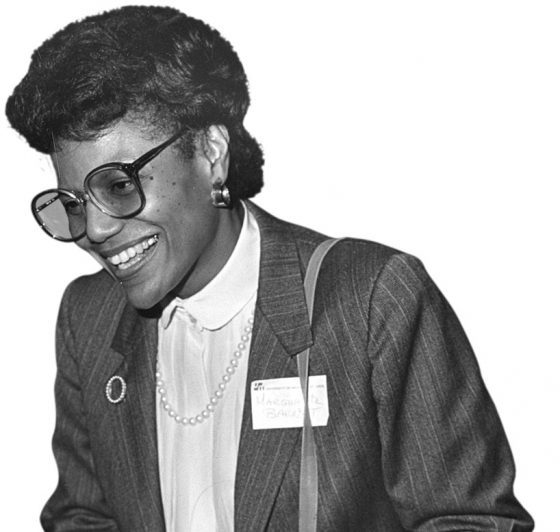 1986
Marguerite Ross Barnett serves as chancellor from 1986-1990. The first Black woman to lead a major American university, Ross Barnett already had a national reputation as a renowned scholar and pioneering administrator when she arrived at UMSL, having taught at the University of Chicago, Princeton University and Howard University. She ushered in a transformative era at UMSL, featuring record-breaking fundraising for new buildings
and scholarships, several new degree programs and innovative offerings such as the Bridge Program, all with the goal of expanding the role that UMSL could play in the economic rebirth of the surrounding metropolitan area.
1986
UMSL's Bridge Program is established, providing unique and comprehensive year-round precollegiate programming for St. Louis-area high school students and parents. The program prides itself on providing exemplary college access services to the St. Louis community and maintains a 100 percent college matriculation rate today.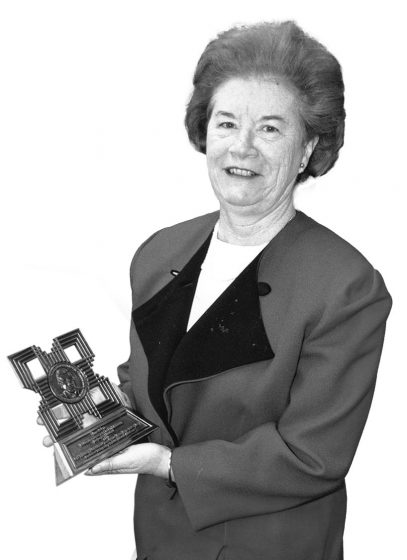 1990
Blanche Touhill serves as chancellor from 1990 until her retirement in 2002. As chancellor, Touhill – previously a professor of history and education – greatly expanded academic programming at UMSL by adding more than 30 degree programs, including engineering, communication and a nursing PhD. She also built endowed and distinguished teaching professorships and expanded the university's physical presence with new buildings, including the Millennium Student Center and the performing arts center that bears her name. Touhill continues to play an active role at the university.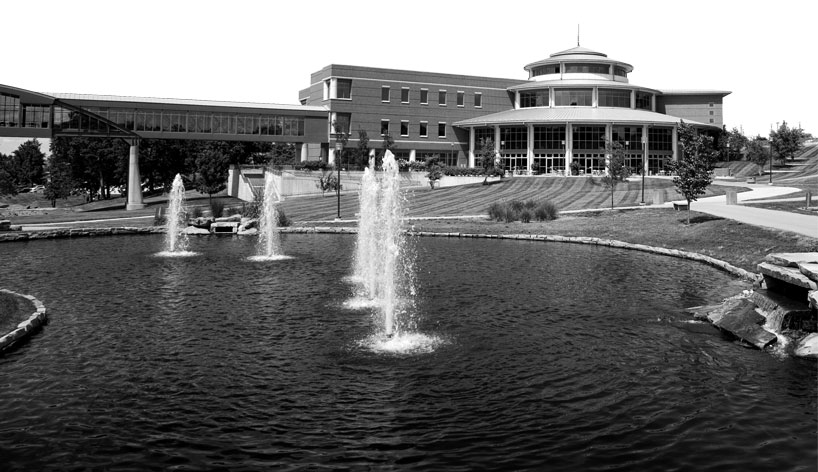 2000
The Millennium Student Center, a one-stop-shop for student services, opens its doors. Funded by students, the MSC boasts event spaces, campus dining, study spaces and a sky bridge connecting to the core academic quadrangle of the North Campus.
2003
Thomas F. George serves as chancellor from 2003 until his retirement in 2019. As the university's longest-serving chancellor, George oversaw many changes to the UMSL campus, including $150 million of new capital construction, renovation and landscaping that took place from 2015 to 2017. The annual amount of philanthropic contributions during his tenure as chancellor quadrupled to over $28 million, reaching as high as $31 million in 2014.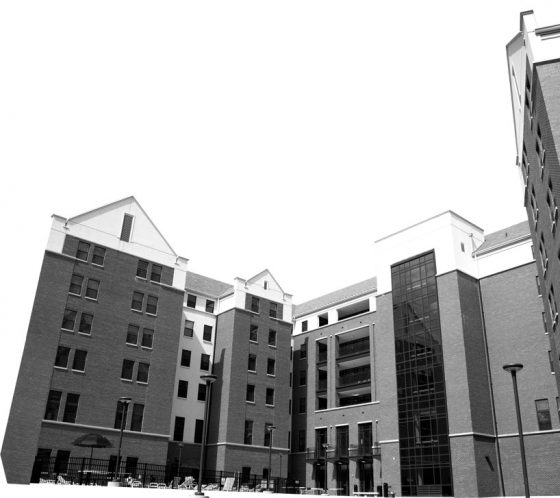 2006
Oak Hall, a six-story, 130,000-square-foot residential hall, opens on South Campus offering community living for more than 400 UMSL students.
2007
UMSL officially becomes the Tritons when a new and improved nickname is formally adopted by the University of Missouri Board of Curators in May. Although the university had informally been known as the "Rivermen" for its first 41 years, the name was never formally adopted. The new Tritons nickname nods to a small, usually bright-colored semiaquatic salamander – the Ozark Hellbender. UMSL has worked in partnership with the Saint Louis Zoo since 2000 to save the species.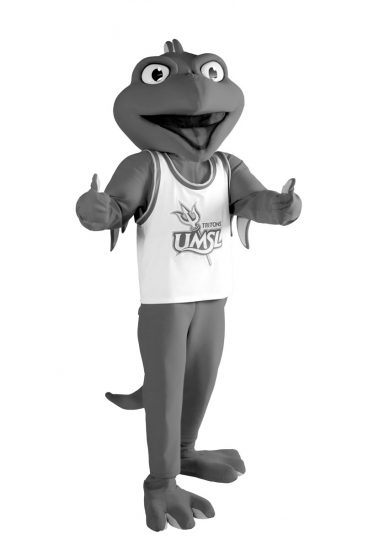 2010
Although the Tritons nickname is adopted in 2007, the red Triton mascot is not revealed until January 2010 in front of a cheering crowd at "Pack the Stands" night – and is missing a name. After accepting prospective mascot names and putting the top five to a studentwide vote, the university announces Louie as the name of the Triton mascot at the annual Mirthday celebration. A bright-red salamander with yellow eyes, Louie carries a trident as a nod to his river home and as a symbol of power that unites the Tritons to victory.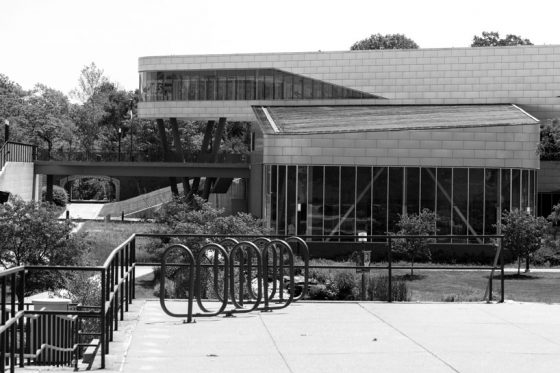 2015
The $36 million Recreation and Wellness Center opens its doors, featuring state- of-the-art fitness equipment, a rock-climbing wall, a 155,000- gallon pool and more.
2017
Anheuser-Busch Hall opens as the new home of the College of Business Administration.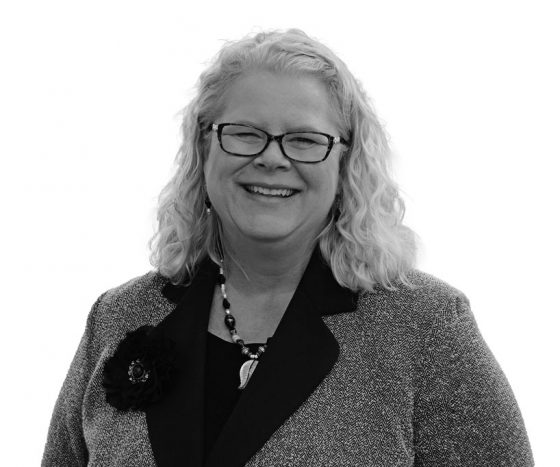 2020
After serving as provost and executive vice chancellor for academic affairs, then interim chancellor, Kristin Sobolik is named the eighth chancellor of UMSL.
2021
After a yearlong, inclusive planning process including a comprehensive survey and stakeholder sessions, UMSL's Campus Master Plan is approved by the Board of Curators in November. The five-year plan establishes a vision for the physical transformation of the campus and establishes a comprehensive implementation strategy to realize it over time. It positions UMSL to take advantage of development opportunities, create a more connected academic hub, improve the natural landscape and open spaces, enliven the campus and improve the student experience, ensuring that spaces in and around UMSL serve our communities now and into the future.
ALUMNI SPOTLIGHTS
Lois Schoemehl, BA 1967
The UMSL campus looked quite different when Lois Schoemehl was a student – all of her classes were held in Bellerive Country Club's former clubhouse until Benton Hall opened during her senior year. An English major, she enjoyed classes with Professors Charles Dougherty and Bill Hamlin, noting that UMSL attracted top-notch faculty even in its early days. Immediately following her graduation in 1967, she started as UMSL's first alumni director at a time when the budding university had just 225 alumni. Equipped with just a desk and an IBM electric typewriter, Schoemehl – who also met her husband, former St. Louis Mayor Vince Schoemehl, at UMSL – helped grow the Office of Alumni Engagement. By the time she left her position after nine years, 11,000 alumni called UMSL home. Over the years, she's stayed connected to the university and is in awe of its evolution, including construction on the Richter Family Welcome and Alumni Center. "I thought, 'Boy, who could have thunk?'" she says. "There were always architect renderings of what the campus would look like in 5, 10, 25 years, but it was hard to imagine back when there was very little there except rolling hills, gravel parking lots, Bugg Lake and one academic building. It was satisfying to see it all come to pass."
Alicia Friedrichs, BA 1997
Alicia Friedrichs jokes that being the 50,000th graduate at UMSL is similar to holding the Miss America title, as she's frequently invited and honored to attend UMSL celebrations. But she enjoys having a way to stay connected to the university, where she earned dual degrees in education and Spanish in 1997. Friedrichs, who was born in Mexico and raised in Texas, decided to go back to school in her mid 30s while also raising three children, whom she'd often bring along with her to classes if she couldn't find a sitter. She says UMSL was the perfect university at the perfect time, allowing her and her husband, David Friedrichs, who also earned two degrees at UMSL in 1997, to balance it all. It also instilled the importance of education into their children, who even accompanied them on a five-week intensive Spanish course in San Miguel de Allende in Mexico. Today, they're paying it back to UMSL as Goode Society donors. "UMSL has given me so much, and I owe it a lot," she says. "At my age, I wasn't sure if one degree was going to be enough, so I aimed for two and UMSL made that possible for me. Once you get your education and the experience around it, the memories you've built, don't you want someone else to have that too?"
Marco Pipoly, BS 2018
When Marco Pipoly walked across the stage at commencement in May of 2018, it marked a milestone for both the psychology major and the university, as Pipoly became UMSL's 100,000th graduate. Now a sixth-year doctoral candidate at the University of Iowa, Pipoly studies modifying factors of brain aging and disease on cognitive function, and he says UMSL was instrumental in leading him to where he is now. While at the university, he worked at the Missouri Institute of Mental Health and was exposed to different structural brain imaging techniques that enriched the scientific toolkit he uses today. "Through UMSL and UMSL's connections, I felt like I was able to strengthen my writing and further affirm that science was the career that I wanted to dedicate my life to," he says. "UMSL connected me with the support I needed through mechanisms like the Tom and Becky Minogue Scholarship and faculty like Dr. Carissa Philippi, which were central to my scientific development and success at UMSL. As a testament to the UMSL environment, I managed to secure the prestigious National Science Foundation Graduate Research Fellowship Program grant as an undergraduate to fund my PhD studies. My advice to fellow Tritons is to always ask questions, find faculty mentors and engage with all the opportunities UMSL faculty and campus programming provides for your success."
Top companies for graduates (number of alumni)
Boeing: 706
Edward Jones: 534
Enterprise: 477
Mastercard: 402
Centene: 386
Bayer: 364
Express Scripts: 319
Ameren: 251
WorldWide Technology: 233
AT&T: 214
HOW PHILANTHROPY IMPACTS THE CAMPUS
447
endowed scholarships are helping students pursue their academic dreams
95%
of UMSL students rely on financial aid
$55m
of UMSL's total endowment supports student scholarships
1,358
students received private scholarship support in FY23
10k+
St. Louis-area high school students made college-ready through the UMSL Bridge Program's Saturday Academy between 2003 and 2023
100%
of Bridge program students successfully transitioned to college since 2003
UMSL's Bridge Program provides free, unique and comprehensive precollegiate programming for St. Louis- area high school students and parents. The Bridge Program offers college preparation workshops, personal and professional development seminars, networking and mentoring engagements, volunteer opportunities and counseling services.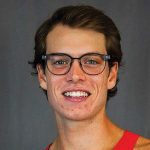 "I have experienced firsthand the wonderful force of positive change that UMSL brings to our region. Private donations like the ones that funded my scholarships allow me and others to receive a quality education. My intention is to honor the generosity of our great UMSL donors by transferring the education that they enabled me to receive into positive impacts within the world."
—Benjamin VandenBrink ('24), senior finance major, student-athlete and recipient of Don and Mary Mueth Scholarship, Access Missouri Award, Curators Scholarship, Honors College Scholarship and Men's Track and Field Scholarship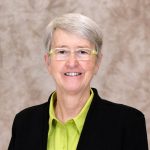 "After a decade at UMSL, I know with certainty that it is the vision, voices and constant encouragement of our alumni and supporters that powers the critical work we do every day. I am moved by the knowledge that donors are so passionate about an UMSL education that they feel compelled to pay it forward to future generations. At the same time, I am overwhelmed with gratitude when a researcher can spend the summer working with a graduate assistant because a donor shares our commitment to high-quality, impactful research and its role in our region and world. With a sincere heart, I say thank you."
—Ann Taylor, Dean of the College of Education
This story was originally published in the fall 2023 issue of UMSL Magazine. If you have a story idea for UMSL Magazine, email magazine@umsl.edu.
To support the University of Missouri–St. Louis and future generations of students, visit giving.umsl.edu.

Short URL: https://blogs.umsl.edu/news/?p=100544