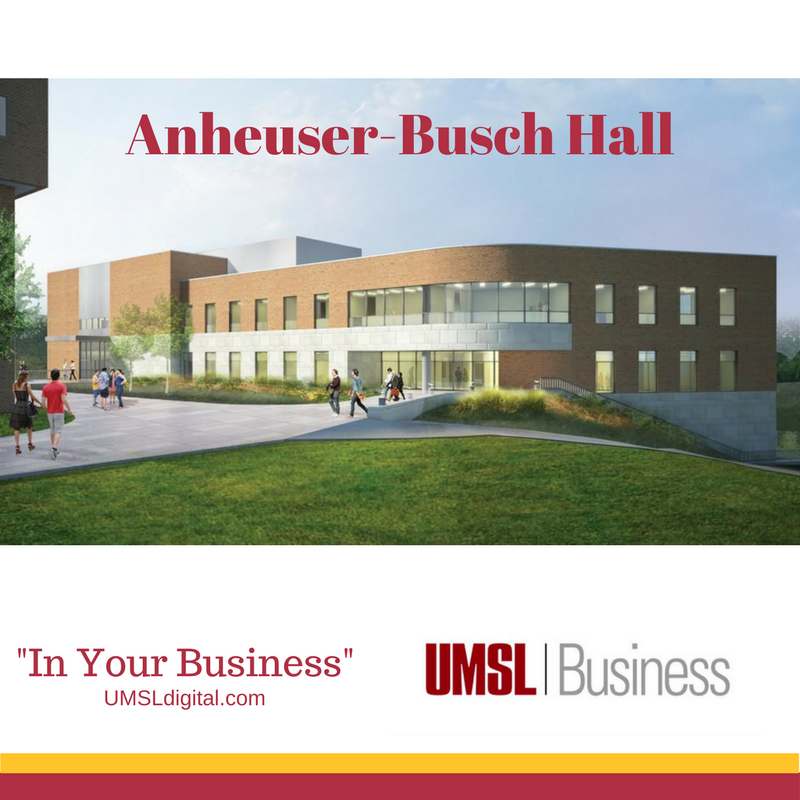 New Business Building Brings Fresh Opportunities To Campus
By Andrea Siecinski
The "In Your Business" Podcast recently interviewed some faculty of UMSL about the past, present and future plans of the Anheuser Busch Hall. The hall opened in August of 2017 and is the first building to be used only for the the College of Business. Brendan Goodwin and Tom Fitzgibbons sat down with Dean Charles Hoffman, who is the Dean of the College of Business Administration; Dr. Thomas Eyssell, the Associate Dean and Director of Graduate Studies; and Stan Freerks, who is one of the donors of the new hall, to discuss the Anheuser Busch building. 
The building has been in the works for many years. Dean Hoffman said, "This dream started in 2004. So, it's been quite a long time in the planning stage." When referencing how long it took to raise funds the dean said, "Efforts began in 2009… As soon as we raised ten million dollars we got the state to match that ten million dollars."
This new building has great technology and features. There is arrangeable seating that can be customizable for each class type. It has electronic equipment that is up-to-date. There is an executive education classroom that is two-stories tall and a trade room for the finance students. The building has the prospect of bringing in new students and increasing enrollment. According to Dean Hoffman, statistics have shown that new buildings bring in more students. The building also brings awareness to the College of Business. Stan Freerks, a donor to the hall, is an UMSL alum. He said, "The success of UMSL and its graduates correlates directly with the future success of our region," when asked about his donation and thoughts about UMSL. Being a graduate of UMSL, he feels that this building will only emphasize the great assets of the College of Business.
There is second phase in the works for the Anheuser Busch building. The funds are almost where they need them to be and it will take about two years to build. The plan will have an open air atrium, more state of the art classrooms, and faculty offices. The College of Business will all be located in one area because of phase 2.
The Anheuser Busch building has brought a new feeling of inspiration in the College of Business at UMSL. Those involved in the college are excited to see how building will positively affect the college and campus as a whole.
---