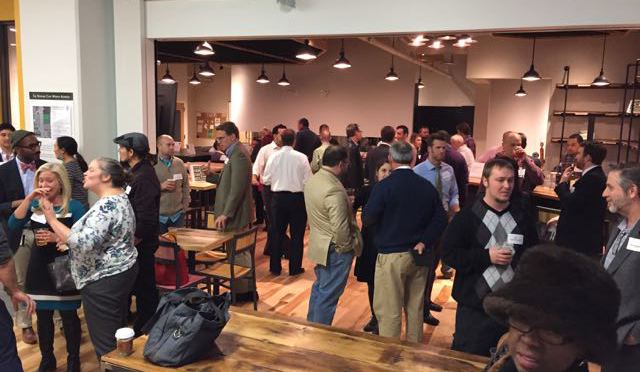 UMSL Senior: My First Trip to Venture Café
By  Kyle Eggering
---
My first time going to Venture Café was probably much like any other persons. I timidly walked up to the sign in area, registered as a visitor, sat down the in café with my free beer, and waited nervously at a table, leaving seats open for someone to sit and talk with me. When someone finally did, I felt a wave of relief wash over me, and I was able to open up and really become a part of the café. I said my first time was like most other peoples, but that doesn't make it any less special.
I expected Venture Café to be filled with people much more driven than myself, who maybe owned their own businesses or were thinking about doing so. So, I was surprised when the first person I met was Deanna Graham, a former teacher who put her job on hold in order to take care of her elderly parents. Deanna was a normal person just like me, and that let me really get to know her. Deanna introduced me to Ted, another everyday person you wouldn't be afraid to approach, who she casually met at Whole Foods.
The great thing about Venture is the different type of people you're able to meet. I met Yoni Blumberg, another first-time visitor from Boston, and his friend Anna Smith, who was in the same public affairs program as he was. Each person I met at Venture Café was able to introduce me to another, and by the time I left, I knew a sizeable chunk of people from the Café.
Before I left, I wanted to meet a long-time visitor to the Café. I managed to meet Brian Stieren, a man who had visited Venture 99 times! He had successfully managed his business for a while and came to Venture in order to meet new clients. He told me that not only was Venture good for startups but is useful even to people who have already developed their businesses, like himself.
So, whether you're interested in starting a business, already own one, or just want to learn something new, do yourself a favor and visit Venture Café. You can visit their website here, at https://vencafstl.org/. I guarantee you that you will learn something new.