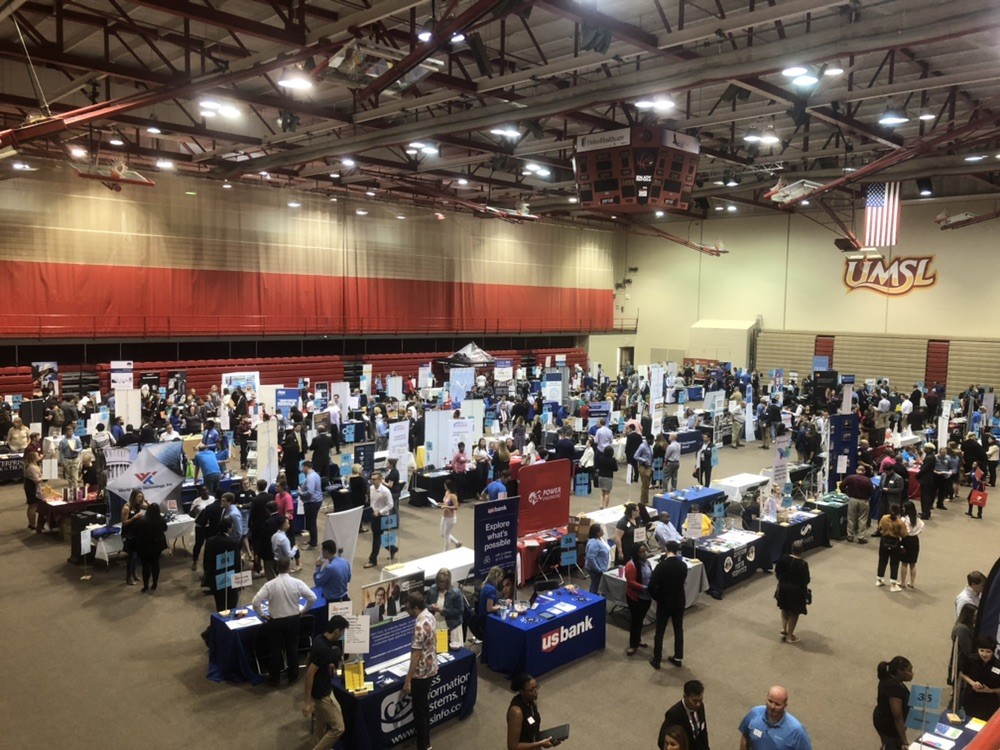 Did You Make It To '19 Career Fair Hosted by Career Services?
By Zachary Kozelichki
The University of Missouri–St. Louis was once again proud to host the annual Fall Internship and Job Fair. The networking event took place on September 27 inside the Mark Twain building with over 525 UMSL students in attendance. The event itself featured 250 representatives from 119 employers. There was a plethora of booths representing some major St. Louis area businesses such as Boeing, Express Scripts, and World Wide Technology.
Career fairs like this, present students with an invaluable opportunity to broaden their knowledge regarding potential jobs within their degree path. The information gained in Mark Twain heavily weigh in on the decisions a student must make about their chapter of life after college.
Recent studies have shown that 85 percent of all jobs are built through networking, so the Fall Internship and Job Fair proved to be an ideal time for students to stand out to recruiters as someone who could benefit their company. In my opinion, the number one benefit of attending a career fair is obtaining the chance to build a long lasting relationship with a prospective employer.
At the fair there were many representatives that asked for a resume or business card, but some individuals simply wanted to chat and get to know the students they were meeting that day. UMSL did a wonderful job of ensuring that the various companies present at the event represented the variety of businesses hiring within the metro area.
Teresa Balestreri, director of UMSL Career Services, said there was, "A focus on bringing in a diverse group of employers this year to ensure students from all academic areas had the chance to discuss employment opportunities." This is exemplary because it encapsulates the essence of the culture here at UMSL, which is open and inviting towards everyone.
In addition to the networking event, The UMSL Alumni Association also sponsored a photo booth where students could receive a free headshot for their LinkedIn profiles. Employers today evaluate prospects' social media accounts, including LinkedIn, as much as resumes in 2019. UMSL recognized this and went so far as to hire a professional photographer for those who attended the event. Throughout the course of the day, more than 200 photos were taken. This is just one of the many examples of how UMSL maintains relevancy when understanding the current job environment.
Keep an eye out for next semester's fair put on by UMSL Career Services!