UMSL Career Fair Goes Virtual for the First Time
By Wangui Gathungu
Like every large event that was supposed to be in person the UMSL 2020 Fall Career Fair made its way online. Companies that were in attendance included Square, Cigna, Bayer, and Emerson. The Career Fair had 89 companies attending, 500 students set up a profile for the fair, and 330 students scheduled appointments with employers which brings a total of 275 hours of employers and students connecting!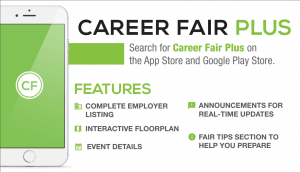 Everything was virtual this career fair, from registration to connecting with companies. The sign-up process began with students downloading the Career Fair Plus app, then creating a profile which included their name, email, phone number, link to their LinkedIn profile, and an attachment to their resume. After completing their profile students were free to browse through the companies that were going to be attending the fair. On September 10, students were able to set 10-minute meetings with each employer they were interested in. The appointments were a huge shift from walking up to a booth at a typical career fair. Students were able to plan ahead to talk with prospective employers.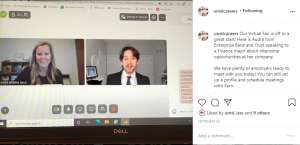 What did it take to bring this first ever virtual career fair to life? Director of Career Services, Teresa Balestreri describes the planning process as "completely different." Balestreri says everything was different such as the "students and employers had a completely different timeframe, communication process and preparation process". Fortunately, Balestreri has an incredible staff and they all had an all hands-on deck attitude towards the process which ensured a successful Career Fair.
Students really enjoyed the virtual career fair! It was a lot easier to connect with companies. Being able to schedule meetings with employers ahead of time was a great feature. Students, employers, myself included really  enjoyed  the one on one experience they had the opportunity to enjoy. As for the future of the career fairs, the upcoming spring career fair will most likely be virtual again. But after that, it is hard to say whether or not they'll be in person because nobody knows what the pandemic will be like a year from now. 
Keep an eye out for the Spring Career Fair on Career Services website!