3 Ways to Embrace Virtual Graduation
By Brienna Manore
"But wait! There's more!" the slogan of 2020. A pandemic, Australian bushfires, toilet paper shortage, and giant murder hornets? You've got to be kidding me. I was still holding out hope that I would have in-person graduation this December, but then I got the email. In a message sent by the UMSL Commencement Committee, the in-person ceremony for Fall 2020 graduates has been canceled due to the ongoing COVID-19 pandemic. They are planning a virtual ceremony, but no further information has been announced at this time.  

When life gives you lemons
Just because the commencement ceremony is postponed doesn't mean you shouldn't do anything for your big day. Completing undergrad is one of your biggest (if not your biggest) accomplishments to date so a celebration is still in order. Buy the suit; you can wear it for interviews. Send the invitations and take the senior photos. Sign up for the virtual ceremony when it's available and host a watch party (abiding by your county's ordinances of course)or have a drive-by parade.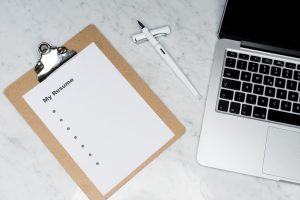 Work on your resume
The whole point of graduating is to get a job in your field of study, right? A strong resume and cover letter are more important than ever with the current state of the workforce. There are so many sites and forums out there that are dedicated to giving you tips for creating a resume that will get you an interview, but we have some pretty awesome resources here at UMSL. Being a Business Administration major, I was required to take ENGL 3120 – Business Writing where we had to create a resume and cover letter. Between that class and having the Director of Human Resources of St. Charles County as a mother, here are a few things I keep in mind every time I visit my resume. 
Your resume is something you should continuously update

The cover letter is not optional…

THE COVER LETTER IS NOT OPTIONAL!

Customize your resume and cover letter for each position you apply for

Sprinkle in some keywords from the job post to make your resume match (but don't lie)

Try to address your cover letter to the hiring manager/recruiter

If you're not a real estate agent you shouldn't have a picture on your resume

You may be subjecting yourself to discriminatory practices

Be consistent

Your resume, cover letter, and reference pages should all have the same header/template, font, etc. 
Check out some more of the tips I've learned in my blogging assignment. 
Visit Career Services
And by visit I mean make a virtual appointment because they are working remotely at this time. Career Services offers help with developing a resume, preparing for interviews, and planning your internship or job search. They also provide information on virtual job fairs and help you prep for them. Upon a quick glance at their webpage, I found they have a job and internship database called TritonCareers as an additional resource for students and recent graduates looking for jobs. But hey! If you really want another chance to walk the stage there's always grad school!