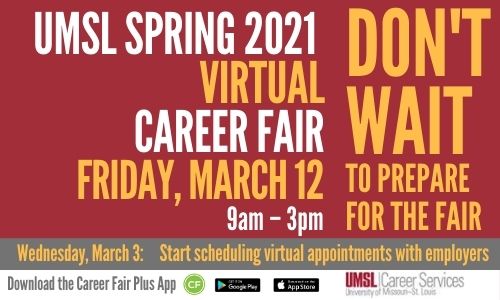 Career Fair Tips from Cushman & Wakefield
By Alexandria Diercks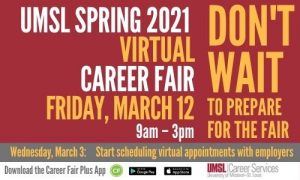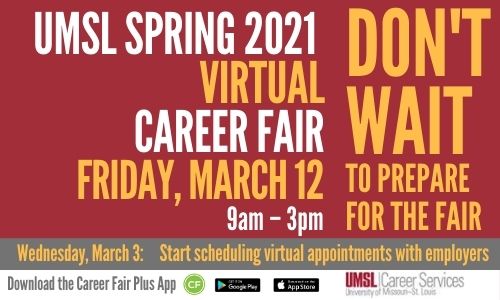 UMSL's spring 2021 virtual career fair is Friday, March 12 from 9am-3pm. This event is campus wide for students and alumni, no matter the academic program or level. It's a great way to get your foot in the door and meet with possible employers! I got the opportunity to chat with Katie Flaschar, from Cushman & Wakefield, an employer that is a part of UMSL's career fair. They were drawn to the career fair due to UMSL's diversity of programs and student backgrounds to help fill their entry-level hiring needs in St. Louis with prepared, hard-working candidates. 

To prepare for the career fair participants should be ready to roll out their elevator pitch, and make it really stand out. Especially now that they are virtual there is only a short amount of time allotted with that employer (10 mins one-on-one). Communicate what you're looking for and why. Knowing what interests you and what type of job role you're pursuing in is a big plus. Flaschar stated, "I'm looking for examples of a candidate's ability to use good time management, work in a fast paced environment and provide great customer service to our clients". Knowing what specific skills you excel at and working them into an elevator pitch can truly make it pop with confidence.
Going into career fairs open minded to new employers and opportunities, is Flaschar's recommendation, "Commercial Real Estate is an example of an industry you can't exactly major in, but have so many opportunities for roles and growth potential. Explore those companies and industries you might not be as familiar with, because there are a lot of exciting career options out there." Admitting what you don't know is something one shouldn't be afraid of. Doing some research about the potential companies is very important beforehand as well, and being enthusiastic to learn more about the company goes a long way! 
Going into the career fair with confidence can make a great first impression. Another tip from Flaschar, "Be prepared to answer behavioral based questions with the STAR method, as many companies are using this interview technique now." At Cushman & Wakefield they use the interview to determine a candidate's ability to be an effective team member and a culture fit. Looking more specifically for talent that is smart, professional, friendly, and eager to learn more about the industry. 
UMSL's career fairs are always a great way for students or alum to seek out opportunities that they may have never even thought about! Be sure to be fully prepared and create an account on Career fair plus!