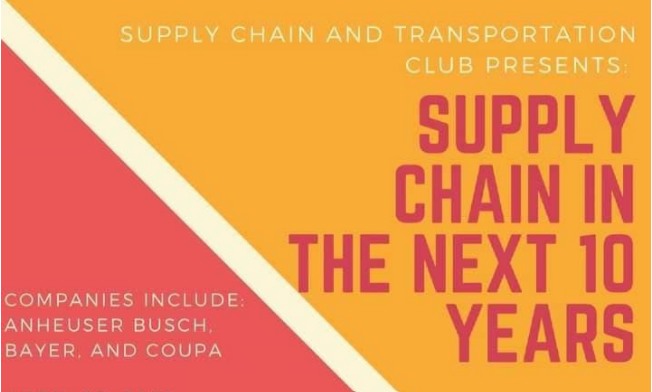 Where is Supply Chain in the Next 10 years?
By Sara Hamer 
In case you miss out on a great event put on by the Supply Chain Club. The Supply Chain Club had a Zoom meeting called "Supply Chain in the Next 10 Years" on April 8th, 2021. The meeting featured Samuel Johnson, Abha Khandelwal, and Dan Kogan. 
Samuel Johnson is the Senior Director of Supply Chain Transformation for Anheuser Busch. Johnson has moved around quite a bit and recently moved back to the St. Louis area for his position. Abha Khandewal, Ph. D. is a Data Strategy Lead in Product Supply Quality for Bayer Crop Science. Khandewal has been in the agriculture industry throughout her entire career and is trained as a scientist. Dan Kogan is a Senior Manager of Education Services at Llamasoft/Coupa. Llamasoft recently got bought by Coupa.
The up-and-coming Supply Chain trends are Artificial Intelligence (AI), Block Chain, and Machine Learning.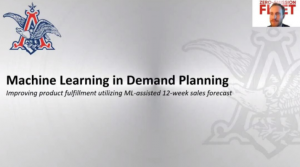 Johnson talked about the supply chain for the future and what Anheuser Busch expects to happen. Anheuser Busch uses Machine Learning in their Demand planning for their 12-week sales forecast. Anheuser Busch sells alcoholic and nonalcoholic beverages. They have branched out to meet the needs of their consumers. The challenge is to come up with a forecast of 12 weeks of what is going to sell. Machine Learning is a tool that Anheuser Busch uses to update a lot more frequently, and it improves the process even more. 
Khandewal talks about how Bayer is the tech provider and then moves to a dealer who sells to growers then to the processor. Bayer Crop Science uses the Block Chain for seed traceability on TraceHarvest.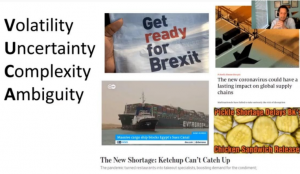 Kogan talks about how Supply Chains are more relevant today than back in the day. For example, Business Models and comparing Henry Ford to Kylie Jenner. Kogan says that "A 100 years separates these businesses, but the pace of change is accelerating so rapidly". The Supply Chain is becoming very complex in this day in age as well. In case you have not heard what VUCA stands for it is Volatility, Uncertainty, Complexity, and Ambiguity.
Also check out this opportunity to design the Supply Chain's T-Shirt!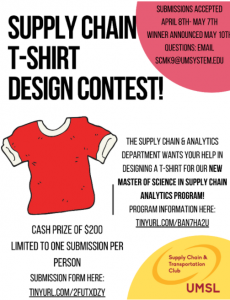 For more information on future Supply Chain events, check UMSL Supply Chain & Transportation Club Facebook Page. The Supply Chain is throwing one last event for the spring semester called End of year celebration.