Get to Know UMSL Supply Chain & Analytics Executive Board Member Brett Caplice
By Cassie Bianculli
This month we would like to feature one of our UMSL Supply Chain & Analytics Executive Advisory Board Members, Brett Caplice, who is the Vice President of Global Strategic Pricing and Risk Management at Bunge. Mr. Caplice first joined Bunge in 2010 where he has since served in many capacities including commercial managerial roles and bulk refined oil sales. He now oversees and manages risk, pricing, logistics and exports for the Bunge Loaders Croklann. The UMSL SCMA department is pleased to have Mr. Caplice on the Executive Advisory Board and appreciates the involvement and expertise he brings to our program. Continue reading to learn more about Brett's supply chain journey and his advice for students entering the field.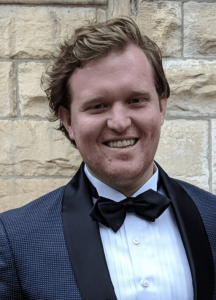 What is your educational background and what led you to the world of supply chain and logistics?
I received a bachelor's degree in finance & economics at Creighton University in Omaha, NE.  My first job in college was at a Natural Gas trading company.  When you get involved with any company involved in the trading of physical goods, you soon learn that supply chain & logistics are of the upmost importance.
The recent COVID-19 pandemic has challenged many supply chains. How has COVID impacted your supply chain career?
I would say COVID taught me more about the importance of resilience and flexibility in supply chains.  The organizations who did best in the last 15+ months were the ones who had multiple nodes and transportation options, and the ability to quickly change them.  
Can you share how Supply Chain and Analytics plays an essential role in your organization?
In most commodity trading companies, margins are slim, and we have the ability to make or lose a lot of money very quickly.  Having an unorganized supply chain is one way to lose a lot of money quickly.  A good supply chain is essential to running our business and is a core competency for our traders.  
We are very thankful for your commitment to the UMSL Supply Chain & Analytics Executive Board. What encouraged you to get involved, and what is your favorite part of being a board member?
Our drive to get involved centered around making sure we can recruit good supply chain talent around our head office.  St. Louis is an important hub for logistics in the US, as two of our major rivers converge here in the Midwest to provide one of the cheapest, and greenest, forms of transportation on the planet.  We wanted to tap into this natural skillset in the St. Louis area, and in order to do so we wanted to partner with good local universities, like UMSL, to make sure new graduates are graduating with the skills they need to succeed.  
What is one piece of advice you would like to share with students pursuing a degree in Supply Chain and Analytics?
Always make sure to connect what you do in supply chain to the bottom line of your business.  It is good to have a specific KPI about load times, or inventory management, but make sure you understand how that fundamentally links to your profitability.  It sounds trivial, but it is something I see many people miss.  Understanding the point where practical business solutions & profitability intersect is key to growing in your career.