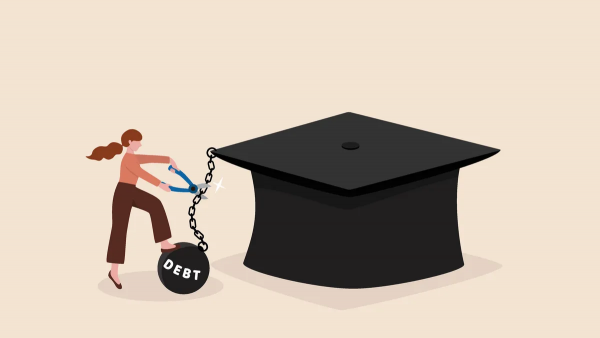 Basics of Biden's Student Loan Forgiveness Plan
By: Kailey Wagnaar
Many have come to realize that:
A. The price of college has skyrocketed in recent decades.
B. The requirement of a college degree in order to qualify for many jobs (including entry level) has become much more common.
C. The overall income of an individual has not necessarily increased parallelly with the price of living as the years go on. 
According to Educationdata.org, in almost three decades (1995 to 2022) the total federal student loan debt balance has increased 766%, with bachelor degree receipts holding an average of about 32,000 dollars in federal debt.  All of these factors together, including the Covid 19 Pandemic which has had a substantial impact, have caused a lot of financial strain on current and recent generations of college students. This has affected those especially who have relied on student loans to earn their degree, many of which are necessary for their careers.  While many people believe that the higher education system here in America has some flaws in its system, current and past government administrations have been working towards finding a way to repair it; one way that has just recently become available is the Student Loan Forgiveness Plan that is expected to provide debt relief to an estimated 43 million people across the the nation.  
President Biden announced on August 24th of this year his plan to help permanently cancel a portion of student loan debt for current and past students.  The three main action points that make up the portion of the plan targeting debt cancellation are as follows:
Student loan repayment will remain paused throughout the remainder of the calendar year. 

Pell Grant recipients will be eligible for up to $20,000 in debt cancellation. 

Other forms of federal student loans (no private loans) will be eligible for up to $10,000 in debt cancellation if the person makes less than $125,000 of cumulative income per year (if married, $250,000 per couple).
This plan also aims to make repayment requirements more achievable in the future by cutting monthly payments in half (from 10% of discretionary income to now 5%) for undergraduate loans, limits the amount of years you are responsible for paying the debt to 20 years, and makes it easier to receive appropriate credit towards loans through the Public Service Loan Forgiveness Program (PSLF) if you have worked at a non-profit, in the military, or in federal/state/tribal/local government.
If you fit into either of these categories, I urge you to fill out the application that was officially launched on October 17th and can be found at the link HERE or StudentAid.gov; if this is something you want in on, make sure to apply before applications close on December 31st, 2023.  The short application consists of filling in information such as name, social security, date of birth, contact information (phone number and email as there is a chance their administration will need to reach out to you for additional information or verification).