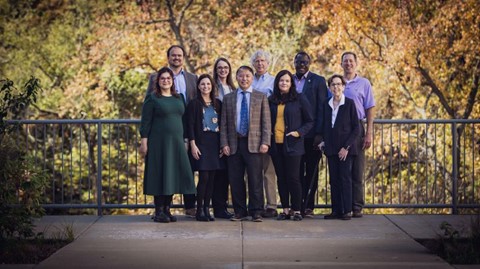 New UMSL PhD Program Empowers the Supply Chain Experts of Tomorrow
By: Maya Harter
In today's rapidly changing global markets, there is an increasing need for experts in supply chain management and data analytics. The optimal flow of goods and services globally is essential to the stability of the world economy. In the midst of the significant increase in demand for skilled professionals in the field, UMSL has revitalized its Ph.D. in Business Administration program, offering an emphasis in Supply Chain & Analytics.
This program, which restarted in the fall of 2022, has a focus on applied research to better manage supply chains and operations in a business environment that is increasingly complex and data driven. The program combines a comprehensive knowledge of the theory and industry of supply chain management paired with high-level training in research tools in supply chain and analytics.
The program Director, Andrea Hupman, takes pride in the programs one-of-a-kind curriculum and the experience it provides:
"Pursuing a PhD in Supply Chain & Analytics at UMSL is great opportunity for inquisitive people who want to how to use rigorous research methods to bring insight to big questions. Our program is unique in its comprehensive curriculum that covers both the domain of supply chain and the analytic techniques necessary to understand and optimize the complexities inherent in supply chain management."
The Supply Chain Analytics faculty are a diverse group of well-connected professionals with businesses both in the St. Louis area and globally, conducting cutting-edge research that has real-life impacts across the many verticals of the supply chain. The faculty is devoted to ensuring that students leave with the essential skills to become competitive in the workforce and bolster their career paths.
"We strive to be the supply chain program most connected to business. Our research is informed by real-world problems, and the insight and solutions we find through research make an impact in industry." (Andrea Hupman)
Three alumni of the program, Dr. Chidu Subbiah, Dr. Juan Zhang, and Dr. Stan Solomon shared their experiences throughout the program, advice for potential future students, and an update about the exciting work they've been doing since completing the program.
Dr. Chidu Subbiah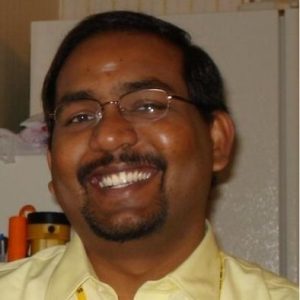 Dr. Chidu Subbiah, a 2019 graduate of the program, worked at a logistics firm when he became interested in the PhD. He completed the program part time while he worked at Edward Jones as a Senior Java Developer and has since advanced in his field to be a Solutions Architect within the company.  While he's no longer working in research, his role involves high-level data analysis of their 18,000 branches nationwide.
Dr. Subbiah chose the program because of the well-renowned faculty and the unique emphasis on industry applications. Working with Dr. Li, Dr. Hupman, Dr. Campbell, and Dr. Sweeney, Dr. Subbiah was able to focus his research on business applications relevant to the industry and his field at the time, which was a significant highlight of the program for him. This allowed him to keep his full-time position at Edward Jones and apply his program work to the company throughout his degree.
Dr. Subbiah encourages students entering the program to stay focused and take full advantage of the resources available. "It takes a lot of discipline. Just stay focused. I was fortunate to have faculty who were willing to work with me, but I think you still need a lot of discipline. Set aside the time and effort. Don't delay thinking about what you want. Make the most of the opportunity and get through it in a timely manner, so that is something I took from the experience."
Dr. Juan Zhang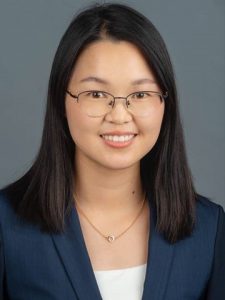 Dr. Juan Zhang, now an Assistant Professor at the University of Wisconsin – Eau Claire, completed the PhD program in 2021. Her research primarily focused on simulations to be utilized by airports to optimize operations.
"The airport, for example, the operation is in the simulations and in this computer, and we       simulate how the error lines of airplanes come into the airports, how they touch on the runway, and then to the gate. So, we simulate this process, and we try to find where the bottleneck is and how we could help to make better decisions. We established this framework for the Lambert   International Airport, in St. Louis. I worked a little bit on that, but my main work is focused on another commercial airport in China."
The faculty in the department, specifically Dr. Campbell, was what originally drew her to the program. Dr. Zhang later worked on a drone research project with Dr. Li and Dr. Campbell, creating optimization models for using drones as a means of distributing vaccines to areas that currently lack access. She also worked with Dr. Li and Dr. Hupman on a predictive analysis of supply chain disruptions at Express Scripts. She found the research aspect of the program to be very rewarding and enjoyed the applicable nature of the curriculum.
"Our department is very good at approaching companies, and providing experience to the PhD students, as well as other students in the program. This is very valuable in business school. For PhD students, you can get hands-on experience. You look at the data. It's not made up data. It's real data from the business. But there are also challenges that we face when we work with companies, because what they want is a quick solution. But what our researchers want is to find the cause of the problem so that we can solve the problem."
Dr. Zhang was also drawn to the program because of its unique nature, focusing on both quantitative methods and supply chain management in a way that no other programs were doing at the time, which she felt best fit both her professional background and research interests. "For many programs, they are more supply chain oriented. They do like case analysis and the qualitative methods, we do a lot of optimizations, and that is also my interest."
Dr. Zhang heavily emphasized the importance of discipline and curiosity if you want to succeed in the program and get as much as you can out of the experience.
"Those professors are very nice. They are very gentle to you. You need to be tough on yourself. You need to ask questions. I was afraid that I might be stupid, so I didn't want to show that. But those professors, they are intelligent. They are excellent. You're going to be like, 'I feel stupid', but it's fine. So, what's important is to ask questions and ask for help. "
Dr. Stan Solomon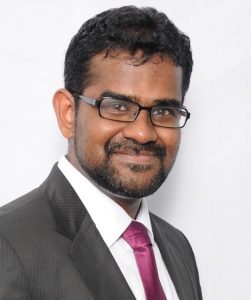 Dr. Stanislaus Solomon completed the program in 2014 and is now an Assistant Professor of Management at Southern Illinois University Edwardsville. He was very impressed with the program, and his interest ultimately drove his decision to move to the United States.
"Excellency of Faculty was number one. In terms of the program, I believe it has the strongest curriculum in the region. It's a combination of factors, with top faculty, opportunity, working on applied project."
Aside from the program's quality, Dr. Solomon had fond memories of working with his cohort. The diverse backgrounds and experiences enabled collaboration between students which allowed them to learn from each other and ultimately support each other's success and enriched the experience all together.
"I put my engineering background to use to address some really, you know, complex challenges in the real world, and then use some novel and sophisticated solution methods to solve them. It was a great time learning from it. It wasn't easy all the time. Yeah, it's challenging, but also very rewarding in the long run."
Dr. Solomon enjoyed the program so much that he encouraged his brother to apply to the program as well, who is currently taking part in the Master of Science in Supply Chain Analytics program at UMSL. He offers this advice to students in the program, both personally and academically.
"There are two things. One is on the personal side. A PhD program is like a marathon. You're going to need to be motivated and disciplined and organized to really get the most out of it. The other end is on the academic side. You're working closely with the advisor following your advisor's advice, and they know better.  You know, just follow your advisor's instruction and then work closely with them."
We welcome applications from both full-time and part-time students whose career goals are to become a teacher and scholar in academia, or a professional and researcher in industry.
The deadline for full-time applications is March 31. We use a rolling admissions process starting February 28, with early applications receiving priority.
The deadline for part-time applications is May 31. Applications are made online at: umsl.edu/apply.
For information on the Ph.D. program, links to the curriculum and application details, please see: umsl.edu/go/BusinessPhD. For information on the USML Supply Chain & Analytics Department, see www.umsl.edu/divisions/ business/supplychain/.
For more information on the Ph.D. in Supply Chain & Analytics, contact Dr. Andrea Hupman, Ph.D. Program Director, hupmana@umsl.edu.
Learn more about our award-winning M.S in Supply Chain analytics program.