UMSL Student Zoe Phillips on How to Become an Influencer
Written By: Zoe Phillips, UMSL Graduate 2023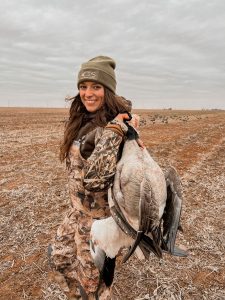 An influencer is more than posting a picture with a company logo. Being an influencer is believing in the product and BEING the brand. Being a successful influencer is an asset for any business, as it is relatively low cost, and if done correctly, brings many consumers to your business. As the world transitions more into the digital sector, businesses also have to transition marketing tactics. According to sources, on average, businesses allocate 72% of their marketing budget to digital marketing channels. 55% of the budget is digital. If you are pondering becoming an influencer or obtaining a degree in digital marketing, you won't regret it.
I have been very fortunate and am grateful for the opportunities I have been presented with. I am an UMSL graduate as of this year! I work for Tactacam as a Social Media Manager. Tactacam is a hunting company that specializes in trail cameras and cameras that mount to your gun or bow to film your hunt. Before landing this job I began the world of user generated content (UGC). I spent hours learning algorithms, analytics on when to post and why. I learned how to hashtag and pinpoint posts to direct towards my target audience. I work for Her Wilderness as well, coordinating hunting, fishing, and hiking trips for women across the United States. Getting content became fun and I have many adventures to post about. I started on a team for Tactacam as a volunteer. I am always hunting, fishing, or enjoying the outdoors in some way. Tactacam made my hunting experiences more enjoyable and added a fun factor! I was instantly hooked on the products. Being an "influencer" takes time, patience, and consistency. You are representing another brand. These brands typically are smaller, owned by passionate, hard working men and women. They put trust in you to represent them, post good content, and represent yourself respectively. When you enter this industry, you are not just representing the company but you represent yourself as well. Keep in mind, companies do not want to see you acting inappropriately, engaging in social media fights, or disrespecting others. They certainly will not pay you for this type of media either. Be respectful, tasteful, and a nice human. A few tips for those wanting to get started: Start small, reach out to companies and put yourself out there. Post it. Post the picture, review, video, get your content out there and don't be ashamed or embarrassed. As Nike says, JUST DO IT! Today, I represent quite a few companies and I am loving the eventful life I live. Dreams can become reality if you work hard and grind.
If you have questions, comments, anything, I am always open to chat! My email is
zoe.f.phillips@gmail.com. Also make sure to check out my Instagram: @zoephillipsoutdoors.