Finance Graduate TaShauna McAllister Turns An Internship Into A Permanent Position
Written By: Eboni Valentine
Many college graduates have one goal upon graduation, landing a job in their field. Some students struggle and experience "post-graduation depression", while others enter the workforce. First-generation college student TaShauna McAllister, took a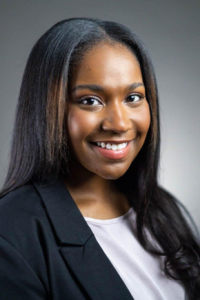 different route. She transitioned from an intern into a full-time position.
In September 2022, TaShauna served as a Trust Intern at Commerce Trust Company (a subsidiary of Commerce Bank) until January 2023. Once she graduated in December 2022 with a Bachelor of Science in Finance, her internship became a full-time position. TaShauna works at Commerce Bank as a Bank Trainee in their Ascend Program. The Ascend Trainee Program helps recent college graduates and professionals develop banking skills that will help them find long-lasting careers in the industry. Trainees rotate between various areas within the bank in their cohort, receive mentors, and engage in networking opportunities. In less than 12 months, some trainees are placed into more permanent positions in a career path that they desire.
During her first week in the program, TaShauna and the cohort hit the ground running. They were exposed to training and expectations for the program. The cohort was specifically given the tools and knowledge to be Credit Analysts. She explained that the first week "consisted of getting to know my fellow classmates that started the program with me, learning key concepts and having intensive training sessions that filled up our schedules every day…a big thing we learned in the first week was how to spread financial statements". TaShauna is enjoying her time in the program at Commerce.
When asked about the company culture at Commerce, TaShauna described it as a great place and very open. She said that Commerce offers a welcoming atmosphere for new employees to feel comfortable in a new setting. The company also has specific concepts centered around its work culture. It is a way for all departments to continuously improve their operations. The environment at Commerce has encouraged TaShauna to want to remain with Commerce after the Ascend Program ends. She plans to find a place within Commerce that matches her career goals. A year from now, she would like to jumpstart her career in the areas of Trust, Commercial, or Treasury at Commerce Bank.
In her success at Commerce, TaShauna credits her time at UMSL. She said that the Finance program "most definitely helped me in being prepared for this position as a Credit Analyst/Trainee". TaShauna enjoyed learning from the finance professors because of their real-world experience. The classes she found most helpful were her accounting courses. In her current position, she utilizes many of the concepts learned from the accounting courses. She specifically pointed out the Managerial and Financial Accounting courses. Although TaShauna found her way into the finance world through the program, she was met with some challenges. Adjusting to learning financial terms and applying the concepts was a struggle in the beginning. This wasn't enough to stray TaShauna away from Finance.
TaShauna McAllister is a recent graduate that is well on her way to a great career in Finance. From her time in the program to her internship experience, TaShauna is prepared and feels confident about her plans for the future. This is how she was able to turn an internship into a full-time job opportunity.