English professor's book makes NYT Gift Guide
If you're looking for holiday gift ideas for the book lover in your life, Dwight Garner of The New York Times has some suggestions. And at the top of that list is "Alfred Kazin's Journals" edited by Richard M. Cook, a noted Kazin biographer and chair of the Department of English at the University of Missouri–St. Louis.
Kazin was a highly acclaimed and influential 20th century critic of American literature. Born in Brooklyn, N.Y. in 1915, the intellectual's journals cover his life from 1933 to a few months before his death in 1998.
"This is one of the great diaries and moral documents of the past American century," Garner wrote for The New York Times 2011 Holiday Gift Guide.
The inclusion of Cook's book in Time's Holiday Gift Guide wasn't the first time The Gray Lady called attention to "Alfred Kazin's Journals." The Times also praised it as a "remarkable book" in a spring book review.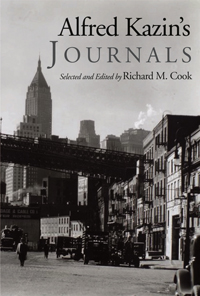 Yale University Press released "Alfred Kazin's Journals" in April. The publisher also released Cook's critically acclaimed "Alfred Kazin: A Biography" in December 2007.
In addition to the extensive research Cook has conducted on Kazin, the UMSL English professor has written a book on Carson McCullers and articles on Herman Melville, William Faulkner, Edmund Wilson and Lionel Trilling. Cook has also received a Guggenheim Fellowship, a Fulbright teaching fellowship to West Germany and a National Endowment of the Humanities research fellowship. He teaches American literature, literary criticism, biography and autobiography at UMSL.

Short URL: https://blogs.umsl.edu/news/?p=16400