Teaching and Technology Conference is 'BYOD'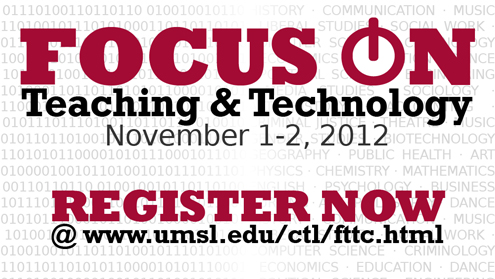 There are lots of academic buzzwords out there today. Classrooms are getting "flipped" and professors are learning how to create "HOT" questions in this "BYOD" era.
Nearly 300 college and university professors will spend two days discussing the latest terms and the technology responsible for a lot of new thinking in academia at the Focus on Teaching and Technology Conference at the University of Missouri–St. Louis. Scheduled for Nov. 1 and Nov. 2, the conference features experts like Joel Davies, an Apple higher education curriculum development executive and Megan Bradley, a developmental psychologist from Frostburg State University in Maryland and creator of the "Train Your Brain" program.
"People like Megan Bradley are redesigning large enrollment courses that change the way instruction is delivered," said Margaret Cohen, director of UMSL's Center for Teaching and Learning. "Students may meet with professors less often and with one another more frequently. Technology is leveraged to engage students more with course content, their instructors and peers in new and exciting ways. These data-driven course redesigns improve student learning while reducing instructional costs. Students use the latest technology to work on problems together."
Cohen said this year's conference has attracted educators from 31 universities in Illinois and Missouri as well as the University of Toronto and Florida Agricultural and Mechanical University. Local sponsors include: Maryville University, McKendree University, St. Louis Community College, St. Louis University, Southern Illinois University-Edwardsville, University of Missouri On-Line and Webster University.
The Nov. 1 program, which runs from 10 a.m. to 4 p.m. in Marillac Hall on UMSL's South Campus, is dedicated to workshops on a variety of topics. They include the art of writing HOT (Higher Order Thinking) questions, which is meant to improve critical thinking. "Flip the Classroom and Stick the Landing," the keynote presentation by Apple's Davies, will use mobile technology and dynamic software that allows professors to coach instead of lecture and accommodate a variety of student learning styles. Some of the workshops will be enhanced if you BYOD, that's "bring your own device."
The Nov. 2 program will run from 8:30 a.m. to 4:30 p.m. in the J.C. Penney Conference Center on UMSL's North Campus. Registration will begin at 7:30 a.m. In concurrent sessions, award-winning faculty will offer insights and practical examples to illustrate low- and high-tech ways to hold students' attention and focus on learning. Bradley will deliver the keynote presentation at 1:15 p.m.
To register and for information on conference costs, travel and lodging visit: umsl.edu/services/ctl/fttc.html

Short URL: https://blogs.umsl.edu/news/?p=30885