Moulin Rouge-inspired ballet to be staged at Touhill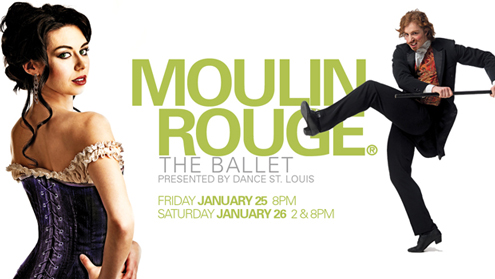 The Moulin Rouge has been the inspiration for books, paintings, musicals, films – and now, ballet. Dance St. Louis will bring Canada's Royal Winnipeg Ballet, the oldest continuously running ballet company in North America, to St. Louis for the first time to perform "Moulin Rouge – The Ballet" at 8 p.m. Jan. 25 and 2 p.m. and 8 p.m. Jan. 26 at the Blanche M. Touhill Performing Arts Center at the University of Missouri–St. Louis.
Created by Jorden Morris, choreographer and former principal dancer of the Royal Winnipeg Ballet, "Moulin Rouge – The Ballet" features high-kicking choreography, French-period music and an original new love story told entirely though dance.
Set to an eclectic score of classical music by Strauss, Debussy, Ravel, Offenbach and Massenet as well as recognizable melodies such as "La Vie en Rose," the signature song of French singer Édith Piaf, the ballet tells the romantic story of two innocents – Matthew, a struggling artist, and Nathalie, a cancan dancer – who are drawn to fin-de-siècle Paris in search of romance and stardom. Their passion ignites a powder keg of emotion and ultimate heartbreak in the most glittery and infamous of cabarets, the Moulin Rouge. They also befriend French painter Henri de Toulouse-Lautrec, who historically was a denizen of the cabaret and vividly portrayed its performers and patrons in his art.
According to the Chicago Tribune, "'Moulin Rouge – the Ballet'" nicely transports the viewer back in time to a seductive locale steamy with earthy, Bohemian pleasure co-existing with great art."
The production boasts a beautiful set design that resembles Parisian street scenes, stone staircases, towers and the shadow of the famous Moulin Rouge windmill. It captures a time when Toulouse-Lautrec was painting and the Eiffel Tower was constructed. The lavish sets and rainbow-ruffled costumes evoke the heady world of turn-of-the-century Paris, where excess ran hand in hand with poverty, and the elixir of personal freedom bred lifestyles that were reckless and addictive.
The Royal Winnipeg Ballet commissioned Jorden Morris to choreograph "Moulin Rouge – The Ballet" in celebration of its 70th anniversary season. Since making its world premiere in 2009, the ballet has been seen by over 100,000 people in more than 30 cities across North America. Canada's Royal Winnipeg Ballet is the first ballet company in the world to collaborate with the famous Moulin Rouge in Paris and has been granted the rights to use its trademarked name for the title of the performance.
Tickets for "Moulin Rouge – The Ballet" are $35-$55. Visit touhill.org or 314-516-4949 to purchase tickets.

Short URL: https://blogs.umsl.edu/news/?p=33858