Education professor discusses American students' math literacy problem on St. Louis Public Radio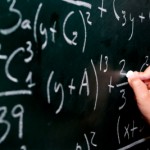 As more and more technology becomes available, students continue to show less interest in really learning the fundamentals of mathematics. Only 1 in 4 American students are proficient in STEM (science, technology, engineering and math) subjects .
Helene Sherman, Founders Professor of Education at the University of Missouri–St. Louis and author of "Teaching Learners Who Struggle with Mathematics,"talked recently about the importance of STEM education with Don Marsh, host of "St. Louis on the Air" on St. Louis Public Radio | 90.7 KWMU.
"People often say I wasn't good at math and I'm not a math person … yet they won't say, 'I can't read,'" Sherman told St. Louis Public Radio.  "(I agree that children) are hard-wired to understand and succeed (in math), the problem is that as they move along in the system, they are often hearing messages from everyone that they know, perhaps at home, that they're not good at math.  So that love and that desire to learn diminishes as the years go by."
Sarah Jamison, corporate resources manager at LMI Aerospace, a company involved in UMSL's Students and Teachers as Research Scientists program, and Robin Kinman, fourth grade teacher at the Community School in Ladue, Mo., were also guests.

Short URL: https://blogs.umsl.edu/news/?p=36086