St. Louis Jazz Orchestra to pay tribute to Maynard Ferguson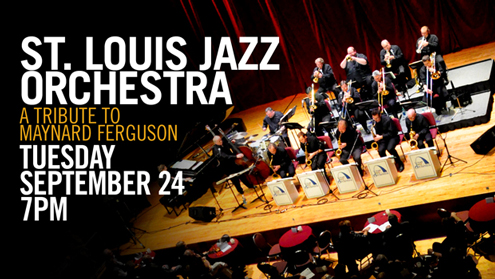 The St. Louis Jazz Orchestra, led by Jim Widner, director of jazz studies at the University of Missouri–St. Louis, will showcase the music of Maynard Ferguson and feature the artistry of St. Louis' own Maynard "disciple" Jim Manley. "St. Louis Jazz Orchestra: A Tribute to Maynard Ferguson" will begin at 7 p.m. Sept. 24 at the Blanche M. Touhill Performing Arts Center at UMSL.
The St. Louis Jazz Orchestra is St. Louis's premier big band, focusing on the music of Count Basie, Duke Ellington, Stan Kenton, Maynard Ferguson and others, as well as the contemporary music of today from such writers as Gordon Godwin, Maria Schneider and arrangers from within the band itself. The STLJO is composed of the finest jazz artists that St. Louis has to offer.
Ferguson, a renowned jazz trumpeter, formed his own band in 1957 after a stint in Stan Kenton's orchestra. In an obituary for Ferguson, who died in 2006, Billboard magazine noted that the trumpeter became known for his "ear-piercing power and dizzying high notes that he was still able to play with precision." UMSL alumnus Steve Schankman, BGS 1991, was Ferguson's friend and manager.
"He was the last of the greats," Schankman told Billboard for its Ferguson obituary. "That era is closed. There is no Kenton, no Basie, no Ellington, and now, no Ferguson."
Manley has thrilled St. Louis audiences over the years with his own groups in live performances as well as his recordings. His unique talent of being able to copy the sound, style and range of Maynard promises to be an electrifying evening of music not to be missed.
Tickets for the concert are $25. Call 314-516-4949 or visit touhill.org to purchase tickets.

Short URL: https://blogs.umsl.edu/news/?p=41088