Shanghai Ballet to stage 'The Butterfly Lovers' at Touhill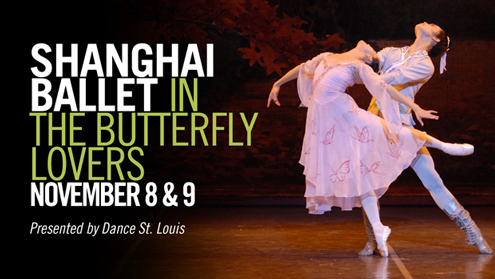 Founded in 1979, the Shanghai Ballet boasts a history of more than 30 years, holding a prestigious position in the international ballet world. Shanghai Ballet's production of "The Butterfly Lovers" is often considered the Chinese equivalent to "Romeo and Juliet."
Presented by Dance St. Louis, the Shanghai Ballet will perform "The Butterfly Lovers" at 8 p.m. Nov. 8 and 9 and at 2 p.m. Nov. 9 at the Blanche M. Touhill Performing Arts Center at the University of Missouri–St. Louis.
The piece premiered in December 2001 at the Third Shanghai International Art Festival, choreographed by company director Xin Lili. The legend relates the story of a young woman named Zhu, who disguises herself as a man to obtain admittance to school. She falls in love with schoolmate Liang, but her betrothal to the evil and violent Ma complicates her feelings for Liang. In a jealous rage, Ma kills Liang when he attempts to intervene and profess his love for Zhu. Distraught, Zhu sacrifices her own life in order to spend eternity with Liang, and the two are reunited in the afterlife as a pair of colorful butterflies.
The St. Louis Post-Dispatch highlighted the concert in the newspaper's fall arts guide.
Tickets for the "The Butterfly Lovers" are $35-$55 and can be purchased at the box office, online at touhill.org or by phone at 314-516-4949.

Short URL: https://blogs.umsl.edu/news/?p=42612