'The Screwtape Letters' returns to Touhill this weekend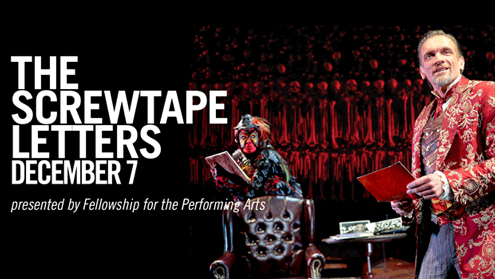 Speak of the devil.
The provocative theatrical adaptation of the C.S. Lewis novel "The Screwtape Letters" will return with its wickedly clever premise to the the Blanche M. Touhill Performing Arts Center at the University of Missouri–St. Louis. Directed by Max McLean, the performance will begin at 4 p.m. and 8 p.m. Dec. 7.
The setting is Screwtape's office, an eerily stylish workplace in the center of a morally inverted world. That's where the high-level demon, Screwtape, dictates a series of lessons designed to teach an inexperienced fiend how to lure a man toward "Our Father Below."
And Screwtape isn't writing "Damnation for Dummies." Rather, he relays a multi-faceted strategy for enticing a human "patient" down the "soft, gentle path to Hell." His schemes are subtle, the opposite of a display of extravagant, a tempting sin one may expect.
The witty script is thought-provoking, to be sure. So is the stage adaptation, according to the Chicago Tribune, which called it "very smart …  richly rewarding … exuberant theatricality."
The show was a hit in New York City, ran for six months in Chicago and played for 10 sold-out weeks in Washington D.C. before setting out on national tours.
When the Fellowship for Performing Arts last presented The Screwtape Letters at the Touhill, the St. Louis Post-Dispatch noted, that "As funny as it is, it's all aimed at exposing human sin … there were occasional deep silences in the audience as a point hit home."
Tickets are $29-$69 and can be purchased at the box office, online at touhill.org or by phone at 314-516-4949.

Short URL: https://blogs.umsl.edu/news/?p=43675