Homecoming court shares top picks for week of campus festivities
The candidates for this year's homecoming queen and king at the University of Missouri–St. Louis face no small task in their quest for a crown.
But when they're not busy attempting to raise $1,000 toward a scholarship, performing in a lip-sync competition or campaigning for the student-body vote during UMSL Homecoming 2015, each of the undergrads has plans to take in other aspects of the upcoming celebration.
The eight of them recently agreed to share their top picks with UMSL Daily readers, making the following selections from the fun-filled schedule of events set for Feb. 16 to 21.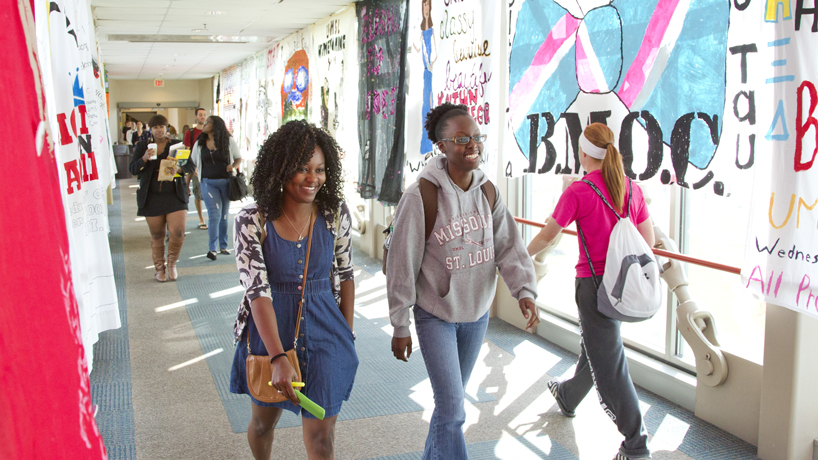 Photo by August Jennewein
Homecoming king candidate and UMSL SUCCEED student Ethan Schroeder attended last year's Window Painting event on the bridge to the Millennium Student Center and expects to participate in the friendly competition among campus organizations this time around, too. Beginning at 7:30 p.m. on Feb. 16, it's a chance to demonstrate school spirit and set a great tone for the entire week.
"It's not about the competition – it's about who we are, and the painting is fun," says Schroeder, who also looks forward to the Homecoming Dinner & Dance where he plans to unveil a dance move he's calling "ocean motion." But we're getting ahead of ourselves – more on the dance later in this post.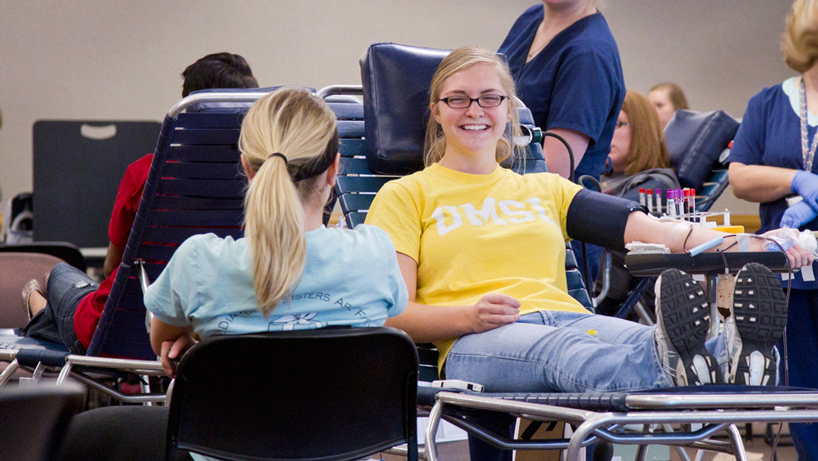 Photo by August Jennewein
Sophomore queen candidate Meagan Galluzzo recommends taking part in the Homecoming Blood Drive from 10 a.m. to 3 p.m. Feb. 17 in the Millennium Student Center. Benefitting the Mississippi River Valley Regional Blood Center, the annual drive is one of several opportunities for Tritons to give back to the community.
"As a nursing major and someone who has volunteered previously with American Red Cross, I consider this to be a very important event," said Galluzzo, a resident of St. Louis. "The need for blood donations is endless, and I appreciate that UMSL recognizes that and has made this blood drive a spirit-week event."
Creative Commons photo via Mike Brown
Junior nursing major Kelsi Schlundt quickly settled on the Lip Sync Competition as her top pick, noting that the event is returning after a hiatus last year. Teams of up to 10 must choreograph a dance and skit, and all members of the homecoming court are required to participate.
"Although I really enjoy all the events and the energy and excitement they create throughout homecoming week, it was not hard for me to pick a favorite event," Schlundt said. "I was a competitive dancer at six years old and a dance teacher by age 15 – it goes without saying that I enjoy not only performing but watching everyone else having fun at this event as well."
Photo-of-a-photo of last year's contestants courtesy Campus Life
The homecoming king and queen candidates won't be the only students competing for laurels during the week, as king candidate and senior biology major Michael Weaver can attest. A handful of student-group-nominated male UMSL students will challenge each other for the traditional title of Big Man on Campus through a series of events culminating with a pageant at 7 p.m. Feb. 18 in the Millennium Student Center.
"I had the opportunity of participating in it last year," Weaver said. "The contestants always get creative to make sure it's a lot of fun. Additionally, the money raised is being donated to Girls Inc., so it's all for a good cause as well."
Creative Commons photo via Damian Gadal
Sophomore nursing major Nick Schueddig of St. Charles, Mo., said he is most looking forward to CANstruction, part of a canned-goods drive to benefit the Pagedale Family Support Center. After collecting cans, student teams will compete from 7 a.m. to 2 p.m. Feb. 19 to build – completely out of cans – a structure reflective of a UMSL Homecoming theme.
"I am really excited that we will be able to provide all those cans to those in need," Schueddig said.
Photo by August Jennewein
For Devon Stegeman, a sophomore studying criminology and criminal justice, Pack the Stands takes the cake. Set for 5:30 p.m. Feb. 19, the event in the Mark Twain Athletic & Fitness Center gymnasium pits the Tritons against the Quincy University Hawks – and student organizations against each other in a spirit competition that includes the chance to win $1,000 in programming co-sponsorship from the Office of Student Life. (In addition, all attendees will receive a free UMSL "Yowie," explained in helpful, witty detail here.)
"Not only do I love basketball, but it is so much fun to get together with my peers and cheer the Tritons on to victory," said Stegeman, who hails from Jefferson City, Mo. "There is so much school pride, and I think everyone has a great time. The game really gets everyone into the homecoming spirit."
Photo courtesy Campus Life
St. Louisan Adrian Liddell, a senior education major, wants everyone to take part in the Frozen 5K & Triton Trot 1-Mile Fun Run. The race – free to UMSL students and $25 for alumni, faculty and staff – gets going at 10 a.m. Feb. 21 on North Campus with a hot chocolate reception and awards ceremony to follow. Registration includes breakfast and giveaways.
"This event is important to me because I believe that health and wellness is the answer to a lot of minor problems that we, as humans, deal with," Liddell said, adding that stress has been identified as one of the biggest problems for college students. "With the great machines in Mark Twain and the soon-to-be Rec Center at UMSL, we should utilize working out to help cure stress across the campus."
Photo courtesy Campus Life
Now in her senior year at UMSL, biology student Elizabeth (Elle) Fitzpatrick selects the Homecoming Dinner & Dance as her top event of the week. Beginning at 6:30 p.m. Feb. 21 at the iconic Chase Park Plaza Hotel, it's a fitting finale to the week's festivities.
"Everyone gets to celebrate how amazing UMSL is and meet some people that they might not have gotten to talk to before," said Fitzpatrick, who grew up in nearby Berkeley, Mo., and is minoring in criminology and criminal justice. "I am so happy to be a part of this year's homecoming court and cannot wait to celebrate with everyone."
For more information about UMSL Homecoming 2015, see the schedule of events.


Short URL: https://blogs.umsl.edu/news/?p=55137