Wood named GLVC Softball Player of the Week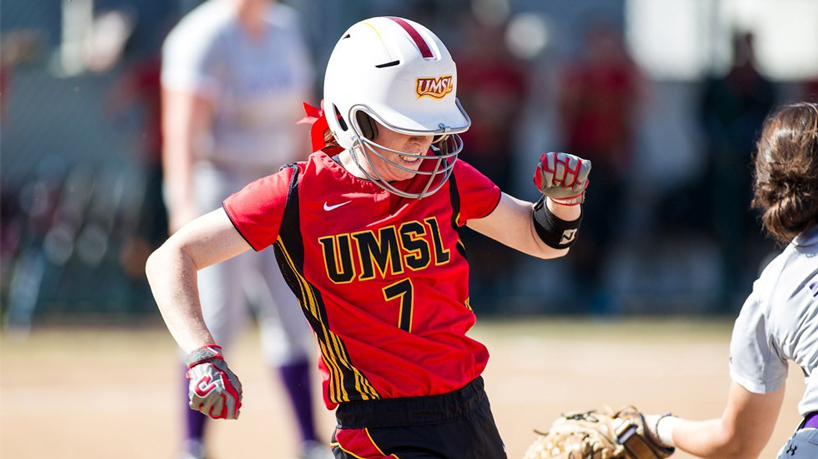 University of Missouri–St. Louis senior second baseman Katie Wood has been named the Great Lakes Valley Conference Softball Player of the Week.
In four conference road wins, Wood batted .462 with six hits, including four home runs, while adding seven RBI and five runs scored. She posted a slugging percentage of 1.385. Despite notching just one hit in Saturday's 8-0 game one win at Rockhurst, the senior drove in three runs, recorded an RBI walk and had a sac fly that also scored a run. In game two's 3-2 victory, Wood recorded a solo home run. Against William Jewell, she went a combined 5-for-8 with four RBI and four runs scored. Of her five hits, three were home runs. Additionally, she had a solo homer in game one and had two home runs in the nightcap, which makes six home runs in the last six games. With her performance, the second baseman helped the Tritons to a commanding 14-1 and 10-3 win in game one and two, respectively, against the Cardinals.
The Oakley, California, native is a criminology and criminal justice major and student in the Pierre Laclede Honors College. She earned her first career weekly honor and is the first Triton to receive the accolade since Madison Zbaraschuk was selected February 23 earlier this season.
No. 3 ranked UMSL (25-3, 10-2 GLVC) returns to action tonight at Maryville in a 3 p.m. doubleheader and will host Truman State on Friday before a road doubleheader at Quincy on Saturday.


Short URL: https://blogs.umsl.edu/news/?p=56251