Marquardt named GLVC Men's Basketball Player of the Week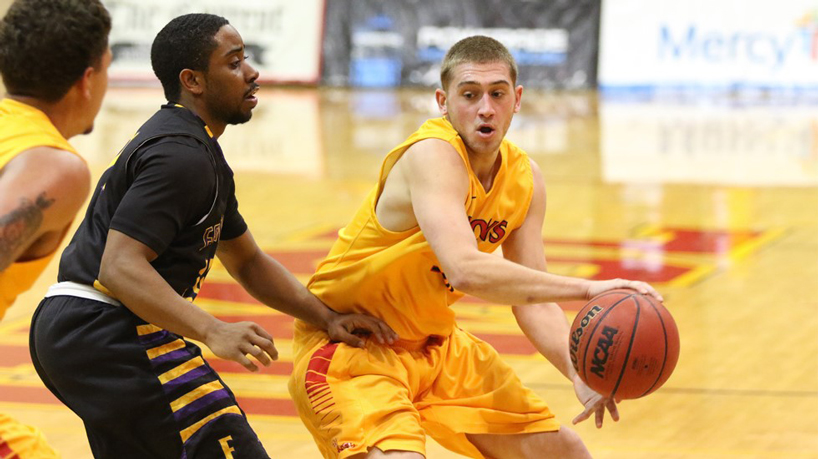 University of Missouri–St. Louis senior guard Brandon Marquardt has been named the Great Lakes Valley Conference Men's Basketball Player of the Week.
Marquardt, a business administration major, led his UMSL Tritons to a pair of victories at the Maryville Classic, averaging 24.5 points, 6.0 rebounds, 3.0 assists and 2.0 steals per game. He finished the week shooting 50 percent from both the floor (14-of-28) and three-point land (11-of-22), while netting all 10 of his free-throw attempts as well.
In UMSL's 94-91 overtime win against Trevecca Nazarene on Saturday, Marquardt tied a career high with 26 points on 8-of-16 shooting, including a 6-of-13 effort from beyond the arc. He added a team-high six rebounds, five assists and two steals as well. Marquardt scored nine of his points in the extra period, including five in the final minute. His sixth three-pointer of the game with a minute to play gave UMSL a 90-87 lead it would not relinquish, while his two free throws with 14 seconds remaining helped seal the victory.
In Sunday's 73-71 victory over Saint Leo, Marquardt netted a team-high 23 points, going 6-of-12 from the floor and 5-of-9 from the perimeter. Nineteen of those 23 points, including all five treys, came in the first half. He also filled the stat sheet with six rebounds, two blocked shots and two assists.
The Oshkosh, Wis., native earns his first career weekly award and is the first Triton to be recognized by the league since Aareon Smith on Feb. 23.


Short URL: https://blogs.umsl.edu/news/?p=60531