Red & Gold Regatta, ice skating among jam-packed Homecoming 2016 lineup
A week full of campus fun is on the horizon at the University of Missouri–St. Louis, where homecoming begins earlier than usual this year.
Popular staples such as the chili feed, lip sync competition, community service efforts and Pack the Stands again anchor this year's schedule of events for the Feb. 1 to 6 celebration. But there are also some striking new additions, including indoor boat races, parking-lot ice skating and a pancake breakfast featuring custom, artistic deliciousness, plus plenty of other opportunities to build Triton traditions and beat those winter blues.
UMSL Daily asked several student leaders and this year's candidates for homecoming king and queen to share some of their top picks for the fast-approaching week of festivities.
Monday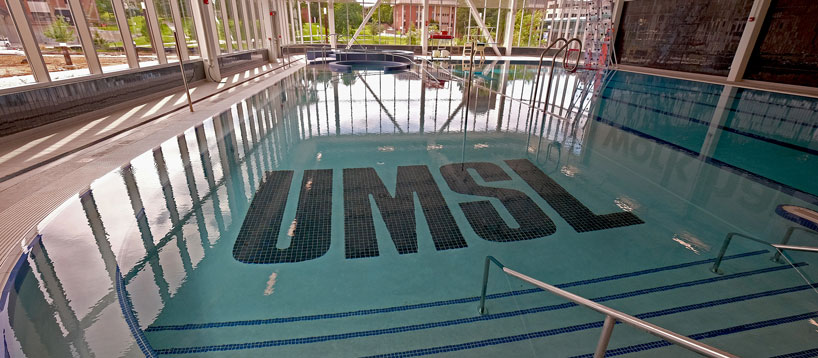 "I am especially excited for the Red & Gold Regatta on Monday evening," said senior Kristin Wyninegar, vice president of the Student Government Association and a member of the homecoming planning committee. "Teams will build their own boat out of cardboard to race in the rec center pool." Interested indoor seafarers may check in at the Recreation and Wellness Center's natatorium starting at 6 p.m. Feb. 1, with the wild competition itself starting at 7:30 p.m.
Tuesday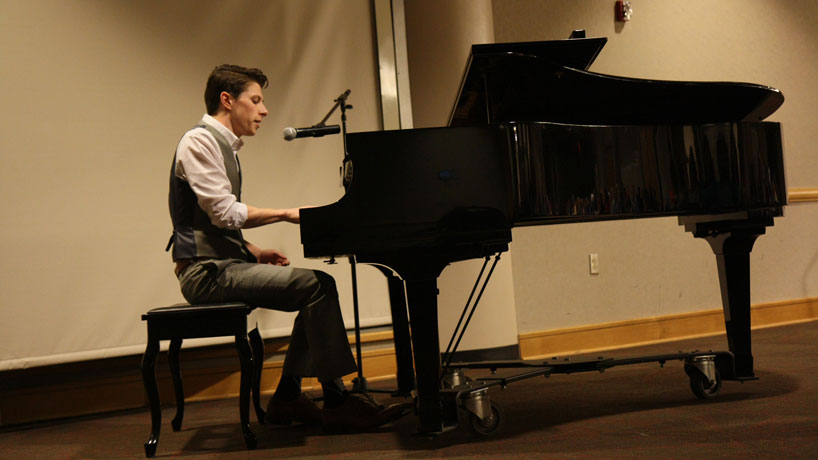 "As a previous contender in the Big Man on Campus event, I can say it's a lot of fun to compete with your peers in different areas that range from questions to talents," said senior biology major Geddy Trebus, a candidate for homecoming king. "Not only is it enjoyable for the contestants, but the audience definitely enjoys it. You can feel the energy from the audience, and there's always a good turnout from the student body." Sponsored by the UMSL Panhellenic Association and taking place at 7 p.m. Feb. 2 in the Millennium Student Center, the students compete in a series of live events for the Big Man on Campus title. All proceeds benefit Girls, Inc.
Around 8:30 p.m. the same night, homecoming-goers can lace up their skates for a night of ice skating under the stars in the parking area just east of the Millennium Student Center. How is this possible? Come and find out.
Wednesday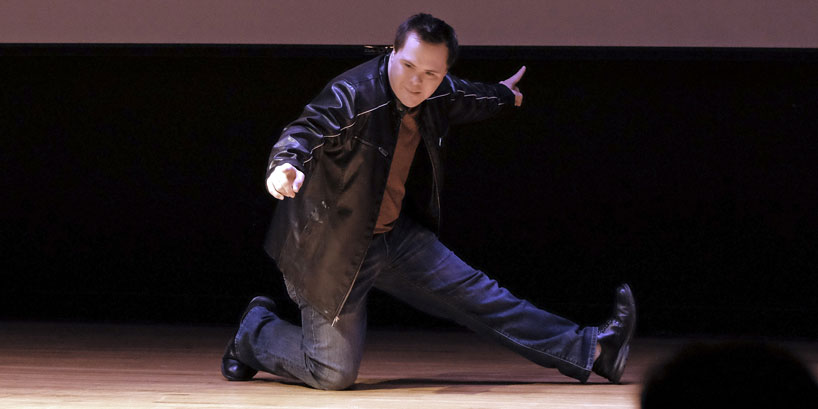 Ask Matthew McCoy about his favorite UMSL Homecoming events, and the Lip Sync Competition on Feb. 3 is right up there. Except for this year, he'll quickly add, because he's going to be in it as one of this year's homecoming king candidates.
"I can honestly say I am not looking forward to competing in it this year," said the senior biology major. "We definitely have some talented dancers in this competition that put on great shows, but unfortunately I am not one of those people. I would definitely describe my dancing skills as subpar."
Junior nursing major Riann Rikard, a candidate for homecoming queen, says she performed last year, too, and had "an absolute blast" as "every team put on a great performance and had me laughing the whole night." Student Government Association President Cameron Roark will be one of the emcees for this year's competition.
Thursday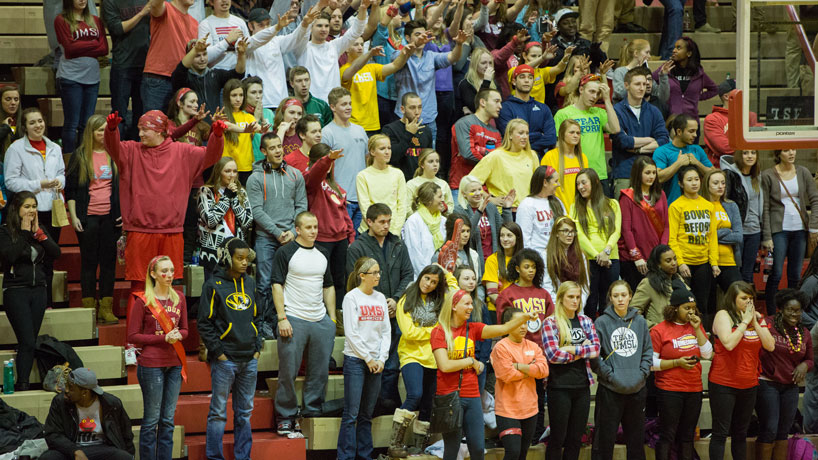 Fitting in classes, studying, everyday life and all of the homecoming goodness on the agenda for Feb. 4 may get tricky. In fact, two of the events set for this day are must-attend events according to several members of the homecoming court: CANstruction, beginning at noon, and Pack the Stands, which kicks off at 5:30 p.m.
Sophomore psychology major Sammi Risius, a candidate for homecoming queen, recommends CANstruction for the chance to give back to the community and see the creative constructions of donated goods for Pagedale Family Support Center.
"I stand firm on the belief that when the members of our community are stronger, it creates a better atmosphere and learning environment for those who attend UMSL," said Braxton Perry, a junior studying physical education and candidate for king. "CANstruction for Pagedale does just that, and I would recommend this event to fellow students and community members."
Later that afternoon, Pack the Stands is a no-brainer, the students said.
"I am in Triton Sound (the pep band), and Pack the Stands is my favorite night in the basketball season, because the UMSL atmosphere is so energetic and exciting," said senior homecoming queen candidate Melissa Roth, who is majoring in criminology and criminal justice. "Not only is it an opportunity to support UMSL and show school spirit, but there's much in store for people in attendance."
Fellow candidate Andrea Bryant, a senior business administration major, echoed Roth's sentiments, adding that the event is an important way to support Triton basketball and "provides food and a chance to win a number of different prizes."
Friday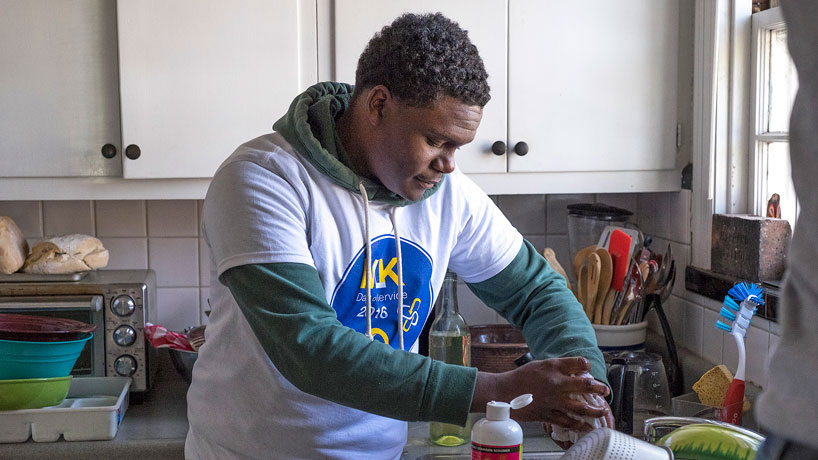 After fueling up at a free-to-volunteers pancake breakfast in the Millennium Student Center the morning of Feb. 5, senior anthropology major LaVell Monger plans to participate in one of the Homecoming Service Projects within the St. Louis community. Such service is an ongoing theme at UMSL, and Friday is another such opportunity.
"It's a wonderful time to meet new people or bond with individuals you are already acquainted with," said Monger, who is a candidate for homecoming king. "And it can be something as simple as reading books to kids or talking to elders about their life experiences."
Saturday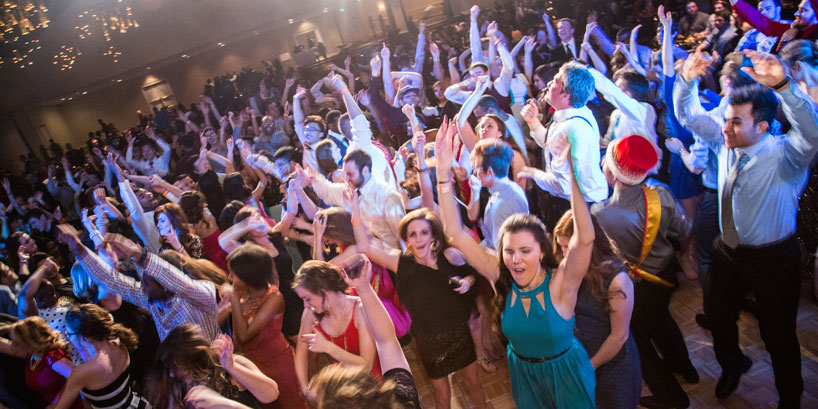 From senior education major Erica Runge's perspective, the Homecoming Dinner & Dance, which gets underway at the elegant Chase Park Plaza Hotel in the Central West End the evening of Feb. 6, is hard to top. There's just so much excitement, said the homecoming queen candidate.
"The dance is always fun because it brings UMSL students together in a fun and energetic atmosphere, and it's a great way to celebrate our university," she said.
For the full lineup of Homecoming 2016 events and additional information, see homecoming.umsl.edu.



Short URL: https://blogs.umsl.edu/news/?p=60863