Difference makers: 16 UMSL student stories for 2016
Fighting hunger, providing accessible health care, running for local office. Escaping grave danger, starting over, fulfilling a promise to a younger generation via the promise of an education.
These are just some of the goals, accomplishments and themes that have resonated over the past year as students from the University of Missouri–St. Louis have chosen to share their stories. UMSL Daily has collected a brief sampling of just some of these stories so that they may help ring in the new year with a sense of inspiration, purpose and hope.

Madeline Stroder and Caitlin Zurfluh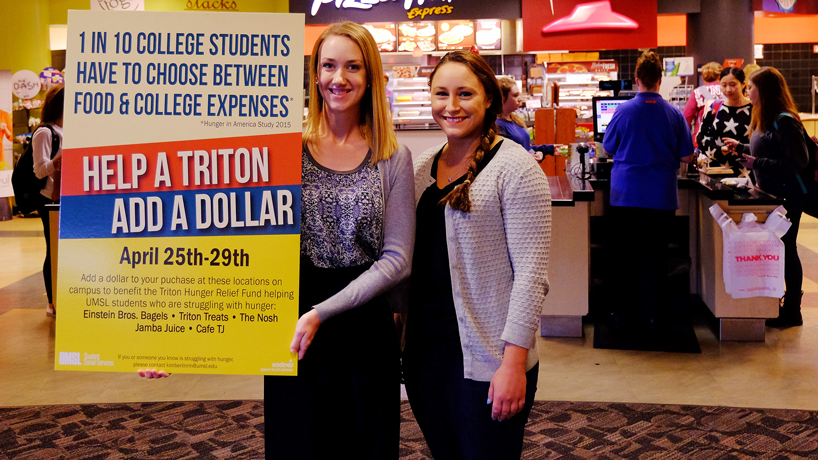 Social work majors Stroder and Zurfluh, along with graduate student Mohamad Alrahawan, launched the Help-a-Triton campaign last April to help fight hunger on campus. Students, faculty and staff had the chance to add a dollar to their campus food purchases in order to establish a fund for students in need. The week-long effort raised an initial $1,500 and led to the establishment of the ongoing Triton Hunger Fund.
For the fourth year in a row, UMSL College of Nursing students offered basic health screenings to community members in need via their participation in the "Barbershop Tour." The annual event – a collaborative effort between UMSL, Saint Louis University and 100 Black Men of Metropolitan St. Louis – gives patrons a chance to talk health and wellness while getting a cut, color or shave.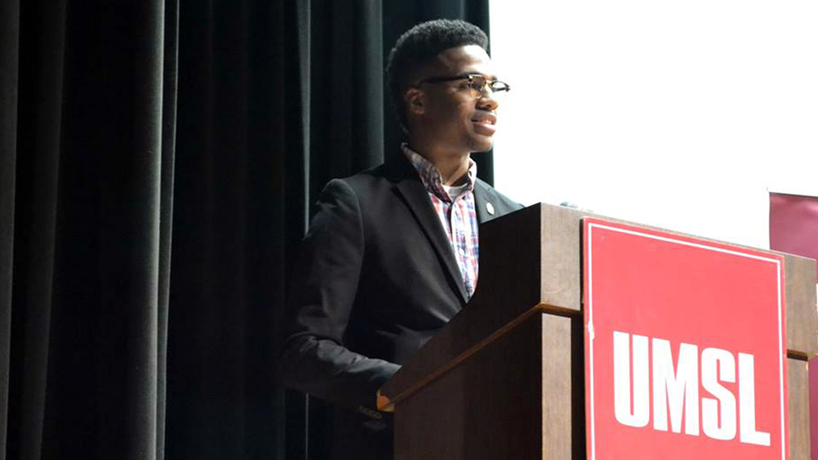 (Photo courtesy of LaVell Monger)
The Big XII Council on Black Student Government named Monger the Outstanding Non Big XII Senior of the Year – an honor that came with a $1,000 scholarship and a great feeling of pride for the anthropology major. Monger saw the membership of UMSL's Associated Black Collegians more than double under his tenure as their president.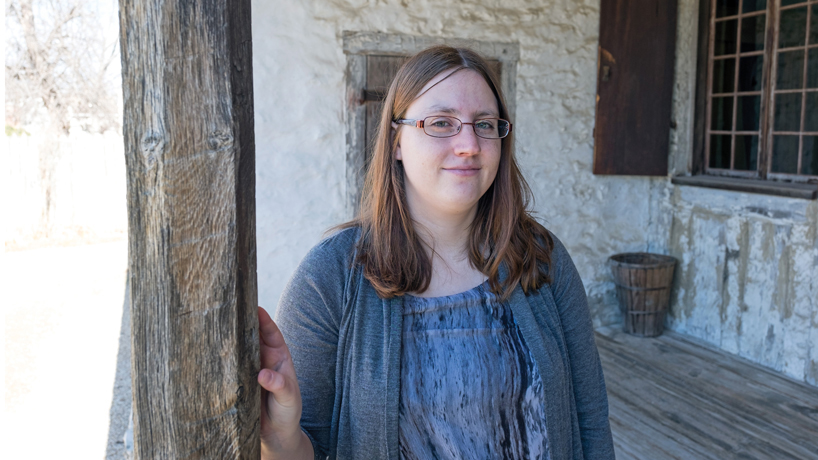 Strittmater, a Bolduc House Museum intern and museum studies graduate student, helped keep 300 years' worth of historical artifacts safe from the floods that swept into St. Genevieve, Missouri, last December. Strittmater says her career goals include making museum experiences more available and accessible for people from all walks of life.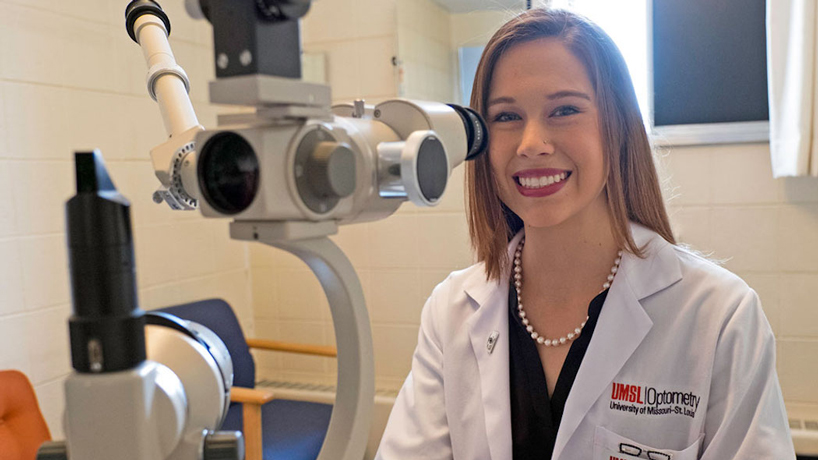 College of Optometry student Baugh Bruner earned a 2016 InfantSEE scholarship thanks to her steadfast commitment to providing eye care and early detection vision services to the youngest and most vulnerable of patients. She planned to use the funds for a multi-clinic, yearlong externship – one that would allow her to provide services for a wide variety of often underserved patients across the St. Louis region.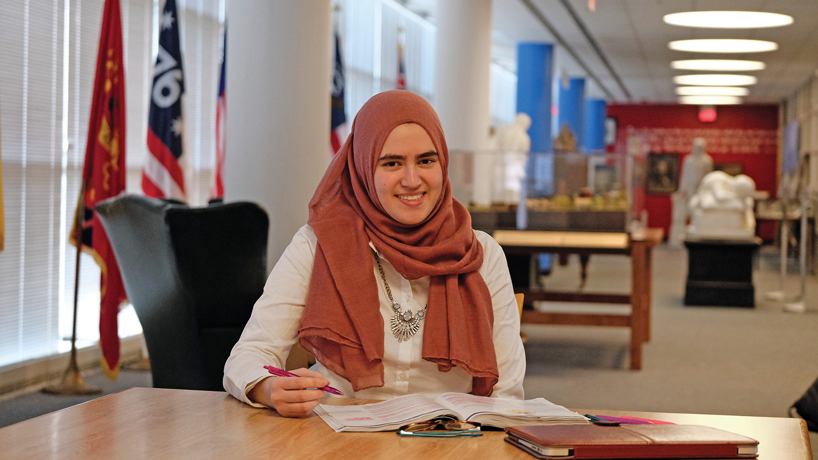 Kuziez, whose family was forced to flee their civil war-torn homeland four years ago, chose to study biology thanks to a volunteer experience she had at a free health clinic where she checked in patients, took medical histories and provided translation services. Kuziez's hard work at UMSL earned her early acceptance into the prestigious UMKC Medical Scholars Program. She hopes to become a pediatrician and one day return to Syria so that she can be a part of healing both the people and the region.
President of the Golden Key International Honour Society. President of the Society of Future Engineers. Vice President and Treasurer of the Pierre Laclede Honors College Student Association. Lead ambassador for UMSL Ambassadors. All of these impressive appointments don't even begin to cover everything that Eric'el Johnson accomplished during her time at UMSL. By completing her degree, the engineering student kept a promise to her mother, too.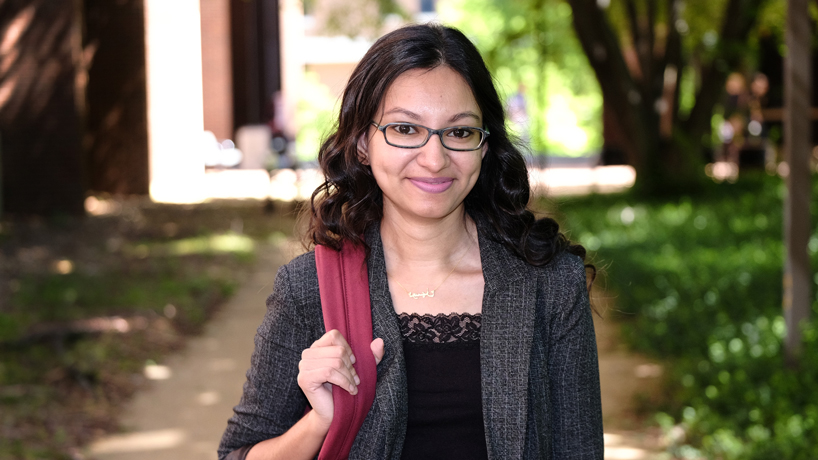 Witnessing efforts toward unity, peace and progress in Ferguson, Missouri, in 2014 helped Ehsan realize she wanted a career in public service. Motivated by a passion to be part of the solution, the St. Louis Community College student chose to transfer to UMSL, where she completed the remainder of the requirements for her criminology and criminal justice degree in just three semesters. By this past fall, she was set to begin her studies at Southern Illinois University School of Law in Carbondale – on a full-tuition scholarship.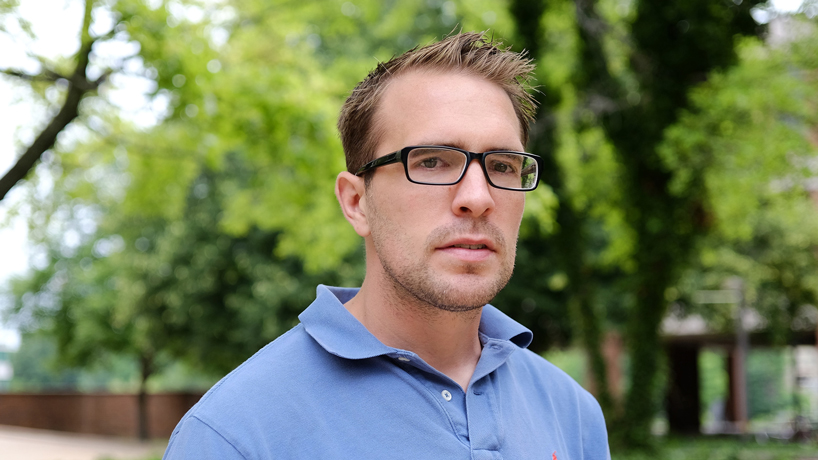 Barrett, a political science PhD candidate at UMSL as of June, was awarded one of 60 Pat Tillman Foundation scholarships for 2016. The U.S. Air Force veteran provided integral leadership which helped shape and sustain the UMSL Veterans Center. He learned the Russian language while spending a year in Belarus and then planned – thanks in part to the scholarship funds – to study Russian foreign policy in Ukraine.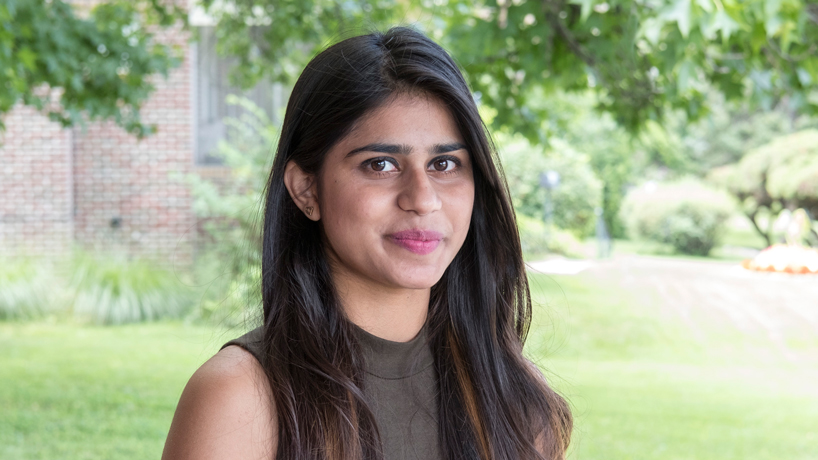 There's roughly 8,000 miles between UMSL and New Delhi, India. When Talwar first crossed that distance to enroll in UMSL's College of Business Administration, the transition wasn't easy. In fact, she almost gave it all up. Thanks to a combination of encouragement from family and her own brave efforts to persevere, Talwar stuck it out. She became involved with UMSL's International House and International Buddy Program so that she could help other students have a smoother transition.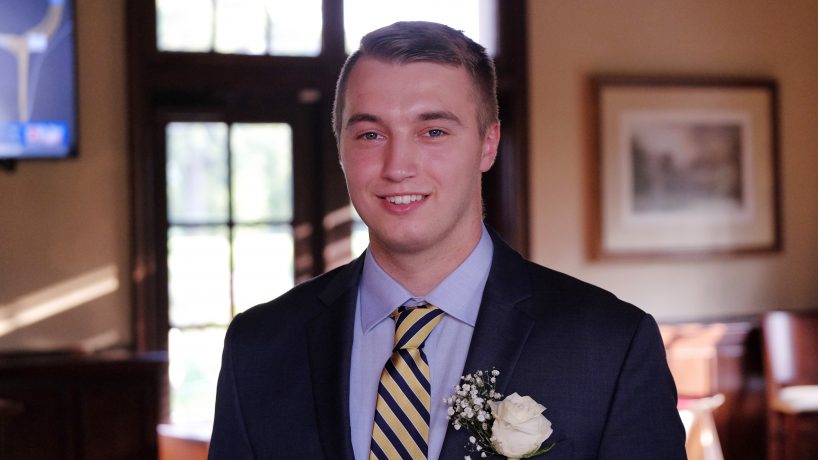 Cejvanovic, a political science and economics double major who was born in Bosnia before immigrating to the United States with his parents when he was just 2, spent last summer interning in the Washington D.C. office of U.S. Rep. William Lacy Clay Jr. His interest in politics, he says, comes from wanting to have a hand in bettering people's lives. By the end of the internship, he was already looking for ways to eventually return.
In August, 20-year-old Mahmutovic was the youngest person in her College of Nursing cohort to complete UMSL's accelerated Bachelor of Science in nursing program. After graduation, the Shirley A. Martin Distinguished Nurse Award-winner got right to work in the Emergency Department at Missouri Baptist Medical Center.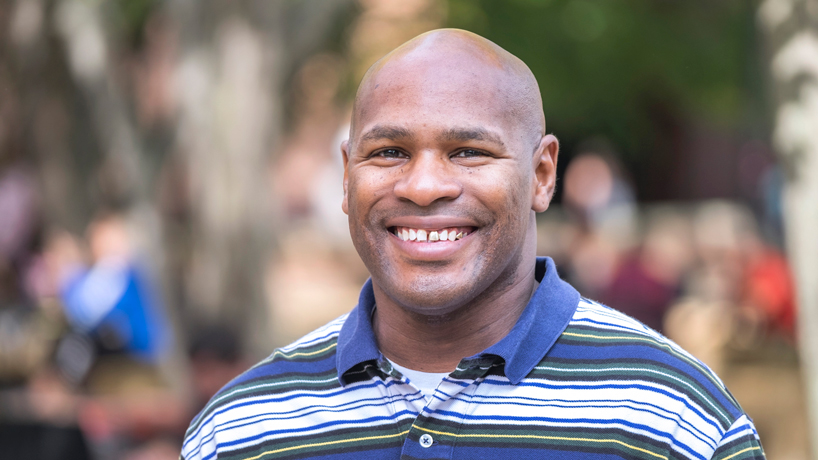 Jones, who joined the army back in 2001 in response to 9/11, is a criminology and criminal justice and sociology double major who has hopes of one day going to law school and becoming a prosecutor. One of his greatest passions, fueled in part by his own struggles and harrowing life experiences, is spreading awareness of veteran suicide. Among countless other efforts, Jones spoke at UMSL's Veterans Day festivities on Nov. 11 to share his story.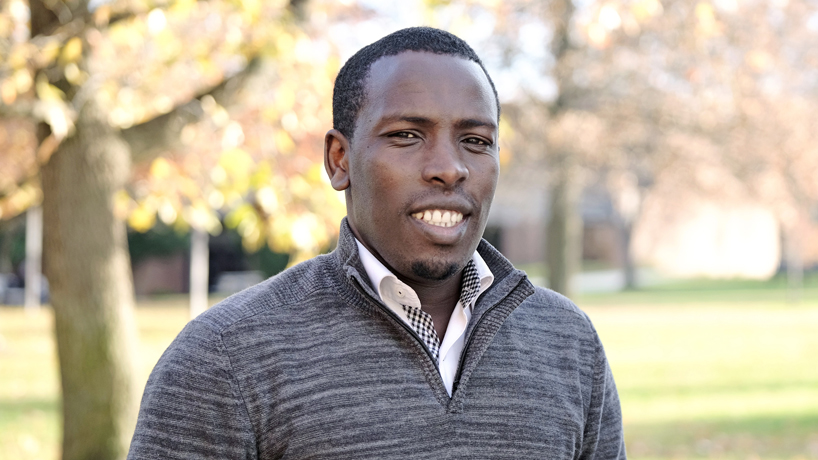 Kimenyerwa, who is originally from the Democratic Republic of the Congo, was forced to leave his homeland when he was only a teen because of civil war and mass genocide. A series of impossibly difficult twists and turns in his life eventually brought him to St. Louis ­– a place he'd never even heard of before having to call it his new home. Now, the international relations major, father, husband, community access worker and peer health coach says he's committed to helping the community, the country, the world.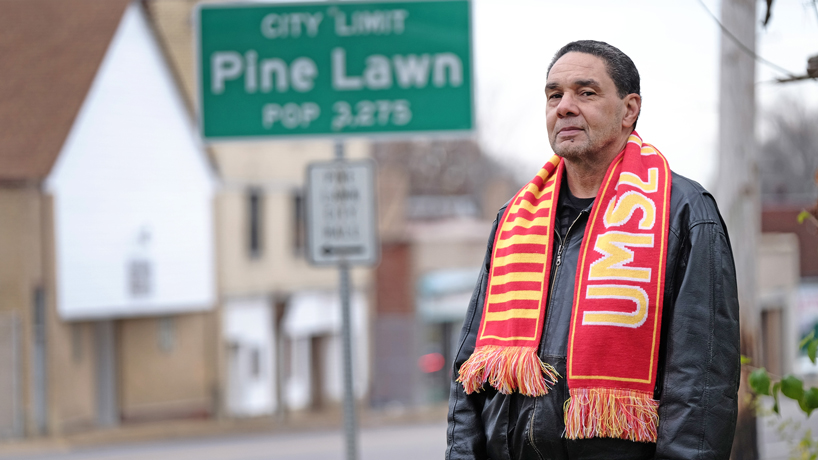 When Walls saw corruption in his local government continue to grow unchecked, he didn't just shake his head and lament the flaws in the political system ­– he took action. The UMSL public policy administration major –and 61-year-old retired maintenance worker for St. Louis Public Schools – decided to run for the Pine Lawn Board of Alderman last April so that he be a part of positive change. He won.


Short URL: https://blogs.umsl.edu/news/?p=65966