Love of vision, love of country: 4 UMSL optometry students earn full-ride Army scholarships
Jessica Arnoldy, Marie Lulette Fermil, Jacquelyn Tyra and Kailey Utley have each always had an interest in being of service to others – but soon, the University of Missouri–St. Louis College of Optometry students will be taking that service to a whole new level.
Thanks in part to their earning full-ride scholarships through the F. Edward Hébert Armed Forces Health Professions Scholarship Program (HPSP), all four women have become commissioned officers in the United States Army.
Each year, the Army offers the HPSP scholarship to students in pursuit of advanced degrees in various medical professions. The award carries a multitude of benefits in exchange for the commitment to service, including full tuition reimbursement, a monthly stipend, officer's pay during academic breaks and more.
Earning the extensive scholarship is no small feat. The competitive process requires stellar academic performance, extensive background checks and multiple recommendation letters – in addition to the usual physical requirements military service demands.
Upon learning that they were part of the chosen few, the four UMSL students were commissioned at the rank of second lieutenant and committed to serving in the Army reserves until their schooling is complete. After graduation, they will be promoted to the rank of captain and assigned to active duty.
For Arnoldy, Tyra and Utley, serving the country will be a completely new experience. For Fermil, who has already served as an enlisted soldier, the opportunity will provide a chance to combine a new love with an old one.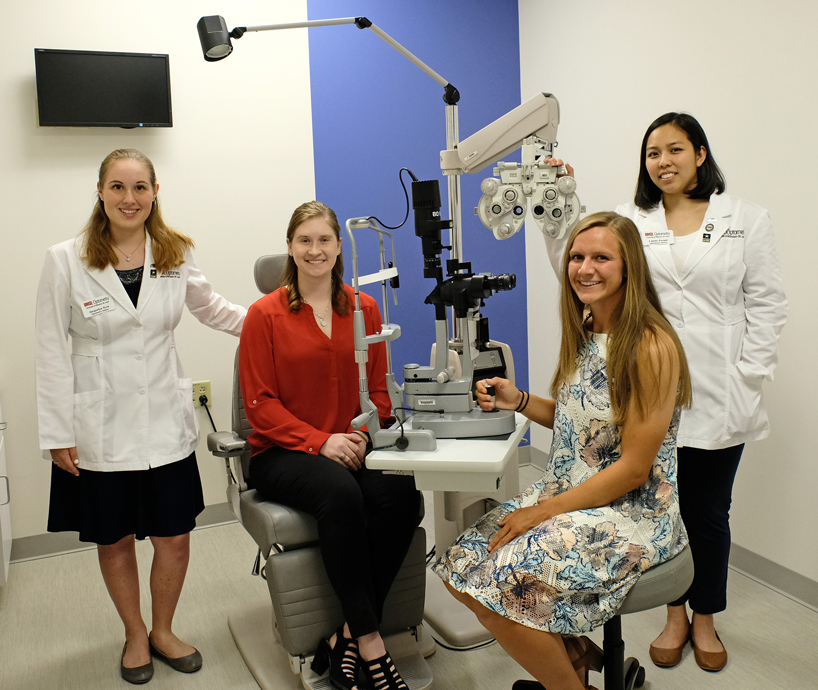 Jessica Arnoldy, class of 2020
A small-town start
Arnoldy grew up in Downs, Kansas, a proudly small, rural community with a population that was around 900 when Arnoldy was in high school. She earned her bachelor's degree in biology and biochemistry from Southwestern College in Winfield, Kansas.
"Coming from a small town has definitely shaped me," Arnoldy says. "I believe the family atmosphere where everybody knows everybody and you all look out for each other is one of the reasons I was drawn to UMSL, and I think it is also a huge part of my desire to serve others."
A passion for patient care
While Arnoldy always knew she wanted to work in health care, it took time to discover what her specific role within that broad field should be. Her experience as a certified nurse's aide, specializing in the care of patients with dementia and Alzheimer's, continues to influence the type of patient care she wants to provide.
"More than anything it trained me to constantly take other people's perspectives into account," she says. "It's so important to me that I remember not to judge, but to try and take a step into a patient's shoes to get a better idea of what they're dealing with and how I can help."
All about people
After observing an optometrist in action, Arnoldy felt like she'd finally found just the right fit for her future – and not only because she suddenly realized that eyes are "super cool."
"I loved that the doctor made time to show a personal interest in the patients and that they were willing to share with her as well," she says. "I immediately knew that's what I wanted to do. The deeper I dive into the profession, the more I fall in love with it."
Marie Lulette Fermil, class of 2019
A new country, a new career path
Born and raised in Quezon City in the Philippines, Fermil earned her bachelor's degree in philosophy at the University of the Philippines and originally planned on going to law school. Then, in 2008, circumstances changed her course. She and her family immigrated to the United States.
"After working for a year as a file clerk in a corporate office, I felt like I wanted to do something else, something more," she says. "I looked up the Army, Air Force and Navy websites and requested more information – thinking I would be getting pamphlets in the mail. The next day, an Army recruiter was knocking on my door. I soon found myself enlisting."
Active duty, the first time
Fermil spent six years as an active-duty soldier and – thanks to a fateful opening in an eye specialty course during her initial training – as an eye technician. The experience prompted her interest in optometry school, so she completed night courses in order to fulfill admission requirements.
Leading the way
Now in her third year of UMSL's four-year program, Fermil has proven herself to be a leader in multiple capacities. She's been a student ambassador for the College of Optometry, vice president of the National Optometric Student Association, secretary for the College of Optometrists in Vision and Development and vice president of programming for the United Optometrists Association.
While she's enjoyed being a student, she's eager to get back to military life.
"I'm excited to be able to come back to the military after graduation to help soldiers, veterans and their families take care of their eyes and vision."
Jacquelyn Tyra, class of 2019
An early choice
Thanks to a class assignment that had her interviewing medical professionals from five different career fields, Tyra knew she wanted to be an optometrist before she was even out of high school. She felt drawn to the idea of being able to make often-instantaneous improvements to someone's life by way of improving their vision.
A life-changing mentor
During her junior year of undergraduate studies at The College of William and Mary, Tyra says she called "literally all of the doctors" in her hometown in search of optometric job-shadowing opportunities. Two answered her call. One especially helped cement her future.
"I owe a lot of where I am today to Dr. Courtney Shay," Tyra says. "It was awesome to see a young professional woman who was so accomplished. I consider her to be a great role model."
Shay's mentorship didn't stop after that initial shadowing.
"After I graduated, she called me up and offered me a job for the summer before optometry school," Tyra says. "The next summer, she took me back again."
A legacy continued
A self-described "Army brat," Tyra had lived in five states by the time she was 9 because of her officer father's Army career. In what she calls a "pleasantly cyclical turn of events," it was her dad who administered the oath at her own induction ceremony in March 2016.
"Ever since I was awarded the scholarship, he's been excited to share this common bond with me," Tyra says, adding that her dad now introduces her to any military friends as Second Lieutenant Tyra, and that he bought a commemorative brick for the National Museum of the United States Army that is partially in her honor.
"It lists both of my grandfathers' names, his name and then mine, with 'Three Generations of Army Service' emblazoned at the top."
Kailey Utley, class of 2020
From Missouri to West Virginia and back again
For St. Louis native Utley, the answer to that age-old local question, "Where did you go to high school?" is Pattonville.
She graduated in 2012 and headed to West Virginia University, where she excelled on the women's soccer team and majored in biology. Thanks to her dedication to her academic studies, she was able to complete her degree in just three and a half years.
By the fall of 2016, she was enrolled in UMSL's optometry program.
The eyes have it
During her freshman year of undergrad, Utley was initially drawn to dentistry, but, much like many of her classmates, it was a job-shadowing opportunity that redirected her interests.
"I was fascinated by eyes and vision in general," she says. "I thought it would be rewarding to directly improve a person's quality of life by serving as their primary health-care provider of the eye."
A family tradition
Both of Utley's grandfathers served in the military, and her brother is currently in the Army as well. When it came time to decide for herself, it just made sense.
"I thought it would be an honor to serve this country and rewarding to be a part of something bigger than myself."


Short URL: https://blogs.umsl.edu/news/?p=69496