New students set out on transit-powered quest around St. Louis
Thousands of fellow scholars. A 470-acre campus. More than 100 student organizations. For newcomers, the University of Missouri­–St. Louis can be a lot to take in at first.
Fortunately, the many new students who made the most of Triton Take-Off activities got a solid head start navigating it all this past weekend. And they ventured beyond Triton territory, too.
The STL Metro Scavenger Hunt drew a record crowd of participants, despite high humidity and temperatures, to the UMSL South MetroLink Station on Saturday afternoon.
Some of them were new to St. Louis, from places as far away as Hungary and Peru, while others hailed from nearby towns like Florissant, Missouri, and Granite City, Illinois. But all of them arrived on the train platform with a similar mission: to help their team take home the prize.
UMSL Daily followed along with one crew of about 20 students as they rode MetroLink to destinations all across the Gateway City based on a set of clues and assigned photos to be taken.
First they would set out to locate the statue of a St. Louis Cardinals legend who has a bridge named after him, Weeks of Welcome crew leader Alyssa Johnson explained to the group as they waited for a train to take them to Busch Stadium downtown.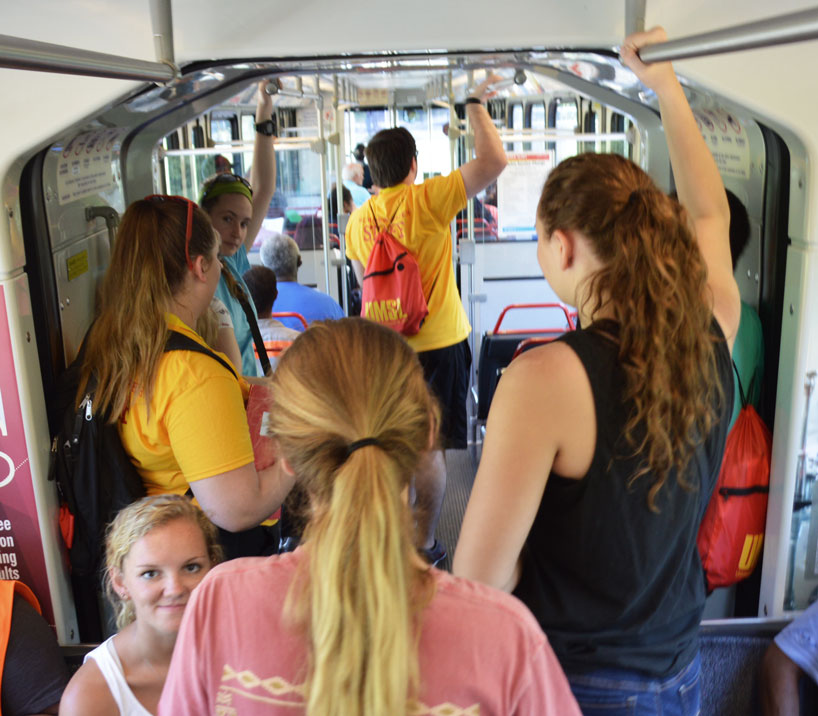 While the activity centered around silly photos and competition, it was also an important means to an end as UMSL's newest students got oriented to a new chapter and way of life.
"The idea was to introduce not only campus during the weekend but also to explore amazing things around St. Louis," said Megan Green, director of New Student Programs. "Gathering in groups, they learned to use their free student Metro pass and explored some of the amazing spots that you can get to directly from UMSL's two MetroLink stations. It also provided time to visit and chat more with each other in a fun setting."
After Johnson's team, which was co-led by Joey Dordoni and Monet Davis, located the statue of Stan Musial beside the baseball stadium, they had to decide on a creative photo to stage that would impress those judging the contest.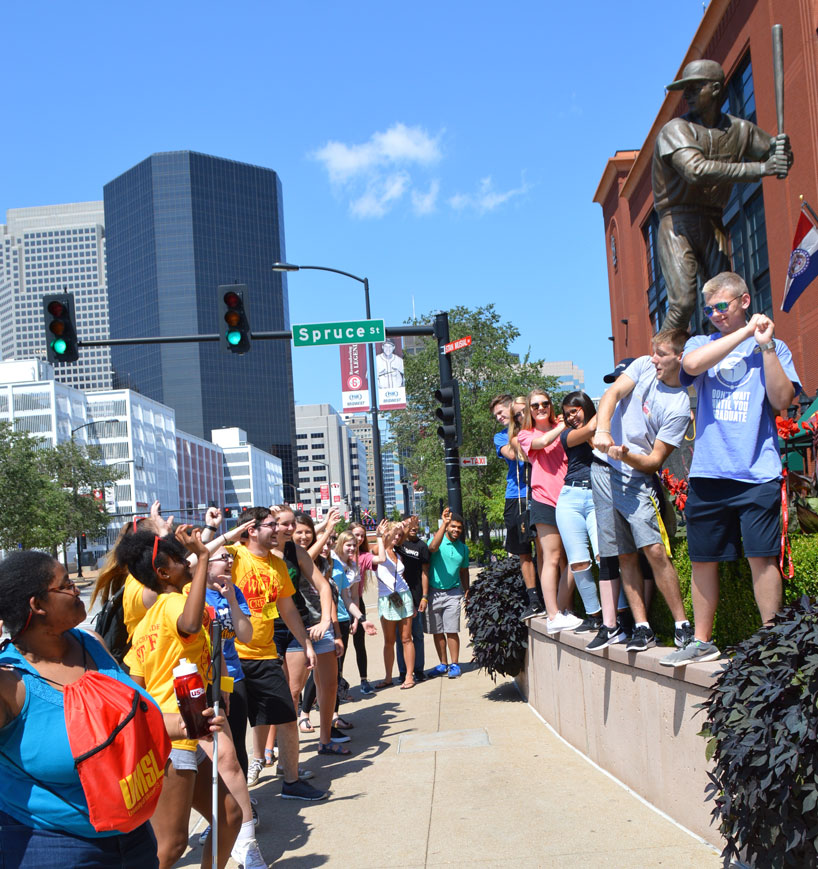 They eventually settled on having some of the group pretend to be pitchers and the rest strike a batting pose alongside Musial's likeness.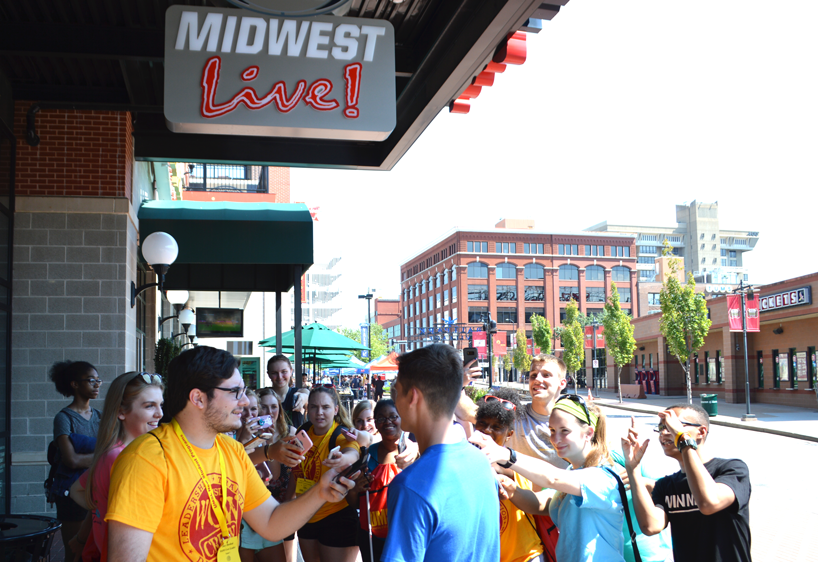 Their next photo assignment had to include the "Midwest Live!" sign in nearby Ballpark Village. Once again, the team rose to the occasion, with the UMSL students positioning themselves like a cluster of paparazzi during a post-game interview.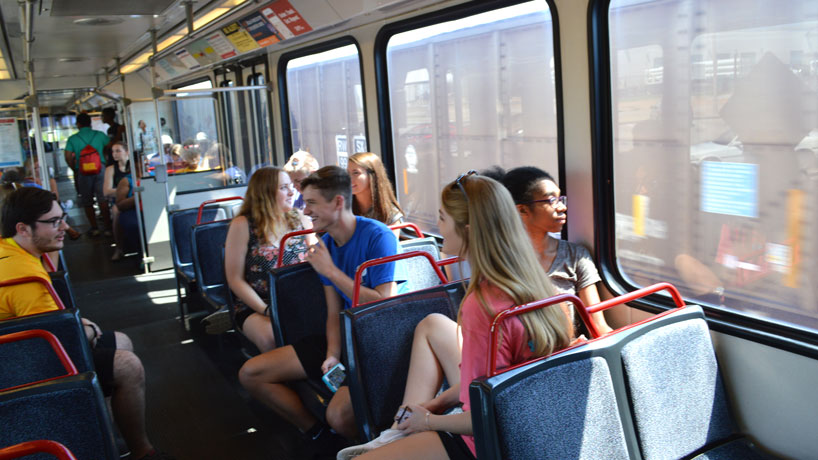 As the team then traveled the MetroLink tracks many stops westward from downtown to the St. Louis Galleria, Dordoni (in yellow shirt, above) offered helpful tips and information about navigating the city. He made sure group members understood the way the transit system's red and blue lines intersect as they crisscross the region.
The group saved perhaps the best stop, involving a sweet treat, for last: the Delmar Loop.
"It was very hot, but we heard amazing feedback," said Madisyn Weiss, this year's Weeks of Welcome student coordinator. "It was the biggest turnout that we have ever had for the scavenger hunt. The best highlight was getting ice cream at Snow Factory, a store in the Loop owned by a UMSL alumnus."
Upon returning to campus, the crew led by Davis, Dordoni and Johnson learned that their afternoon efforts had paid off, winning them first place in the competition and some snazzy UMSL sunglasses.


Short URL: https://blogs.umsl.edu/news/?p=69938